Despite numerous reasons for concern, Manny Pacquiao is optimistic heading into Mathhysse fight
The doom and gloom that others cast on the ongoing boxing career of Manny Pacquiao certainly isn't penetrating him.
There are obvious reasons for alarm. He's left his longtime trainer, Freddie Roach, is fighting for the first time in a year after getting roughed up in a loss, and he's now 39 years old.
Securing the financing for his bout Saturday night (U.S. time) at Malaysia's 16,000-seat Axiata Arena was a harrowing ordeal that wasn't resolved until last month, ticket sales are sluggish and he's fallen from routine pay-per-view treatment in the United States to placement on the ESPN+ app.
"Everything is fine and I'm excited," Pacquiao told the Los Angeles Times recently in a telephone conversation. "It's going to be a good fight."
Pacquiao (59-7-2, 38 knockouts) is fighting Argentina's Lucas Mathhysse (39-4, 36 KOs) for the secondary World Boxing Assn. welterweight belt that Matthysse won in January by overcoming a slow start to knock out Tewa Kiram in the eighth round.
"We know Matthysse's style is very aggressive, so there's little option but for there to be a lot of boxing in the ring," Pacquiao said.
The question is what caliber of boxing Pacquiao can provide against Indio-trained Matthysse.
After injuring his left shoulder doing push-ups off sand bags at Roach's Wild Card Boxing Club in Los Angeles in 2015, Pacquiao decided to fight Floyd Mayweather Jr. in the most lucrative fight in history, and couldn't effectively throw power punches, souring fans on the sport as Mayweather fought evasively.
While Pacquiao returned to defeat Jessie Vargas for the World Boxing Organization welterweight belt in 2016, he was manhandled by Jeff Horn in Australia last July with little referee involvement and lost his belt by a disputed decision.
Earlier this year, Pacquiao replaced Roach with a team led by former assistant trainer "Buboy" Fernandez.
"I think — and hope — that Manny wins," Roach said. "But Manny has a bad shoulder. The rehab on that shoulder was done by praying and swimming in the ocean.
"The ocean has healing properties, so I liked the ocean more than the praying, but when you're telling [Pacquiao surgeon Neal] El-Attrache that the rehab is sea water and praying, he would frown. So, to me, that shoulder is still a dangerous thing, when you're conditioning by putting pressure on the upper body."
Pacquiao said he's divided up the work for Fernandez, conditioning coach Justin Fortune and new assistant trainer Nonito Donaire Sr.
"I give each of them a task, to watch my defense, my footwork, my head movement and the accuracy of the punches, and I had good sparring with four boxers," Pacquiao said.
"I'm enjoying training. I'm happy. I still have my speed and power. I'm thankful I still have that skill. And we work hard here. The weather [was] really hot [in the Philippines] and we were running through the mountain and sparring. … This camp is focusing on the power, and the accuracy of the punches is the main focus.
"I'm not going to promise a knockout, but if there's a chance, why not?"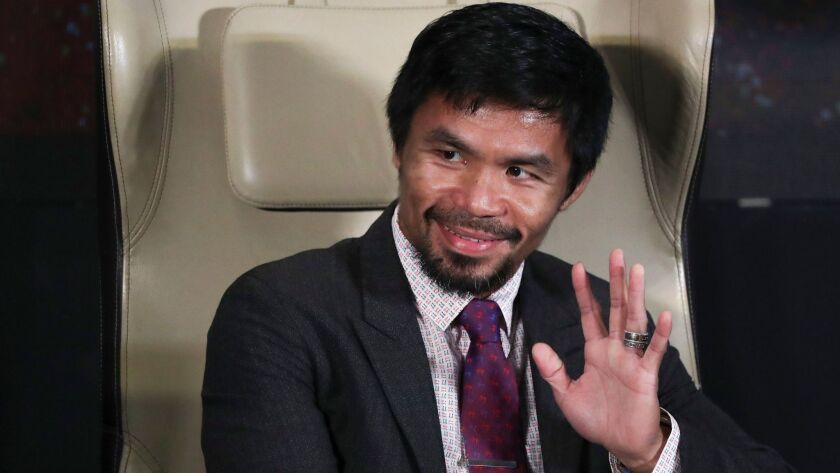 Although there's been speculation that Pacquiao's U.S. tax problems will prevent him from returning here for another fight, he said he plans to defeat Matthysse and pursue a showdown with three-division champion Vasiliy Lomachenko, who currently wears a lightweight belt.
Pacquiao's former longtime promoter, Bob Arum, who promotes Lomachenko, said Lomachenko is recovering remarkably well from a May shoulder surgery and will definitely fight again in November or December.
"Manny has to win and they need to agree on a mutual weight, but we can get it done," Arum said. "Who friggin' knows who'll win [Saturday], though. Matthysse is a tremendous puncher and Manny's quickness is not the same as it was."
Pacquiao might be heading to a fate similar to the one he delivered Oscar De La Hoya by sending him to retirement in 2008 with a technical-knockout domination, but he said he's interested in a Lomachenko showdown as his 40th birthday in December nears.
"I've watched a couple of his fights. He's fast. I like his style. Fighting him will be good and exciting," Pacquiao said.
Before then, he brings a significant boxing card to Malaysia for the first time since Muhammad Ali fought Joe Bugner there in 1975.
"It's a once-in-a-lifetime fight to the people of Malaysia, and it means a lot," to have worldwide appeal, Pacquiao said. "It's a great accomplishment and so I'm really thankful to God to have done this, thanks to the things he has given me, with all the people behind me to get to this level of life."
---
Get our high school sports newsletter
Prep Rally is devoted to the SoCal high school sports experience, bringing you scores, stories and a behind-the-scenes look at what makes prep sports so popular.
You may occasionally receive promotional content from the Los Angeles Times.