Newsletter: The Fight Corner: Mikey Garcia is driving toward victory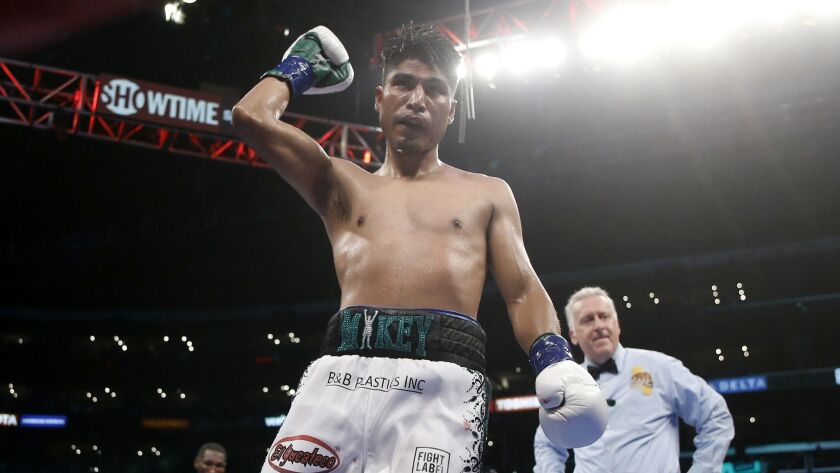 Hi, my name is Lance Pugmire, and welcome to our weekly boxing/MMA newsletter. This newsletter will be delivered right to your inbox every week if you sign up here. Let's get right to the news.
This fight week will be dominated by the search to understand what has motivated Mikey Garcia to move up two divisions to meet unbeaten welterweight champion Errol Spence Jr. in their first pay-per-view headline bout.
Garcia, 31, was asked again about the risk he's taking recently, and his mind raced to the most suitable metaphor: his car collection.
"I've always wanted to do things different, always wanted to be the person who stands out from the pack," Oxnard's four-division world champion Garcia (39-0, 30 knockouts) told The Fight Corner. "I want to do things not many have done. It can be something as simple as buying a car I like. I'll explain … .
"I have a blue 2010 Dodge Challenger SRT, the first car I ever bought. I didn't want it to just be a regular Challenger. I wanted it to be different. So I sent it out to Richard Petty's garage in North Carolina, completely tricked it out – a one-of-a-kind built for me and we changed the name of it from 'Challenger' to 'Champion.'
"There's lots of Challengers out there. Only one Champion. It's one of one. Only for me. And it has a plate that says 'Owner: Mikey Garcia.' It might look like a regular car. It's not a regular car."
So when fight fans, ring experts and the oddsmakers who list Oxnard's Garcia as a near 3-to-1 underdog project that Dallas' Spence (24-0, 21 KOs) will rely on his size advantage and body-punching abilities to overwhelm his challenger at AT&T Stadium in Texas, Garcia points to all the ways he's tricked out himself.
"I keep telling everybody who sees the size difference that it's not that I see something in Spence, that, 'I can take advantage of these holes in his game … ,' " Garcia said. "I've just seen enough to know I'm better than he is.
"The fact is, you guys still haven't seen the best out of me. I know what I can do. And the best of me beats the best Spence ever. I'm betting on myself – my boxing, my abilities, everything I can do."
During this portion of the conversation, a reporter tried to veer the topic away from the car collection, but Garcia was having none of it, wanting to illustrate the sincerity of his investment in being a rarity.
It's not every fighter, remember, who'll skip more than two years of the prime time of his career – as Garcia did – to ultimately prevail and win his split with veteran promoter Bob Arum's Top Rank company.
"I have a Viper, a GTSR, it's No. 3 of 100. That's special. It's track ready, and I take it to race at Fontana," Garcia noted. "I bought a Lamborghini, SV Aventador, one of 600. Modified. There's other 'Lambos' out there, but that one I have is unique. And I have a 2013 Land Rover Defender 110. It took me a while. I got it in the states. You won't see many of those.
"All of them are unique. Same thing in my boxing. I want to be different. That's why I'm taking on this challenge."
He points to the possibility that within one year's time he is now capable of defeating three unbeaten champions in three separate weight classes, having already defeated 140-pound champion Sergiy Lipinets and lightweight champion Robert Easter Jr. last year.
"Who else do you know of? It doesn't happen. Lipinets, Easter, Spence," Garcia said. "That's the stuff that will separate me from the rest." I want to be remembered, "as one of the best to ever lace up these gloves. How do I prove that? By taking these fights.
"If I don't do this, I won't be remembered. I need these fights to do that."
Be a man
Among those anticipating a Spence victory is Nebraska's unbeaten World Boxing Organization welterweight champion Terence Crawford (34-0, 25 KOs), who defends his belt April 20 in a pay-per-view against former 140-pound champion Amir Khan at Madison Square Garden.
"This fight is going to take my career to the next level of boxing. Everybody knows Khan's very fast, he can move very well. So can I. I'm not really worried," Crawford said of the matchup. "This will show, after I've been calling for all the big names that I can possibly call out, that it starts right now. Khan is a big name. I'm looking forward to winning and moving on to all the other big names … ."
Including Spence? The pair have bantered backstage at events, and clearly the match would be compelling, but Crawford fights for Top Rank/ESPN and Spence is tied to Al Haymon's rival Premier Boxing Champions and Fox/Showtime.
"I feel it'll happen. It's just time-consuming," Crawford told The Fight Corner in January at an ESPN card in Frisco, Texas, that Spence also attended. "I don't feel like PBC is too anxious to throw their kingpin over to ESPN and I don't know if they've even asked Bob Arum if I would go over there.
"I don't believe there's even been a conversation about us two fighting, but I know the fans want us fighting, and I know I want the fight to happen. I'm pretty sure he wants the fight to happen. But we're not promoters. He fights under PBC, I'm under ESPN."
If left to those businesses, the question, "Will the fight ever happen?," is legitimate. Perhaps the pair could agree to a two-fight deal with the first bout on ESPN, and the second on Fox/Showtime, or vice versa.
"My thing is this: as a fighter, I've done everything I can do to get all the big fights," Crawford said.
"I'm not the type of guy to go out there and act crazy. But as a man, if you want the fight to happen, you'll make it happen. I'm going to just leave it at that. If you're a man, you tell them, 'Make this fight happen.' You're going to demand this fight happens, because at the end of the day, [the promoters] work for you."
No belt obsession
In his first public comments regarding his new three-year, six-fight deal with the streaming service DAZN, former long-reigning middleweight champion Gennady Golovkin told The Fight Corner he no longer places his legacy on the pursuit of wearing all four middleweight belts.
In fact, Big Bear-trained Golovkin said if his rival and two-belt middleweight champion Canelo Alvarez were to lose his May 4 title defense against current International Boxing Federation champion Daniel Jacobs at T-Mobile Arena in Las Vegas, Golovkin said he would rather fight Alvarez in his second DAZN bout, in September.
The IBF irked Golovkin by stripping him of his belt for not fighting mandatory challenger Sergey Derevyanchenko in May after Alvarez was suspended for six months and withdrew from their planned bout.
"I had a lot of experience … this is a different boxing business. And now I have more understanding of the boxing business," Golovkin said. "The belts are not very important. All the belts is not a goal of mine. If Jacobs beats Canelo, Canelo is still the biggest name, so I'd want to fight Canelo. My [next fight after that] would be Daniel.
"For people, big names are more important than belts."
Golovkin also indicated he doesn't like the idea of returning to Las Vegas for a third meeting with Alvarez, after their 2017 draw was marred by judge Adalaide Byrd's 10-rounds-to-two scorecard, and after two judges decisively awarded Alvarez a majority decision victory by awarding him a 12th round that many observers thought was won by Golovkin.
"If it's best to go to Las Vegas, then it's Vegas, but if there's a more interesting idea – maybe Dallas, maybe New York – we'll talk," Golovkin said.
Keep in mind that with a coming fight in Mexico and ties to U.K.-based promoter Eddie Hearn, DAZN could also persuade Alvarez to take a third fight with Golovkin to Azteca Stadium in Mexico City or to one of the massive outdoor venues in England.
Skipper talks heavyweights
DAZN Executive Chairman John Skipper has a deal in place with three-belt champion Anthony Joshua, who'll make his U.S. debut against Brooklyn's Jarrell "Big Baby" Miller June 1 at Madison Square Garden.
But with unbeaten lineal champion Tyson Fury recently aligning with ESPN and World Boxing Council champion Deontay Wilder tied to PBC/Showtime/Fox, how can the division's current revival be maintained in fights with the power trio squaring off?
"We bring a fresh set of eyes to this. We want to make the best fights," Skipper said. "We'll work with anybody. Ultimately, we have to make the fights the fans want to see if we're going to be successful as a subscription service. Fans need to be able to see the fights they want.
"I don't have any problem working with anybody and we will continue to work to make sure that as many of these good fights are on DAZN as possible."
One more barrier
IBF super-featherweight champion Tevin Farmer, who defends his belt Friday (4 p.m.) on DAZN versus Jono Carroll, is among those who has great skepticism that network walls can yield to a unification bout – with his being against unbeaten World Boxing Assn. champion Gervonta Davis.
"I'm tired of talking about Gervonta," Farmer said. "It's not going to happen. I want it and would love that fight, but I'm going to keep moving my career forward and focus on what I'm doing.
"There's politics in boxing and I'm not going to stress about it. It's not just Davis … every champion is on different sides of the street with promoters and TV."
Until next time
Stay tuned for future newsletters. Subscribe here, and I'll come right to your inbox. Something else you'd like to see? Email me. Or follow me on Twitter: @latimespugmire
---
Get the latest on L.A.'s teams in the daily Sports Report newsletter.
You may occasionally receive promotional content from the Los Angeles Times.