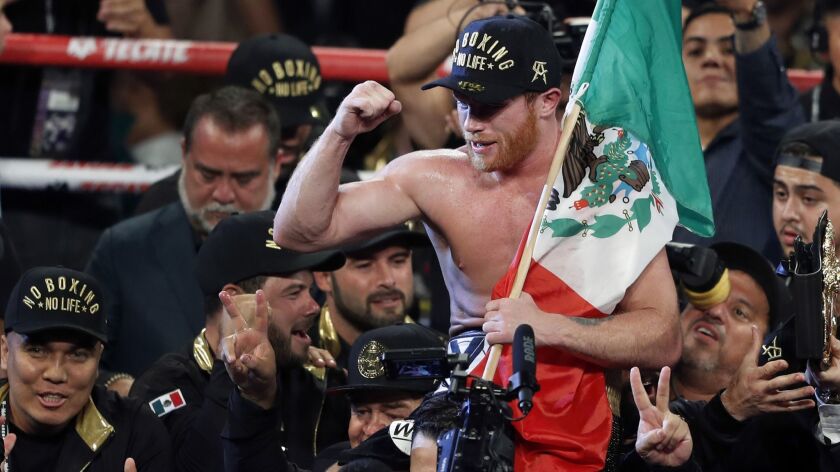 It's found in a matchmaker's eyes, a sparring partner's agony and the roar of his new Bugatti. By all measures, Canelo Alvarez is ascending to the prime of his career. As he moves to Saturday's middleweight-title unification bout against International Boxing Federation champion Daniel Jacobs at T-Mobile Arena in Las Vegas, Alvarez, at 28, has amassed a third division belt, the richest contract given to a North American athlete and acclaim reserved for the greats before him.
"He hasn't finished his career, but at the day he retires, I have full confidence he will be considered the best in all aspects -- titles, money, achievements," Alvarez trainer Eddy Reynoso said. World Boxing Council and World Boxing Assn. champion Alvarez (51-1-2, 35 knockouts) gives up 3½ inches of height and 2½ inches of reach to the 32-year-old Jacobs (35-2, 29 KOs), who has lost once in the past nine years, to former champion Gennady Golovkin by a narrow decision two years ago.
"He's a fighter with a lot of talent. He's tall, he's strong and he knows how to utilize both stances -- it's a unique style, so I'll have to deal with that, especially in the early rounds, and adapt. But I'm a fighter who knows how to adapt," Alvarez said.
The question was then posed to Alvarez if he fretted about being outsmarted. If that concern had ever dogged him before, it appears to have vanished after he boldly took the fight to Golovkin in September and emerged with a majority decision victory that snapped the record-tying title reign of "GGG."
"Other fighters can be intelligent. I'm intelligent, but I have the experience that gives me that extra repertoire to deal with different styles and manage any fight," Alvarez asserted.
While closely watching his fighter's progression, Golden Boy President Eric Gomez was moved to speak like the matchmaker he was raised as.
"He's there. Canelo's a full-fledged man now, still working his craft. He's at his peak right now and peaking," Gomez said. "His footwork's a lot better. He's steadier. He takes more chances and stands in front of his opponents. If you have good head movement, you can do that. Canelo is now always in position to throw really hard shots because his feet are planted correctly.
"In order to land big body shots, you have to be in close. Jacobs is bigger and taller, but if Canelo gets in on the inside, he'll be too strong and use the power and his combinations to win the fight."
Alvarez devoted exhaustive work in his San Diego gym to Jacobs, refusing even a typical media-day break to help promote his second fight on DAZN, the streaming service that will pay him $365 million in a 10-fight deal.
One of the sparring sessions showcased the standard grinding work Alvarez has done to prepare for Jacobs. He went 12 four-minute rounds and took only 30-second breaks against three opponents: former title challenger Dominic Wade, super-middleweight Ronald Ellis (16-1-2, 11 KOs) and unbeaten, WBA No. 4-rated contender Bilal Akkawy (20-0-1, 16 KOs).
While Akkawy tested Alvarez's chin, Ellis turned left-handed as Jacobs has done for effective practice, and Wade brought a top-contender's awareness, the prevailing thought resonated from an observer who fawned at Alvarez's punishment and assessed, "Whatever they're paying those guys isn't enough."
"You've got to be doing sit-ups for those body shots, for sure," Ellis said. "He looks solid. He really wants this fight. He's working. He's handling it beautifully. I've been in there for like 40 rounds with him and it's made me better. I'll make my money in the long run from this experience."
Wade has seen enough to formulate a well-reasoned fight prediction.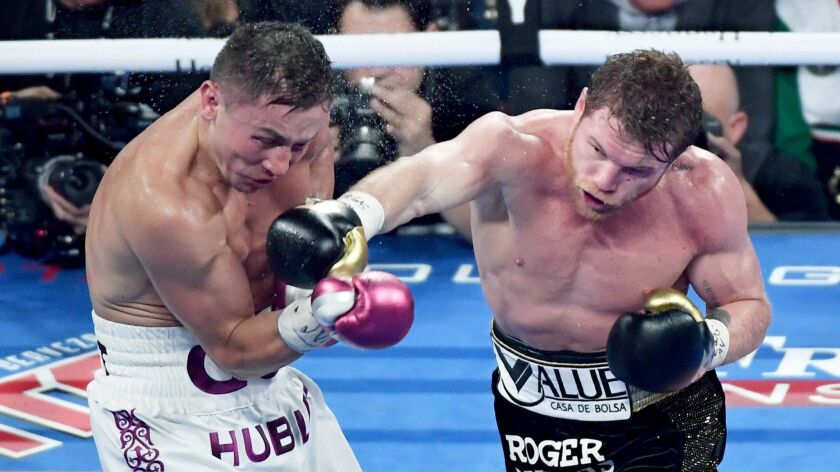 "I feel like Jacobs is a good boxer, but doesn't have the heart of Canelo. He won't go as hard and deep. Heart's a huge thing," Wade said. "When someone's pressing you full blown for 12 rounds, sooner or later, if you don't have the heart, you're going to break because it's going to overpower your mind and your whole ability. You break down inside.
"Canelo's never going to do that.
"Day by day, he's getting stronger, faster and his IQ is real good. He sees the punches coming. He's quick on his feet. Unbelievable body shots -- they're thick, hot and accurate. He just knows where to place it, right where it hurts, and he never just goes through the motions. He's No. 1. He beat 'Triple-G.' That's something. I know. I fought [Golovkin]."
By all accounts, Alvarez is ready to fight Golovkin for a third time in September should he defeat Jacobs and Golovkin conquers obscure Canadian Steve Rolls, as expected, on June 8 at Madison Square Garden.
"Whatever's best for my career -- the best fights for the people -- that's what I hope to do," said Alvarez, whose resume includes triumphs over world champions Miguel Cotto, Austin Trout and Erislandy Lara and that singular loss as a 23-year-old to Floyd Mayweather Jr.
"I'm a man who likes challenges. All that represents a challenge to me reflects a desire for me to take that on."
The DAZN deal offers Alvarez the opportunity to pursue a complete unification of the middleweight division – DAZN fighter Demetrius Andrade wears the fourth division belt of the World Boxing Organization -- and Alvarez promoter Oscar De La Hoya has said he could envision future bouts at super-middleweight or even light-heavyweight when opportunities arise.
"I still don't think he's hit his peak. Maybe two or three more fights," De La Hoya judged. "Then, he'll be at the level where he can tell himself, 'I've made it to the top.'"
Sign up for our boxing and MMA newsletter »
Twitter: @latimespugmire
---