UFC's Georges St-Pierre retires without getting to fight Khabib Nurmagomedov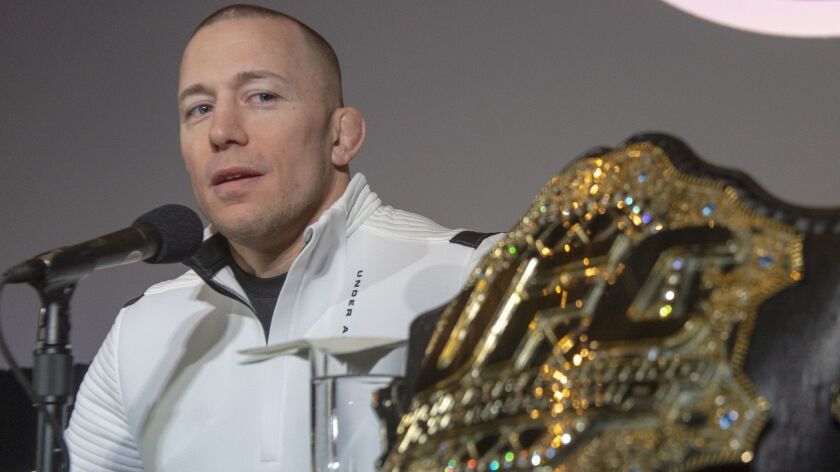 Georges St-Pierre announced his retirement from mixed martial arts fighting Thursday near his home in Montreal.
"I want to be remembered for four things: as a champion, as the guy who made the difference in identifying [performance-enhancing] drug problems in this sport, to be a role model to uphold the positive image of my sport, and to retire on top — to end a good story well. And that's what I did," St-Pierre, 37, told the Los Angeles Times following his retirement news conference at Bell Centre.
St-Pierre (26-2) reigned as UFC welterweight champion from 2006-2007 and 2008-2013, successfully defending the belt nine times — including once in a record $12 million live gate at UFC 129 in Toronto — to stand as the organization's most powerful pay-per-view draw. He returned in 2017 following a hiatus that began in 2013 to claim the middleweight title by defeating Michael Bisping by submission at Madison Square Garden.
He had hoped to finish his career with a fight against unbeaten lightweight champion Khabib Nurmagomedov.
Nurmagomedov (27-0) also sought the fight as an opportunity to match himself against the icon he followed while climbing the ranks to become a powerhouse. Nurmagomedov dominated former two-division champion Conor McGregor by fourth-round submission in October.
The gravity of that victory — combined with the fact that a November date with St-Pierre would have been Nurmagomedov's first fight since being suspended for nine months by the Nevada Athletic Commission for his role in the much-publicized post-fight melee in October — might have elevated a St-Pierre-Nurmagomedov bout to record pay-per-view and live-gate numbers.
St-Pierre said he understood why, since win or lose, it would have been his final fight, that situation might not have been best for UFC. "If Khabib wins, it would be good for his momentum, to grow him and the promotion. But if the UFC promotes that and I win, it would be a loss for them, because they'd make money only with that one shot. So they'd rather put Khabib against another guy, because if he loses then, they can still promote the other guy."
He added, "Maybe it's the right thing for me. I could've got hurt. Maybe I would've won. We'll never know. But every good thing has an end, so I'm at that place in my career where it's time for retirement and it's a story with a happy ending."
Nurmagomedov posted a highlight reel of St-Pierre's career on his Instagram and Twitter accounts Thursday and wrote, "You'll understand why I wanted to fight with him. Simply, he's one of the best of all times. I just wanted to share [the] cage with him while he's active. … I want to fight with the best."
Sign up for our daily sports newsletter »
He added, "Anyway, good luck to you legend … time is merciless, and your decision is right."
Asked if he's permanently slamming the door on fighting again, St-Pierre said, "Never say never, but right now I'm not thinking about it."
He said he's going on vacation, to "relax toward a new chapter in my life.
"I have a lot of opportunity and I don't need to work if I don't want to. I'll find something to do that interests me."
Twitter: @latimespugmire
---
Get the latest on L.A.'s teams in the daily Sports Report newsletter.
You may occasionally receive promotional content from the Los Angeles Times.