Floyd Mayweather Jr.: Gervonta Davis can surpass me and 'be a household name'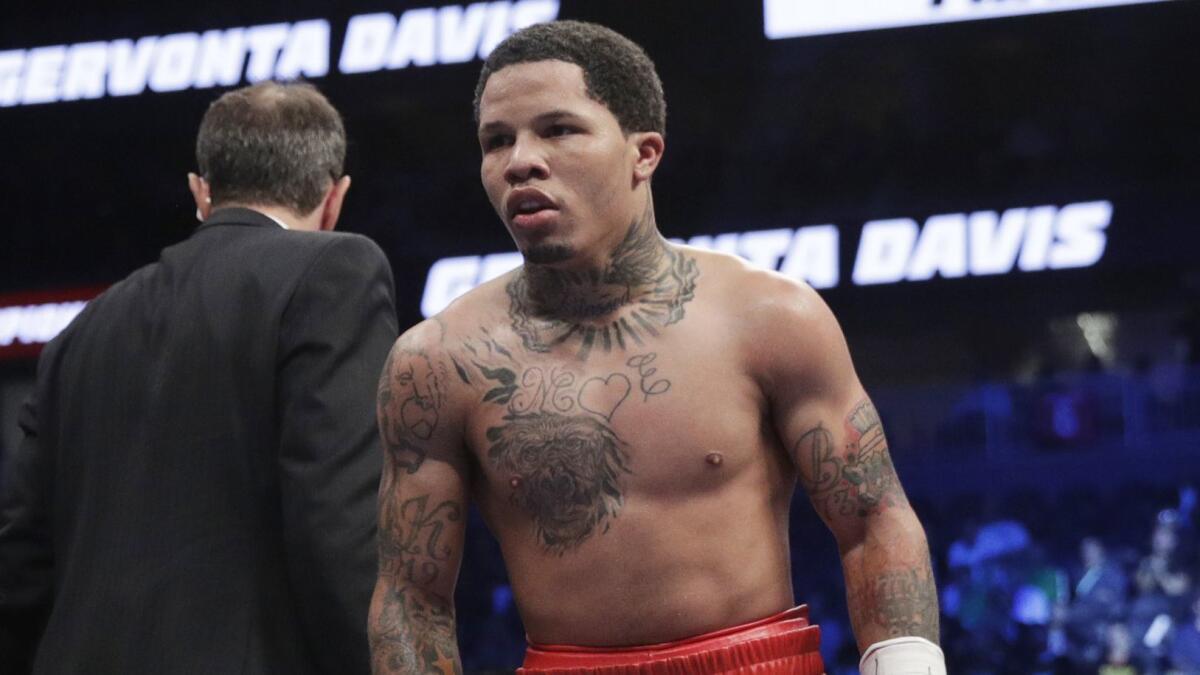 Gervonta Davis fought in his first main event Saturday, received $1 million for less than one round of work and saw Drake, Odell Beckham Jr. and Antonio Brown while doing his "Thriller" ring walk.
"I did what I said I was going to do, and just looking to the future, I'm ready for it," Davis said after retaining his World Boxing Assn. super-featherweight belt by knocking out Mexico's Hugo Ruiz with one second remaining in the first round Saturday night at Dignity Health Sports Park in Carson.
"Tonight, I did great."
Although Ruiz was a late replacement for Los Angeles' three-division champion Abner Mares, who withdrew two weeks ago after suffering a detached retina, he was no slouch. The former super-bantamweight world champion was dominant himself, winning on the Manny Pacquiao-Adrien Broner pay-per-view undercard on Jan. 19, and posting 18 first-round knockouts on his own resume.
Yet, Davis (21-0; 20 knockouts) wasn't moved, admitting he sensed Ruiz (39-5) would be overwhelmed quickly.
"I caught him with a left hand, and then I caught him again with no upper punch – I threw the same punch right back," Davis said. "I knew he was hurt."
The harm increased when Ruiz found himself backed to his own corner, absorbing another punch to the face that broke his nose and a hard right hook to the left ear that dropped him for good.
"I always break people's noses with the uppercut, not the hook," Davis said.
Ruiz admitted afterward he was struck by the heaviness of Davis' punches, and referee Jack Reiss said he waved the bout off because "I asked, 'Can you continue?' [and] he just looked down. He was really hurt."
For those interested in maximizing Davis' drawing power, particularly his 50-0 former world-champion promoter Floyd Mayweather Jr. and Premier Boxing Champions' Al Haymon, the showing was sublime.
"If any fighter can surpass me, it's this young man right here, which I truly believe," Mayweather said after the fight while standing alongside Davis in a frigid hallway. "He's going to be a household name. He's going to be a pay-per-view star."
Davis, 24, still is working on things. After missing weight and losing his International Boxing Federation version of the 130-pound belt on the Mayweather-Conor McGregor undercard in August 2017, the Baltimore native fought only once last year, expressing some displeasure with his handlers while tending to the birth of his daughter, now 6 months old.
Friday, he first stepped on the scale overweight again, but only by two-tenths of a pound, which he trimmed before the final weigh-in deadline.
Davis said it remains his goal, after winning in such short order, to advance a scheduled July homecoming date in Baltimore with another title defense. Premier Boxing Champions has a March 16 pay-per-view in Texas, which seems too soon, and another likely by May, the heavyweight-title rematch between Deontay Wilder and Tyson Fury that would be another important showcase.
Mayweather is a proponent of keeping a fighter busy. He fought 10 times himself in 1997 before winning his first belt the following year.
"We already talked about" fighting before July, Mayweather revealed. "I want him to stay active. The fighter's job is to do what he does. He's not going to call certain fighters' names out, because … me, myself as a promoter, I tell him it's not good to call names out. Whoever we put in front of you, go out and do your job.
"That's what he has done and that's what I'm proud of. It's a lot different [than when I fought] now. We got him that big status a lot faster than I did. He's on a fast pace.… The main thing is he's going out there day in and day out doing his job, and we're proud of him."
IBF super-featherweight champion Tevin Farmer still has two fights remaining on his agreement with the streaming service DAZN before a unification can occur. So PBC will likely find Davis a contender, perhaps a lightweight, to keep him busy.
While Andrew Cancio of Blythe, Calif., upset Puerto Rico's Alberto Machado by knockout Saturday in Indio to win the secondary version of the WBA super-featherweight belt, his promoter, Eric Gomez of Golden Boy, said "[I] haven't thought about" pointing Cancio toward Davis.
Smart move, given Davis' fulfillment of the potential that first caught Mayweather's eye more than five years ago.
"When he first came to see me and Canelo [Alvarez fight in 2013], he was a young kid and wanted me to autograph something for him, and then he came to my gym and the moment I saw him, I told my assistant, 'Reach out to that kid,'" Mayweather said.
"He has a mean streak in him, a dog in him. There's something about him, so I thought, 'Let's take this kid to the next level.' We were on a yacht in Miami a few years ago, and I told him, 'Before you know it, you're going to be a world champion, making millions of dollars, so get ready because it's going to be on a fast, fast pace,' and that's what's happening."
In the ring before the fight began, Mayweather delivered some final instructions to his protégé who overcame being abandoned by his parents as a youth while surviving the ravage of gun violence around his neighborhood.
"I can't tell you [what was said]. That's real, real private. Everything ain't for everybody. It's boxing lingo, telling him: 'We don't worry about what's said on the outside. You were put here, in a certain predicament, for a reason. Now, go out and do what you do and perform,'" Mayweather said.
"He's got to stay on the right path and he has to listen. Out of all the fighters in boxing right now, I'm the only one who knows what it takes to become a household name and make nine figures in one night. So let's move on …."
Sign up for our daily sports newsletter »
Twitter: @latimespugmire
Get our high school sports newsletter
Prep Rally is devoted to the SoCal high school sports experience, bringing you scores, stories and a behind-the-scenes look at what makes prep sports so popular.
You may occasionally receive promotional content from the Los Angeles Times.