Column: With Mikey Garcia in his prime, time is now for fans to pay attention
There's nothing like a major fight in Las Vegas. The opening bell unleashes the flood of anticipation that built up over the preceding week on crowded casino floors and a circus-style weigh-in. This won't be that.
What the lightweight championship boxing match Saturday night at Staples Center (broadcast by Showtime at 7 p.m. PT) offers is something equally, if not more, extraordinary. The audience will have to pay some attention to notice it, but that won't make it any less rewarding of an experience: In champion Mikey Garcia, there will be a Hall of Fame-caliber fighter at the height of his powers.
The cruel paradox of modern boxing is that most top fighters have to spend their best years building their profiles in relative anonymity and are often in decline by the time they have made the casual sports fan aware they exist.
Garcia is 30. The undefeated Oxnard native is one of the three best fighters in the world at any weight class, maybe even the best. He is popular enough among boxing fans for his confrontation with the rangy Robert Easter Jr. to be staged in a venue as large as Staples Center, but still not well-known enough outside of the sport's bubble for the fight to be headlining a pay-per-view card in Las Vegas.
There are circumstances in which fighters such as Oscar De La Hoya and Canelo Alvarez are identified as stars early in their careers, ensuring their peaks are witnessed by large audiences. But De La Hoya's and Alvarez's career paths are exceptions; Garcia's is the rule.
The greatest performance of Floyd Mayweather Jr.'s career was a 2001 stoppage of Diego Corrales that attracted a live crowd of around 8,000 fans. That was the night Mayweather became the No. 1 pound-for-pound fighter in the world, but the magnitude of his accomplishment wasn't widely recognized. Two fights later, Mayweather fought in front of 7,000 fans in San Francisco and based on the number of Filipinos and Filipino Americans in the modest-sized auditorium, it's safe the assume most of them were there to watch a fighter on the undercard named Manny Pacquiao.
Mayweather headlined his first pay-per-view show in 2005.
When Mayweather finally became a household name by beating a faded De La Hoya, he was 6 ½ years removed from his victory over Corrales. Mayweather went on to make more money than any boxer in history, but what people were watching was the most lucrative version of Mayweather, not the best. They missed his prime.
Mainstream audiences could be making the same mistake now with Garcia. He is a well-preserved 30, courtesy of his ability to avoid punches, conservative opponent selection early in his career and a two-year hiatus from 2014 to 2016 because of a dispute with his former promoter.
"I think I'm in my prime right now," Garcia said. "I feel I'm in my best shape, physically and mentally also."
Garcia does everything well. His balance is exceptional and his movements are fluid. His punches are short but packed with power. His technical mastery is enhanced by his youthful reflexes.
Garcia knows greatness can be fleeting in boxing. He was raised in a boxing family. His older brother, Robert, who is now his head trainer, was a world champion. Their father, Eduardo, trained another champion in Fernando Vargas. Garcia has seen up close how reflexes can suddenly vanish, how the trauma of a single fight can leave a fighter in a permanently diminished state.
"Watching my brother and watching Vargas, and with my dad and my brother being trainers, we've gone through a lot of other careers, we've seen it," Garcia said. "I want to make sure I give the fans my best while I'm in my prime."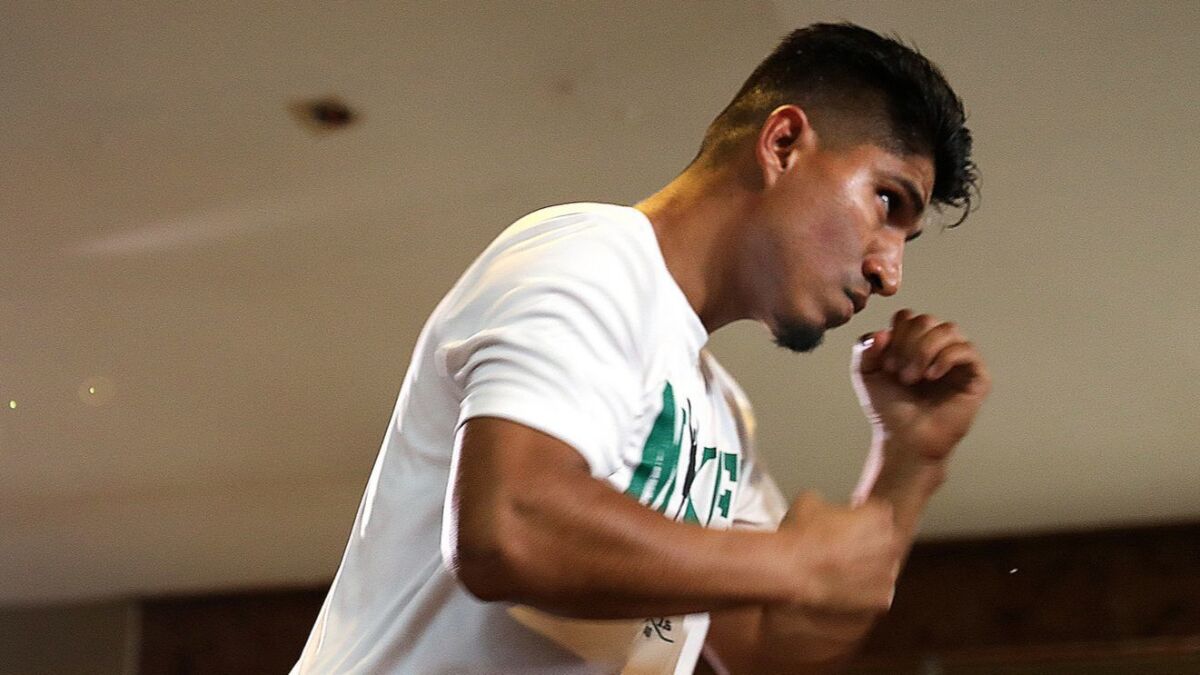 That explains why Garcia has not only been active since his return to the ring in 2014, but also ambitious in his choice of opponents. His fight against the unbeaten Easter at 135 pounds will be his fourth title fight since the start of 2017, the last two against heavier opponents at the super-lightweight limit of 140 pounds. If he defeats Easter as expected, he wants to fight again this year, possibly against 147-pound champion Errol Spence.
"I think I need to take advantage of the moment right now, take on the biggest fights available, give the fans fights to remember, give fights that people can talk about and be excited for," Garcia said. "It's better to give them these good fights now than to wait five, seven years later. It won't be as entertaining, it won't be the same, people will enjoy it but say, 'It should have been five years ago, it should have been four years ago.'"
With Spence and junior-lightweight champion Vasyl Lomachenko mentioned as possible future opponents, Garcia figures to be part of more significant events than his fight against Easter. But he might never be as good as he will be Saturday night.
---
Get our high school sports newsletter
Prep Rally is devoted to the SoCal high school sports experience, bringing you scores, stories and a behind-the-scenes look at what makes prep sports so popular.
You may occasionally receive promotional content from the Los Angeles Times.