Manny Pacquiao is sued by two fans who claim they were defrauded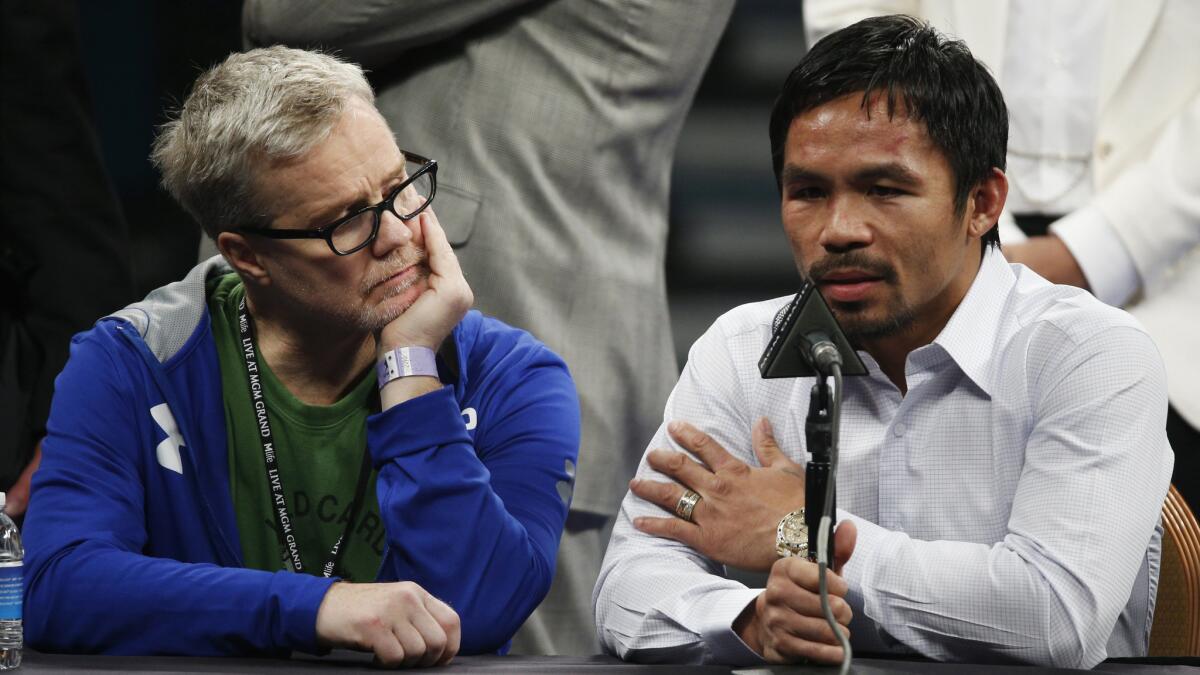 Manny Pacquiao, his manager and promoter were sued Tuesday by two fight fans who are seeking class-action damages because the boxer and his handlers failed to disclose that his right shoulder was injured before his fight Saturday against Floyd Mayweather Jr.
The suit, filed in federal court in Las Vegas on behalf of plaintiffs Stephane Vanel and Kami Rahbaran, alleges they were defrauded, and it seeks class-action status for anyone who bought tickets or the pay-per-view of the fight, or anyone who bet on the bout.
Mayweather won by unanimous decision. Pacquiao said afterward that in the fourth round he reaggravated an injury he suffered during an April 4 sparring session.
Subscribe to our free Dodgers newsletter here
On Monday it was announced Pacquiao will undergo shoulder surgery this week in Los Angeles, and his manager, Michael Koncz, said the fighter expects to be sidelined four to six months.
Pacquiao's attorney, Daniel Petrocelli, said he intends to file a motion to dismiss what he described as a "frivolous" case.
The lawsuit alleges the parties failed to disclose the injury to the Nevada State Athletic Commission and worked to keep it secret from fans who paid a minimum $1,500 to attend the fight in person and $99.95 to watch a high-definition broadcast of the bout.
Pay-per-view sales are expected to top $300 million for the fight and Las Vegas bookmakers last week estimated that up to $80 million would be bet on the bout. The live gate was valued at $74 million.
The lawsuit alleges the defendants were aware Pacquiao had suffered a torn rotator cuff and that the injury would hinder his performance.
At Friday's weigh-in, Pacquiao and Koncz signed a Nevada State Athletic Commission medical form that had "no" checked next to a question asking if the boxer had suffered a shoulder injury.
The form also includes notes that Pacquiao could take an injection of the anti-inflammatory prescription drug Toradol, which commission Chairman Francisco Aguilar stopped Pacquiao from taking before the fight.
Pacquiao received a cortisone injection April 6, according to a member of his training team, and rested his right arm until he felt better.
Pacquiao said the shoulder was functioning at 60% before the fight, and that he believed the injection would give him full range of motion.
Instead, Pacquiao said he reaggravated the injury throwing combinations in the fourth round.
In comments Pacquiao made Sunday night to reporters from the Philippines, and translated by one of his assistants, Pacquiao said, "I didn't want to disappoint the fans so we decided to continue the fight.
"Floyd knew I was injured. He kept pulling my arm. He kept scratching my face with his gloves, too."
Pacquiao's promoter Bob Arum said Monday that he could not answer why the box on the medical form was checked "no."
Petrocelli said Tuesday that he expects the lawsuit "will be dismissed."
"It claims Pacquiao was injured [immediately] before the bout and that's not true — he was injured [nearly a month] before the bout, was examined by doctors and cleared to fight," Petrocelli said. "And he was examined by the commission right before he fought."
Aguilar said he ordered Pacquiao to throw right-handed punches in his dressing room before allowing the bout to proceed.
Because the "no" box was checked and signed under penalty of perjury, Aguilar told The Times he had asked the Nevada attorney general's office to review the case given the significance of the fight.
Also Tuesday, Mayweather texted a reporter to say he was interested in fighting a rematch next year after Pacquiao has healed.
Follow Lance Pugmire on Twitter @latimespugmire
Get our high school sports newsletter
Prep Rally is devoted to the SoCal high school sports experience, bringing you scores, stories and a behind-the-scenes look at what makes prep sports so popular.
You may occasionally receive promotional content from the Los Angeles Times.