Terence Crawford takes promising Olympic medalist Shakur Stevenson under his wing
Boxing at its worst can leave its combatants isolated, trapped in a business devoid of joy.
Terence Crawford, the former unified 140-pound champion and current World Boxing Organization lightweight champion, was deep in that world about five years ago when a smiling, energetic boxer approached him at an amateur tournament.
"This little dude came up to me talking stuff to me, talking about coming [at me] and telling me to come watch him fight," Crawford recalled. "I'm like, 'Man, who is this little dude? I've got to go make sure we go watch.'
"It was funny because we connected right then and there, just like I've been knowing him ever since. When I watched him, I said, 'Damn, this little dude can fight!' The skills, his mindset, the overall aspect of his boxing game, like his defense and his competitiveness. You can see his heart in the ring."
That was the birth of a lasting bond that has brought needed ease to Nebraska's tightly wound Crawford (34-0, 25 knockouts) and a beneficial role model for his protégé, the 2016 U.S. Olympic silver medalist Shakur Stevenson (10-0, six KOs) of Newark, N.J.
While Crawford trains in Nebraska and Stevenson's camp is based in Colorado, the pair have been assigned to several of the same Top Rank fight cards, including Saturday's ESPN pay-per-view from Madison Square Garden.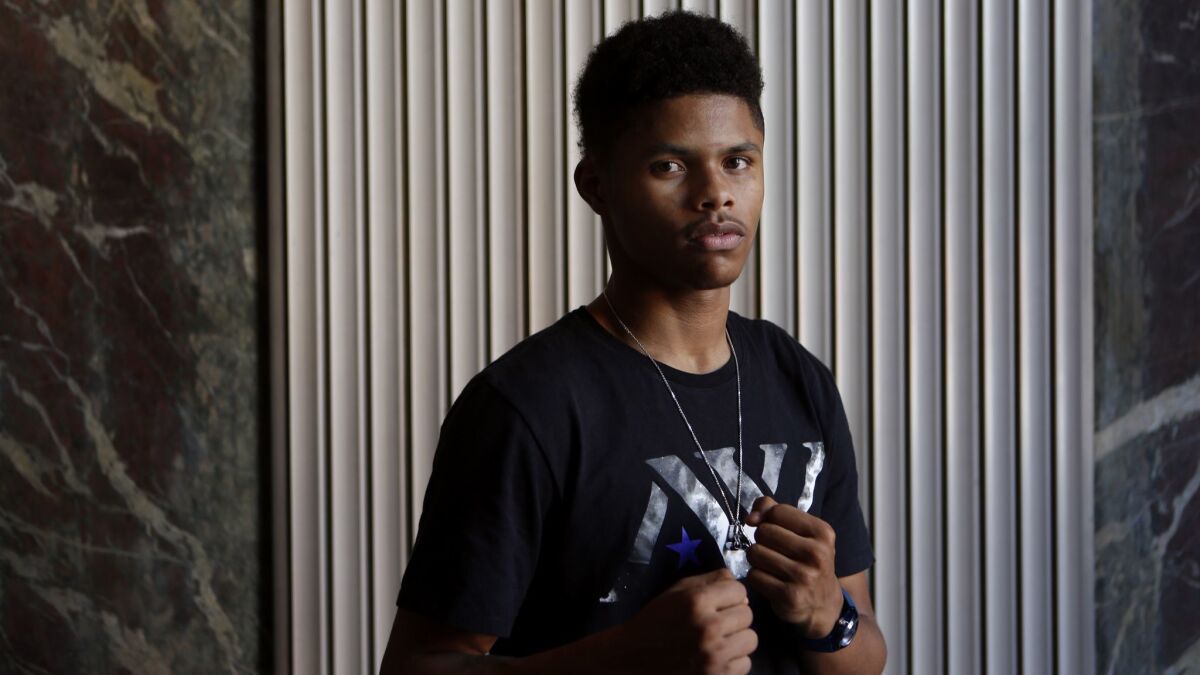 There, Crawford defends his belt against former 140-pound champion Amir Khan (33-4, 20 KOs) of England in the main event, and featherweight Stevenson meets his most formidable foe yet, recent super-featherweight title challenger Christopher Diaz (24-1, 16 KOs).
"They're good for each other," said the fighters' veteran promoter, Bob Arum. "Shakur's like the kid brother – he idolizes Terence, has a great sense of humor and is always laughing. Terence gets a real kick out of him."
Because of their common fight dates, the pair are freed to spar and run together frequently and unwind by playing pingpong on Crawford's new custom table. Everything is a fierce competition. Everything is fiercely good-natured.
"I always tell Shakur – how we're so competitive about all the things we do – that I love that about him, and I always tell him to keep that hunger and keep that competitiveness, because that's what's going to take him to the next level," Crawford, 31, said.
Stevenson, 21, absorbs the message and understands he has a unique knack to press his friend's buttons.
"I try to talk a lot of crap to him. I just compete with him, tell him I'm faster than him, something that I know he'll bite off of," Stevenson said. "He comes back at me and we start going back and forth … I get something out of that personality, and I think I make him more competitive."
Even though Crawford is four weight classes bigger than Stevenson, they spar so Crawford can improve against evasive, fast foes, and so that Stevenson can deal with his friend's rare power and skill that far exceeds anyone he'll see inside the ring.
"I don't go in there trying to knock him out or hurt him for the simple fact that he's slick anyway and I'd get countered," Crawford said. "We're in there working on things, not trying to kill each other."
Stevenson swears he's never been dropped.
"Oh, hell no," he said. "He beat me by unanimous decision last time, but I got a split-decision the first time."
They both released belly laughs, a moment that captured the purity of their connection.
It's appreciated by Crawford's circle, including Arum, who have seen him cast as angry over topics such as boxing's pound-for-pound standings and frustrated about the deep stable of welterweights locked up in Arum's rival Premier Boxing Champions stable, including fellow unbeaten champions Errol Spence Jr. and Keith Thurman.
"Terence … one thing everybody around us notices is that he's a great guy and a great family guy, but he's so serious -- which is good. But you've got to lighten him up every once in a while," Arum said.
This is Crawford's second pay-per-view main event, but first on the ESPN platform, and he sees it as an opportunity to trump the March 16 dominating victory by Spence over converted then-unbeaten lightweight champion Mikey Garcia.
"Every writer I talk to says they've got me No. 1, but I'm still listed No. 2. I don't understand that. Someone's lying," Crawford said. "This is going to boost me beyond just being a champion in the welterweight division to probably being the top welterweight in the division. Taking these kinds of fights shows the kind of confidence I have in myself."
Top Rank matchmakers apparently were reluctant to assign Stevenson against Puerto Rico's Diaz, 24.
Victory, Stevenson said, should propel him to a title shot at unbeaten WBO featherweight champion Oscar Valdez.
"Whenever we talk about the fight, Terence says he knows what I'm capable of doing against Christopher Diaz," Stevenson said. "Everybody has to wait until Saturday to see if it's too much of a test.
"But I know what I'm doing."
Get our high school sports newsletter
Prep Rally is devoted to the SoCal high school sports experience, bringing you scores, stories and a behind-the-scenes look at what makes prep sports so popular.
You may occasionally receive promotional content from the Los Angeles Times.