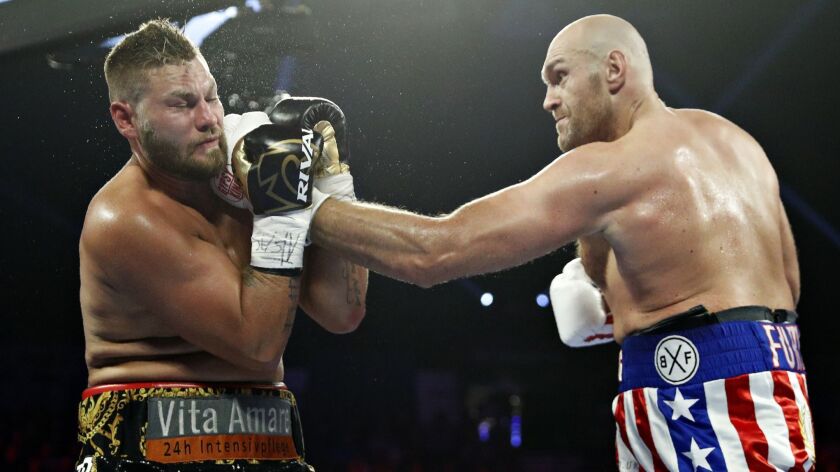 Reporting from las vegas —
Tyson Fury always wanted to go to Las Vegas but promised himself at a young age he wouldn't visit the city that's been home to many great boxing matches unless he went for a fight of his own.
Fury comes from a family of fighters dating more than a century, and his father, John, was a professional boxer who named Tyson after his favorite heavyweight champion, Mike Tyson. As a child, Fury and his father watched most of Tyson's last seven fights in Las Vegas, which all took place at the MGM Grand Garden Arena during the golden age of heavyweight boxing two decades ago.
On Saturday night, Fury (28-0-1, 20 KOs) not only made his debut in Las Vegas, but did so at the same arena Tyson made famous, defeating previously unbeaten German contender Tom Schwarz (24-1, 16 knockouts) with a dominant second-round technical knockout and retaining his title as the lineal heavyweight champion.
Fury entered the ring with an over-the-top entrance paying homage to Apollo Creed's ring walk during "Rocky IV" with James Brown's "Living in America" blasting as he wore a red, white and blue top hat and jacket with stars-and-stripes trunks underneath while walking past showgirls.
His entertaining arrival lasted almost as long as the one-sided fight, which was never in question. Fury pummeled the overmatched Schwarz in the first round and was even more dominant in the second before referee Kenny Bayless stopped the fight just as Schwarz's corner threw in the towel.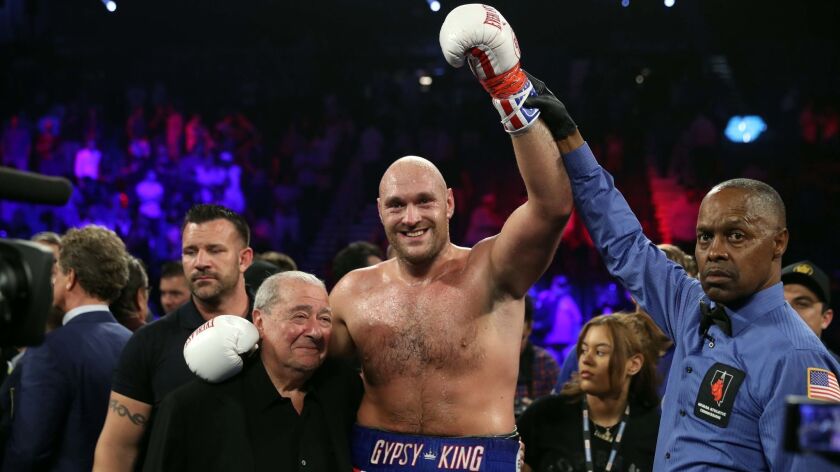 "The key tonight was to enjoy myself," Fury said. "I used the jab. I was slipping and sliding, hands down and switched up to southpaw and caught him with a straight left hook. It was a good shot that would put anyone away ... I'm back."
After his post-fight, in-ring interview, Fury took a sip of water, grabbed the microphone while still wearing his gloves and started to sing Aerosmith's "I Don't Want to Miss a Thing." As the crowd of 9,012 joined him as if they were at a karaoke bar, longtime promoter Bob Arum, who has worked with the biggest names in sport over the last 50 years, couldn't help but laugh.
"That was amazing," Arum said. "Tyson Fury is a force of nature. This was one of the great shows I've ever seen and not just because of the boxing. He's an entertainer. He is truly unique. ... Now that he's in shape, he can knock out every heavyweight in the world. I haven't seen a fighter with that much charisma since Muhammad Ali."
Fury said he likely will fight again Sept. 25 or Oct. 5, but Saturday's win puts him one step closer to a rematch with World Boxing Council heavyweight champion Deontay Wilder early next year.
Wilder and Fury produced one of the most entertaining split draws in heavyweight history at Staples Center last year and breathed life into a division that had been largely ignored for 15 years.
"We will have another fight, then we will fight Wilder," Arum said. "Nothing is signed. They both want to fight. There are two networks and it's 50-50. It's easy to do. You've got my word it's going to happen. First quarter of next year. Right here.
"[The next fight is] first week in October, New York, at the Garden. We haven't talked about who it is going to be yet. I think he is going to come back bigger and better then ever — well, maybe not bigger.
"Fury took off 144 pounds to prepare for Wilder the first time around. I don't care who you are, that's not good."
Given Fury and Wilder's gift of gab and penchant for theatrics, the rematch has the potential to not only be one of the more entertaining promotions leading up to a fight, but also likely will be the most anticipated heavyweight bout since Tyson fought Lennox Lewis in 2002.
Fury defeated Wladimir Klitschko in 2015 to win the lineal heavyweight titles. While he never lost them, he was forced to forfeit the titles as his life spiraled out of control. Less than two years ago Fury weighed 400 pounds, tested positive for cocaine and had suicidal thoughts while dealing with depression.
Healthier and happier now, Fury is looking to continue to pick up where he left off by collecting all the belts he never lost.
His journey to that goal began in Las Vegas, the stage for so many of the fights Fury watched growing up. On Saturday, he made sure it was his.
---