Troubled past motivated UFC heavyweight Derrick Lewis to reach his first title shot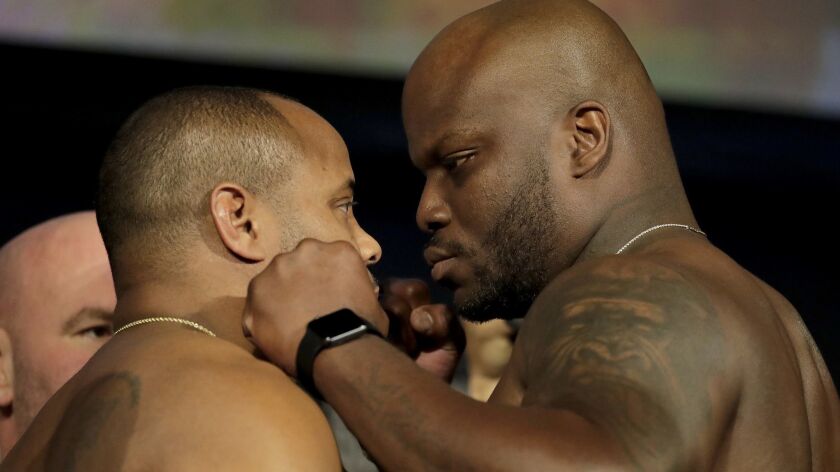 Reporting from New York —
Derrick Lewis has hit the UFC equivalent of a trifecta.
In the past month, Lewis notched a last-second knockout against Russia's Alexander Volkov to win a bout in which he was trailing on all three scorecards; was cleared to fight by the New York commission despite the punishment he received in that fight; and was chosen for his first UFC title shot against Daniel Cormier in the main event of Saturday night's UFC 230 at Madison Square Garden.
Weighing in Friday at 264.6 pounds to Cormier's 251.2, Lewis (21-5) makes no secret of his intention to strike the heavyweight champion with the type of disabling power punches that have helped him win nine of his past 10 fights and earn 18 knockouts.
He cracked that taking the belt would "be disrespectful to the sport, because I have no mixed martial arts background at all. To be heavyweight champion of the UFC after all these great legends have performed with their different histories and backgrounds, it'd be crazy."
No more crazy than that contract Lewis flashed to reporters, a new endorsement deal with Popeye's Chicken that allows him to eat free for life at the fast-food chain. One stand in his hometown of Houston is promising free food from 2-4 p.m. Sunday should Lewis, a near 5-1 underdog, defeat Cormier (21-1), who also held the light heavyweight belt.
Lewis said his original motivation for pro fighting was to feed his family, which the Popeye's deal clinches.
"I'm not in this sport to be the best fighter in the world," he said. "I'd be fine if people forget about me next week. I'm just here to take care of my family,"
Lewis, 33, thanked his wife, April, and three children, the oldest of whom turned 15 this week, as the motivation for turning around a turbulent youth that included watching his mother endure domestic abuse.
At 18, Lewis was given probation for assaulting a man he identified as a KKK member who allegedly used a racial slur while holding a gun. He violated the terms of his parole and spent three years in prison. During his time behind bars, Lewis said one inmate irked him by turning off the live radio broadcast from the Rose Bowl of the historic Texas-USC national championship football game in 2006.
"I was tested a lot, mostly in county [jail] … I didn't say anything when the guy who changed the channel went back to his bunk, but then I pulled him by his legs, pulled off his top and started beating up on him," Lewis said.
He understands, like Bernard Hopkins — who overcame incarceration to become a boxing legend — how the travails of youth can become a powerful platform for a champion.
"I really don't like talking about it too much because it was a tough time in my life," Lewis said.
"You can turn your life around and you don't need all those skills to make it this far … it would be cool to let people know that it doesn't matter what kind of background you have in your past, that you can still make something out of your life."
Lewis said he revisits parts of his past to motivate him in the octagon.
"Life growing up was hard; watching my mom get abused every day and not being strong enough to pull my stepdad off her was tough. That's what I think about on fight night, not being strong enough or good enough to get him off my mother, watching them fight," Lewis said.
"I wouldn't be here today if I didn't go through the stuff I went through."
He said taking the Cormier fight on short notice helped him reach his peak physical shape.
"Fight day [against Volkov] was a great training day for me … if I didn't have this fight coming, I'd be up to 280 now," he said. "If I was really trying to be the best fighter, I'd be in shape all the time and take my training more serious, like I have in this fight. I'll be ready."
Saturday's co-main event is a top-five middleweight meeting between former champion Chris Weidman (14-3) and Brazil's Ronaldo "Jacare" Souza (25-6-1), who is filling in for the injured Luke Rockhold.
Weidman stopped a three-fight losing streak last year by defeating Kelvin Gastelum, and he said a newfound commitment to a strict routine and Bible study has helped reshape the fighter who twice beat UFC legend Anderson Silva.
"The biggest thing I did with this camp is start a morning routine for the last four months, and it's made a huge difference … I'm born again," Weidman said.
"I'm not afraid to take him down or strike with him. It'd be amazing to submit 'Jacare.' That would really get me going forward," to a 2019 meeting against the winner of middleweight champion Robert Whittaker's fight against Gastelum early next year.
Twitter: @latimespugmire
---
Get our high school sports newsletter
Prep Rally is devoted to the SoCal high school sports experience, bringing you scores, stories and a behind-the-scenes look at what makes prep sports so popular.
You may occasionally receive promotional content from the Los Angeles Times.