Brian Ortega hopes to ride the wave to UFC featherweight title
At 17, Brian Ortega was directed by his jiujitsu coach Rener Gracie to accompany him on a walk to the ocean.
The route they took along the sand of Redondo Beach were the same steps taken by Rener's uncle Royce Gracie, the winner of UFC 1.
"I wasn't really a beach boy," Ortega remembered. "I was a city boy, afraid of the ocean. I was a typical Mexican, jumped in there with my jeans on, showered off, got in the car all wet and went home ... for me, that was a beach day."
As Rener Gracie passed along lessons established by his grandfaher, MMA godfather Helio Gracie, it wouldn't take Ortega long to discover board shorts, and for the surfer's lifestyle to consume him.
Befriended at the Breakwall by James Luhrsen, a surfing local and boxing coach who became his mentor, Ortega melded what he had learned from Gracie into the prime example of what mixed martial arts at its ultimate form looks like today.
And that beach walk now hovers as a seminal occasion, with Ortega standing one victory away from becoming the newest UFC champion.
By relying on his versatility to finish his six UFC opponents by three knockouts and three submissions, Ortega (14-0) was to meet featherweight champion Max Holloway (19-3) Saturday at UFC 226 in Las Vegas. However, Holloway pulled out of the fight Wednesday when it was announced that he was suffering from concussion-like symptoms and was hospitalized.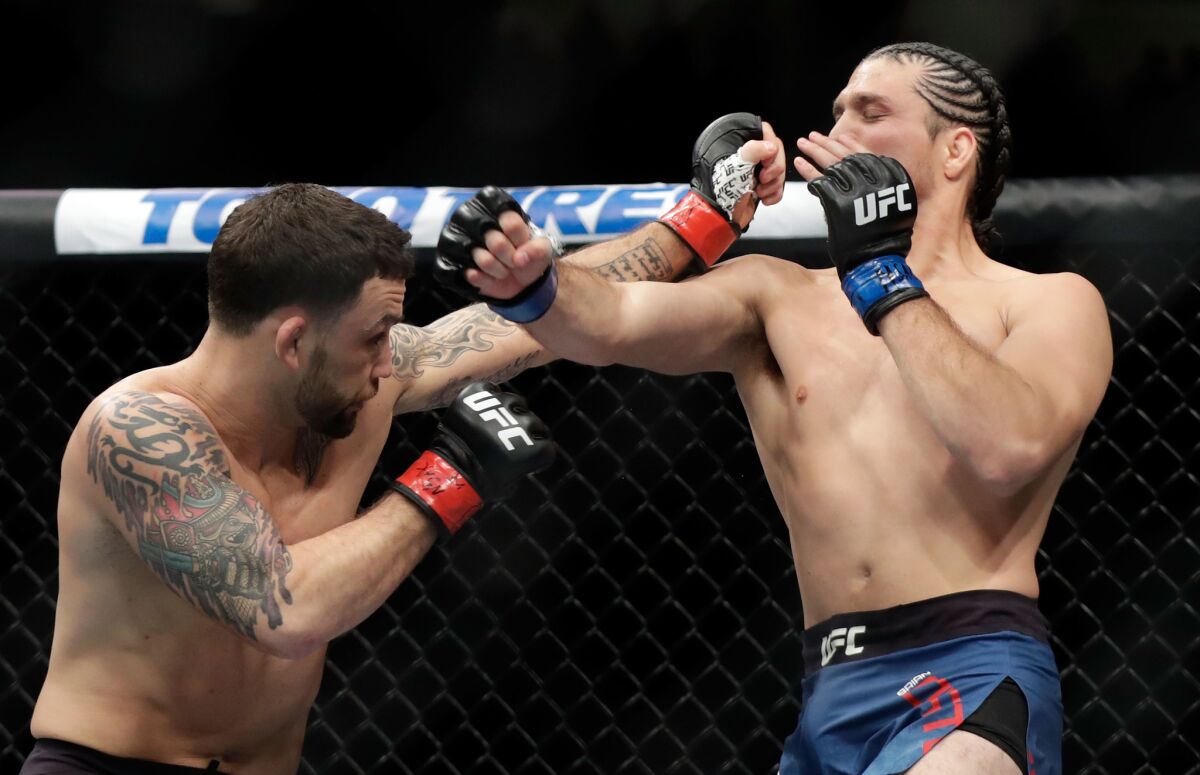 "The hard work Brian does as a fighter requires an outlet to find tranquility, and the ocean is the closest you're going to get to God," Luhrsen said. "It's like the Beach Boys sang, 'Catch a wave and you're sitting on top of the world.' When Brian does it — looking at that wave and going for it — he's like a little kid."
Luhrsen incorporates surfing and fighting in his training, labeling the operation "Black Belt Surfing."
"It's spiritual — Mother Nature and you," he said. "It's about finding balance and it's not as easy as you think. That ocean's moving, and you're trying to stand on this board. It takes time to master — just like jiujitsu, boxing, kickboxing — it takes a while, man."
Ten years into the process, Ortega is asked about the correlation between martial artists and surfers, and quickly produces an explanation.
"They have similarities, a cohesion, a connection," he said.
"The mental aspect of it … when you surf a big wave, you get afraid — the same way you feel when you start a jiujitsu tournament. The nerves, the adrenaline dump. When you get held down by a wave or when they have you in a really bad position on the mat, you know you're going to come back up for air, but you have to learn to relax. So this being comfortable in uncomfortable situations plays into it."
What Ortega inherently brings to both lifestyles — a disdain for fear — sets him apart.
It also nearly led to his demise two years ago when he ignored warnings not to surf during El Niño conditions at the Breakwall and almost drowned as waves with 25-foot-high faces raged.
"I knew I couldn't surf it, but still, let me try," Ortega said. "That's always been my problem, the lack of fear in some situations. I got my board, started waxing it, and James said, 'What the hell are you doing, boy?' He left to go get his son at school and all the other guys who warned me not to do it were out in the ocean.
"Then there's this friend of mine sitting there saying, 'Bro, we're warriors … ,' this whole speech. I got that one OK to try, and that was all I needed."
After being buffeted by a massive wave and going under for a couple of minutes, Ortega was rescued by another surfer who plucked his body from the ocean and resuscitated him on shore.
"I saw dark green, and that's it," he said. "I told myself, 'You're going to die right here.' Instead of fighting it, I accepted it. It was a moment of peace. It was my son's third birthday and I remember seeing a vision of him smiling at me, like he was telling me it's OK. In all this craziness, I'm like, 'OK.'"
It's that absence of fear that also has allowed him to become the No. 1 -ranked featherweight after his first-round knockout in March of former lightweight champion Frankie Edgar.
"I very strongly dislike fear. I always say fear keeps us from living our lives and doing the things we want to do," Ortega said. "If we have more confidence in ourselves, we can live a happier life and a better life.
Twitter: @latimespugmire
---
Get our high school sports newsletter
Prep Rally is devoted to the SoCal high school sports experience, bringing you scores, stories and a behind-the-scenes look at what makes prep sports so popular.
You may occasionally receive promotional content from the Los Angeles Times.