Holly Holm finds herself in the familiar spot as underdog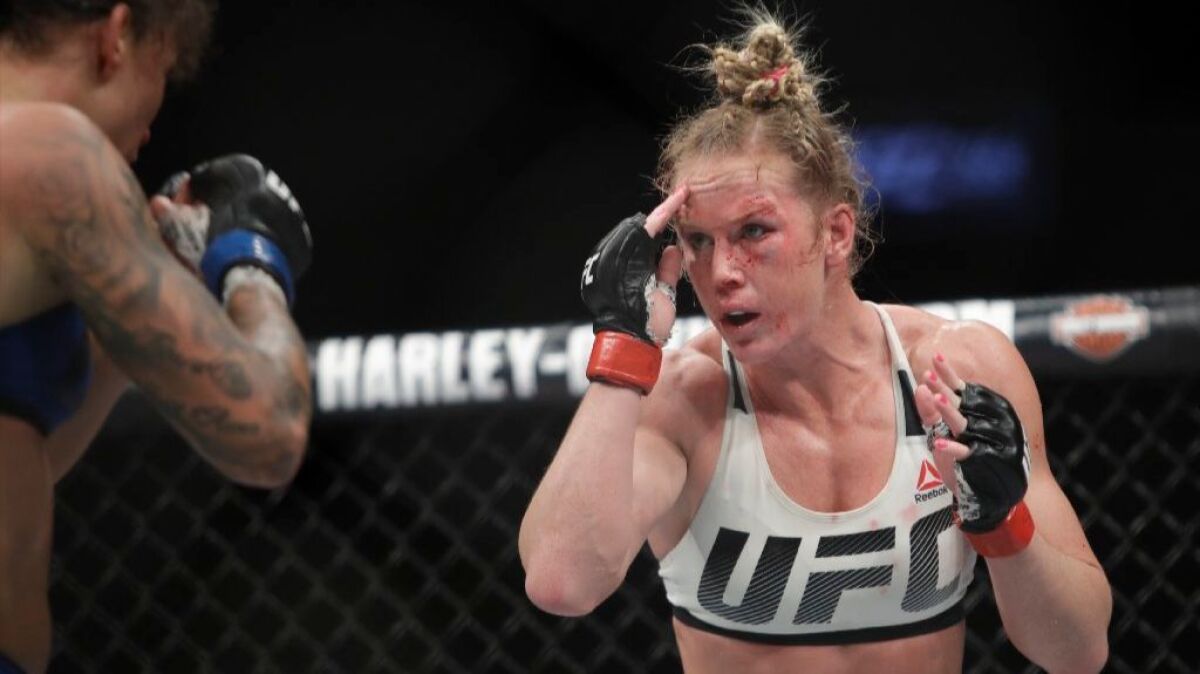 Reporting from Las Vegas —
Holly Holm has ridden perhaps the UFC's most volatile career roller coaster, from the zenith of her upset of Ronda Rousey two years ago to a three-fight losing streak that left her in tears earlier this year.
"It definitely is that," Holm said Wednesday. "I don't know anybody else it's happened to."
Holm, 36, buckles up again Saturday night when she meets Cris "Cyborg" Justino (18-1), the dominant new featherweight champion, in the main event of UFC 219 at T-Mobile Arena.
"If I was able to do it once, I can do it again," Holm said. "I know I'm capable of beating these girls, and it really comes down to that."
A former professional boxing world champion, Holm points to lessons in resiliency she gained in that sport as the inspiration for her massive upset of Rousey, and for the confidence she takes into the fight against the 32-year-old Justino, who hasn't lost since her debut in 2005, with eight consecutive victories by knockout.
"I'm in a place where no one thinks I can do it and there's no possibility for me, but I've been in situations — four fights — where I've thought, 'What are you thinking taking this fight?' " Holm said. "And this is the fifth … ."
Holm won those other four, reeling off her one-sided decision over the famed, vastly more experienced Christy Martin in 2005; moving up two weight classes to deliver a first loss to Mary Joe Sanders — the daughter of Pro Football Hall of Fame member Charlie Sanders; avenging a brutal knockout loss to Anne Sophie Mathis by winning a unanimous decision six months later; and beating Rousey.
That remarkable event in Melbourne, Australia, seems a lifetime ago now, but Holm on Wednesday easily relived the stunning day.
"The feeling when nobody thinks you can do it and you're walking in … you really have to tell yourself you know better than what all of these people are thinking … because you can easily think, 'Are they all seeing something I'm not?' " Holm said.
Holm knew Rousey, who'd needed a total of just 2 minutes, 8 seconds to vanquish her prior four foes in the first round, had invested training time to boxing, Holm's specialty
"Walking to the octagon was very heavy, very nerve-racking. There's never been a feeling like that. It's such an intense feeling, close to being unbearable," Holm said. "Every fight, I'm in the locker room thinking, 'Why do I do this? I hate fight day.' "
The octagon "is the most vulnerable place and the most lonely place to be. They lock it up and it's just you and this person. Millions of witnesses, and you're totally exposed, and what you do is either going to be laughed at by millions, mocked by millions or praised by millions. You don't know."
By landing some heavy first-round punches, Holm was off to a good start.
"I knew they were solid, but I also knew nobody had ever stopped her before, so … I might be punching at her all night. I never wanted to get an adrenaline dump, thinking I'd finish her, then not do it and gas out."
But then Holm landed the defining head kick in the second, and the Rousey reign was over.
"Unexplainable," she said.
There was an obvious weight attached to ruining the UFC's prized fighter, however, one that set up Holm's own fall.
As Rousey went into deep seclusion instead of seeking a lucrative rematch, Holm wanted to fight again quickly, so she met with UFC President Dana White.
"I understand I'm not the favorite person right now because you guys have done a lot for her and she's done a lot for the UFC," Holm told White. "You think of Ronda Rousey, you think of the UFC. Then I come in and mess things up, throw a wrench into the engine. So we are here now. We can only move forward."
Holm pressed for a March 2016 fight against Miesha Tate that the UFC permitted. Leading on scorecards, Holm was choked out by Tate with 90 seconds remaining in the fifth and final round.
"I wanted to keep fighting because I was passionate about it. That's why I got to the title in the first place," Holm said. "A lot of people wanted me to wait for the rematch with Ronda, but I didn't want my whole career to be based around one fighter. I didn't think, 'I want to take the [Tate] fight to show people what I've really got,' not at all. But they didn't know if or when [Rousey] would come back."
She was defeated by Valentina Shevchenko by decision in July 2016, then lost the inaugural featherweight title fight by narrow decision to Germaine de Randamie in February after the referee didn't punish de Randamie for two punches after the bell.
Tears came to Holm at the post-fight news conference, the moment feeling like a possible ending before she knocked out Bethe Correia in June and landed the title shot at "Cyborg."
"Here we are again. Bigger, stronger opponent, people asking, 'What are you thinking?' " Holm said. "I know it's a risk. All of them have been. But I've been here before. That alone doesn't guarantee a win, but I know believing in myself has been the biggest thing that has helped me."
UFC 219
Main Event: Cris "Cyborg" Justino (18-1), Costa Mesa, vs. Holly Holm (11-3), Albuquerque, for Justino's women's featherweight belt.
When: Saturday, 7 p.m.
Where: T-Mobile Arena, Las Vegas.
Television: Pay-per-view, $59.99; Preliminaries at 5 p.m. on FS1.
Undercard: No. 2 Khabib Nurmagomedov (24-0) vs. No. 4 Edson Barboza (19-4), lightweights; No. 8 Carlos Condit (30-10) vs. No. 12 Neil Magny (19-7), welterweights; No. 6 Cynthia Calvillo (6-0) vs. No. 9 Carla Esparza (13-4), women's straw-weights; Dan Hooker (15-7) vs. Marc Diakiese (12-1), lightweights
Twitter: @latimespugmire
---
Get our high school sports newsletter
Prep Rally is devoted to the SoCal high school sports experience, bringing you scores, stories and a behind-the-scenes look at what makes prep sports so popular.
You may occasionally receive promotional content from the Los Angeles Times.