Andre Ward plays up U.S.-Russia tensions in lead-up to rematch with Sergey Kovalev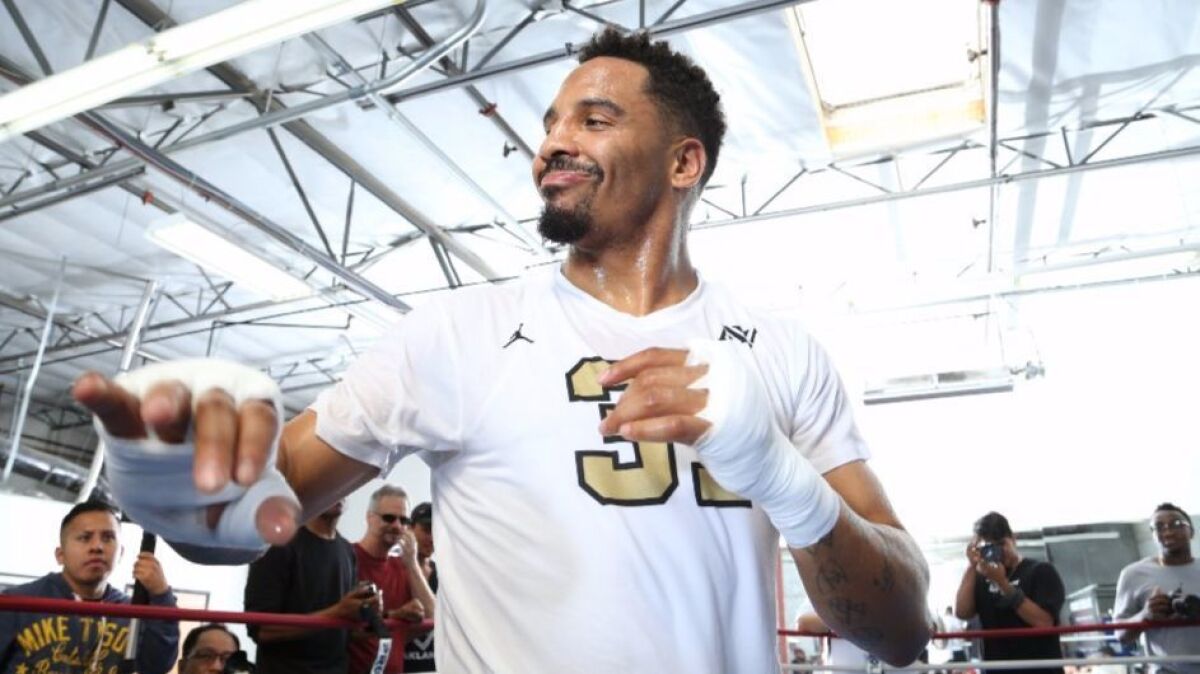 Reporting from LAS VEGAS —
Andre Ward is seizing the moment, and vice versa.
The three-belt light-heavyweight champion from Oakland whose talent has long deserved a greater audience arrives for his Saturday pay-per-view rematch against Sergey Kovalev with U.S.-Russia tensions once again front and center.
Confronted by a truly hostile enemy in the ring, Ward (31-0, 15 knockouts) said he can't deny the parallels between his feelings and those of many of his countrymen who've been drawn this month to the Capitol Hill testimony of fired FBI Director James B. Comey and Atty. Gen. Jeff Sessions regarding President Trump and the intrusion of U.S. affairs overseen by Russian President Vladimir Putin.
"There's definitely a lot of similarities between everything's that going on with our politics, and what's going on with people taking sides in this fight. They want to really show allegiance to their country," Ward said.
Ward, the most recent U.S. Olympic male boxing champion (2004), has struggled to gain the same patriotic support that made Olympic champions Sugar Ray Leonard and Oscar De La Hoya household names during their professional rise.
After defeating a slate of foes best known in Europe while winning a super-middleweight tournament in 2011, Ward fought only once between September 2012 and June 2015 while splitting from the late Southland promoter Dan Goossen.
In November, Ward rose from an early knockdown to pile up rounds in the second half of the bout against Kovalev (30-1-1, 26 KOs) and win a unanimous decision by 114-113 scores on all three cards.
Since then, Kovalev has switched toward the Russian prototype — angered and stone-faced over judging, vowing icily to "punish" Ward, and promising a merciless destruction of the cerebral, improvisational champion.
"When you have an event like this with people involved from these different countries, people are going to take sides," Ward said. "I might stay out of the political side of it, but I'm aware of it."
Ward's path to Olympic gold included a quarterfinal victory over two-time world champion Russian Evgeny Makarenko, which veteran fight reporter Peter Garczarczyk of Poland's Polsat TV called "the most remarkable three minutes of boxing I've ever seen."
That 23-16 victory was more stirring than the rally against Kovalev, considering Ward's massive underdog status.
"I didn't need the political climate of today to get me pumped up about serving my country," Ward said. "It's always been an honor and a privilege. I also relished being in [the super-middleweight tournament] for many reasons, but the top one was because I was the American. I've always been cognizant this is an opportunity when I step into the ring to represent my country. This is the best place in the world."
Many tickets remain for this meeting of fighters who some rank as the top two in the world, and Ward's promoter, RocNation Sports President Michael Yormark, lamented the de-emphasis on the U.S.-Russia hot button pressed by Kovalev's promoter, Kathy Duva.
"It was a story line Roc Nation felt comfortable with, and it's the reality of what we have," Yormark said. "We would've promoted it further, but we acquiesced to that request.
"But when you think of this fight, there's no question there is a U.S.A. versus Russia element with contrasting styles who dislike each other. And that dislike runs very deep.
"Sergey is what you envision of a Russian fighter. Andre is exactly what you would envision if you were trying to create the perfect boxer to represent U.S.A. Why not take advantage of that?"
Kovalev said he's never met Putin, but would be happy to accept his call should he win Saturday night.
"Of course. That's my country," Kovalev said.
Duva explained, "Sergey's got his feet in two worlds. He lives in California, he's here as an immigrant who has made his fortune. He's not like [the 'Rocky IV' character Ivan] Drago, who just showed up.
"Is this what we need to do to sell tickets? Have him breathing fire? Sergey is 100% genuine. He can't do phony. He's alternately charming and frightening, menacing and fun to be with, and I think that makes him unique."
Ward knows — stereotype or not — he'll be confronting the enraged Russian bear.
"He can be as mad as he wants to be. Frankly, that's a good thing," Ward said. "He wants to come in hot-headed? It's my job to cool him off.
"It's not just that he's a mean Russian. You've got a mean American on the other side of the ring."
Twitter: @latimespugmire
---
Get our high school sports newsletter
Prep Rally is devoted to the SoCal high school sports experience, bringing you scores, stories and a behind-the-scenes look at what makes prep sports so popular.
You may occasionally receive promotional content from the Los Angeles Times.