Mayweather vs. McGregor is casting a shadow over Ward-Kovalev rematch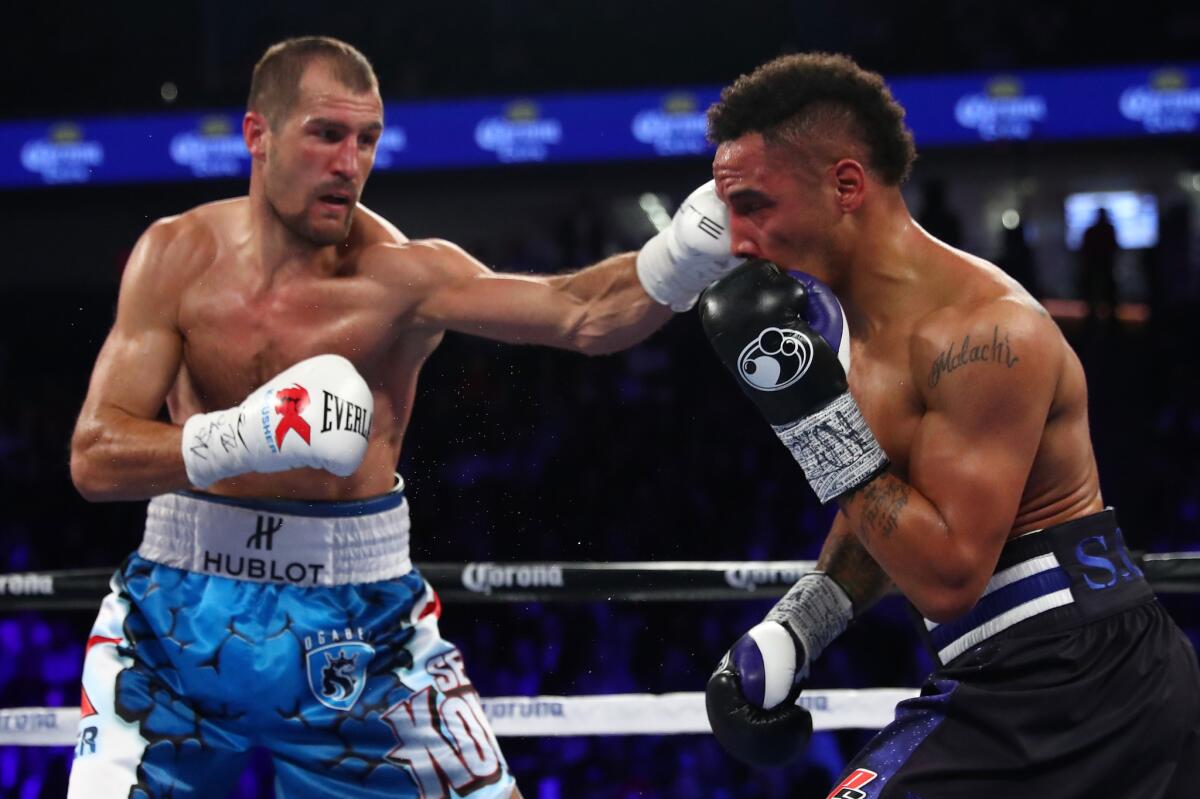 Reporting from Las Vegas —
The bout to determine worldwide pound-for-pound supremacy is fighting for attention, so it doesn't help that one of the combatants has stopped talking.
Wednesday's announcement that Floyd Mayweather Jr. is returning from retirement to meet UFC champion Conor McGregor in a boxing match Aug. 26 has distracted from Saturday's light-heavyweight title rematch between unbeaten Andre Ward and Russia's Sergey Kovalev.
Ward won the tightly contested first bout in November by rising from an early knockdown to edge Kovalev on three 114-113 scorecards. The rematch between the bitter rivals is drenched in Kovalev's desperation and Ward's ambition to surpass Gennady Golovkin as the world's No. 1 boxer.
Yet the bout is struggling to sell out even 10,300-seat Mandalay Bay, and there are concerns it won't match the 160,000 pay-per-view buys of November.
"The question I've gotten most often is 'Do you think this fight should be bigger?'" Kovalev promoter Kathy Duva said. "I looked on Google today and it's all Mayweather and the circus. … It's a kick in the teeth. … This is the fight everybody asks for: The best fighting the best."
Though Duva urged fight reporters to keep their attention on Ward-Kovalev, her own fighter granted only the barest of content.
After skipping a planned session with reporters, Kovalev spoke only briefly at a news conference podium.
"What do you want to hear from me? I've already said enough," Kovalev (30-1-1, 26 knockouts) said, turning to Ward. "You, get prepared."
With that, Kovalev left the stage and exited the Mandalay Bay room without participating in the traditional faceoff with Ward (31-0, 15 KOs) for photographers.
Duva portrayed her fighter as "like a tiger locked in a cage," while Kovalev's manager sought to explain the behavior by casting Ward as lax about promotion because he has a purse guarantee from his promoter, rapper Jay Z.
"At our first fight, Sergey did so much [promotion], being the champion. At this one, he doesn't feel Ward is doing enough," manager Egis Klimas said. "Ward has a sugar daddy who pays him $7 million."
Ward jabbed at Kovalev's perceived lack of charisma.
"He's not the most entertaining guy. You talk to him, you don't walk away blown away. Just being honest," Ward said. "Same lines, same rehearsed stuff. The dude walks around angry all the time. The guy has to smile a little bit more.
"I've been grinding from the beginning, whether I get attention or not. We have a blue-collar mentality. All the talk is good, but anybody who knows me knows I'm all about the action."
Klimas complained that at a series of chats Wednesday with television reporters, Kovalev suffered through an 80-minute session he believed would last 30 minutes.
"Somebody was talking in a whisper, the microphone didn't work, the voice was bad, the camera is pointed at his face. … It's not his native language. He doesn't understand what the question is," Klimas said of Kovalev. "He is stressed out."
Stressed out by that? What about when Ward's fists are thrown his way Saturday night with the pay-per-view crowd watching?
"He came to fight here, not talk," Klimas said. "And we're going to see Saturday night what the most important thing we have here [is]."
Still, the money that comes with more fan interest ranks as a high priority too. And as Mayweather-McGregor continued to dominate the news cycle Thursday, the hand-wringing over Ward-Kovalev intensified even as Ward kept cool.
Ward was so relaxed about the Mayweather-McGregor effect he said he'll buy the pay-per-view, intrigued by whether McGregor's "dynamite left hand" can penetrate Mayweather's famed defense.
"I applaud them, I'm glad they got it done," Ward said. "The timing, I think, is a good thing. The people who are going to buy our fight are still going to buy it and come out. I don't feel like it affects me. It is what it is."
Of course, businesswoman Duva couldn't disagree more.
"Of course it's bad for boxing," Duva said of Mayweather-McGregor. "It's going to suck up all the air in the room. You're all going to write about it. People will get all excited. And the casual fans we always want to bring into the tent are going to be disappointed again, and it's going to be years before they want to see another boxing event.
"It's not a boxing event, it's a spectacle. On the other hand, when this is over and this fight ends up the way I expect it will, the next time somebody asks me, 'MMA or boxing, what's the better sport?' I'll say, 'We know who the bad asses are because Ronda Rousey and Conor McGregor just got their asses kicked by two boxers.' We'll have that to cling to."
BOXING
Main event: Andre Ward (31-0, 15 KOs), Oakland, vs. Sergey Kovalev (30-1-1, 26 KOs), Russia, for Ward's World Boxing Assn., World Boxing Organization and International Boxing Federation light-heavyweight belts
Where: Mandalay Bay, Las Vegas
When: Saturday, 6 p.m.
Television: HBO pay-per-view, $64.99 (high definition)
Undercard: Guillermo Rigondeaux (17-0, 11 KOs), Cuba, vs. Moises Flores (25-0, 17 KOs), Mexico, for Rigondeaux's WBA super-bantamweight belt; Dmitry Bivol (10-0, eight KOs), Russia, vs. Cedric Agnew (29-2, 15 KOs), Chicago, light-heavyweights; Luis Arias (17-0, eight KOs), Milwaukee, vs. Arif Magomedov (18-1, 11 KOs), Russia, middleweights.
Twitter: @latimespugmire
Get our high school sports newsletter
Prep Rally is devoted to the SoCal high school sports experience, bringing you scores, stories and a behind-the-scenes look at what makes prep sports so popular.
You may occasionally receive promotional content from the Los Angeles Times.