Robert Griffin III auditions for Chargers, but Colin Kaepernick continues to be the bigger story
The Chargers will be the latest NFL team to learn that sins of omission in this league, at this time, are just as powerful as sins of commission.
Tuesday, they worked out Robert Griffin III, a former Heisman Trophy winner trying to resuscitate his career as a professional football quarterback.
It was a low-risk, low-commitment move, even if it ends with a deal (most fringe NFL contracts are largely non-guaranteed). Philip Rivers is as durable as NFL quarterbacks come, and the guys who have backed him up make most of their impact in meeting rooms and not on the field.
But, as teams throughout the league in 2017 have learned, the decisions of which quarterbacks to audition and which quarterbacks to sign are every bit as newsworthy as the actual tryouts and signings because of one quarterback that's still unemployed.
Colin Kaepernick, who led the San Francisco 49ers to Super Bowl XLVII, is without a team, and every time a NFL franchise says "yes" to a Griffin or to a Ryan Fitzpatrick or to a Dan Orlovsky, they're also saying "no" to Kaepernick.
That, for some, is the perception, and in the Chargers' case, it's an easier connection to make because of some similarities in two players' career arcs.
Like Griffin, Kaepernick's most productive years came earlier in his career, and in 2015, he lost his job as the team's starting quarterback to Blaine Gabbert.
But last season, Kaepernick's actions before games, when he took a knee during the playing of the national anthem, garnered more attention than any of his action on it. He found himself at the intersection of social issues and sports, protesting against police shootings of unarmed black men.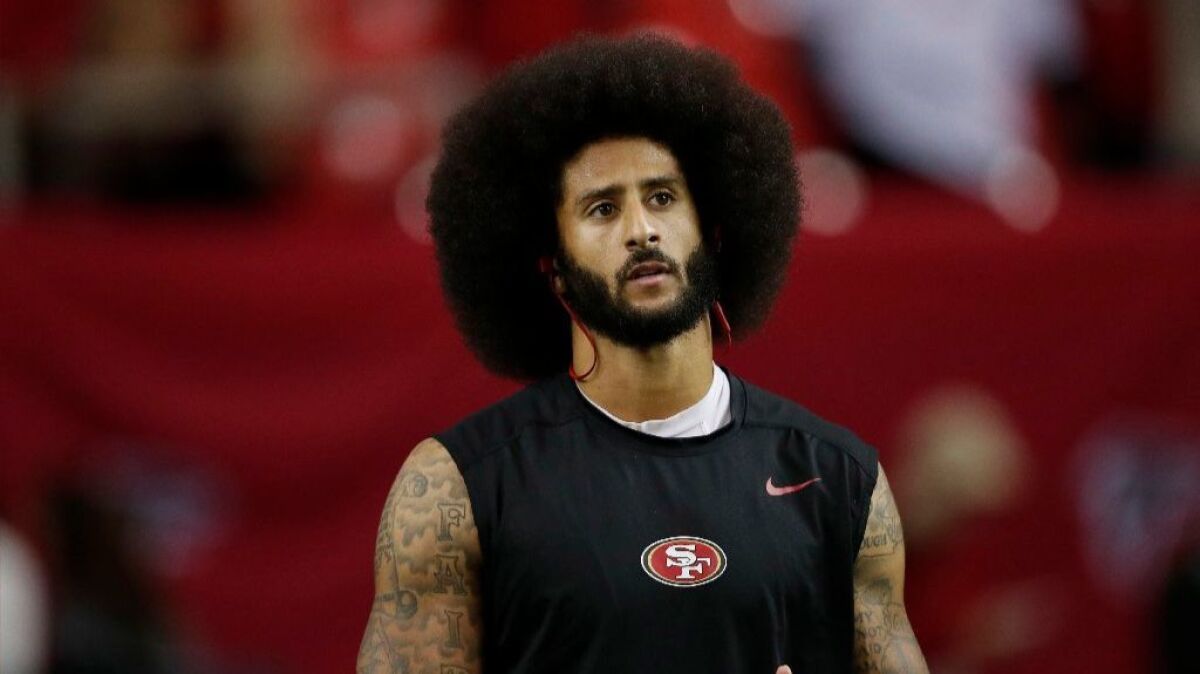 "I am not going to stand up to show pride in a flag for a country that oppresses black people and people of color," Kaepernick told NFL.com last August. "To me, this is bigger than football and it would be selfish on my part to look the other way. There are bodies in the street and people getting paid leave and getting away with murder."
He regained his starting spot later in the season and eventually became a free agent.
In an image-conscious league, Kaepernicks's unemployment is, in part, tied to the attention that may come from his activism, which has extended beyond his anthem protests to include $700,000 of donations to charities supporting various causes, according to his website. Kaepernick pledged to donate $1 million.
When news broke Monday that the Chargers were bringing in Griffin for a workout it became as newsworthy that another team was passing on Kaepernick, with social media and football websites citing further proof that Kaepernick's been blacklisted by NFL teams.
While he's two years older than Griffin, Kaepernick threw only one more interception than him last year despite attempting more than twice as many passes. And despite San Francisco's struggles last season, he flashed plenty of ability with a 296-yard passing, 113-yard rushing performance against Miami in Week 11. He comes with almost none of the same injury baggage as Griffin, who hasn't been healthy for a stretch since his rookie season.
Griffin's workout with the Chargers came as a surprise because his name had hardly been mentioned this summer. Kaepernick, on the other hand, has come up virtually every time a team has signed a quarterback.
Are the Chargers missing an opportunity to win over fans in a new market by taking a popular and potentially more productive player (Kaepernick's jersey was the No. 17 best-selling uniform on NFLShop.com in May)? Are they afraid of alienating fans that are turned off by Kaepernick's politics? Did Kaepernick not want to be in a situation where he'd clearly be the No. 2 guy? Did the Chargers ask? Or, did they simply think Griffin would be a better fit?
These aren't the questions the Chargers probably want to answer when training camp in Costa Mesa opens on Sunday. But, they're the questions facing every team that picks a quarterback other than Kaepernick.
Follow Dan Woike on Twitter @DanWoikeSports
---
Get the latest on L.A.'s teams in the daily Sports Report newsletter.
You may occasionally receive promotional content from the Los Angeles Times.