Chargers' Keenan Allen dedicates big day to grandfather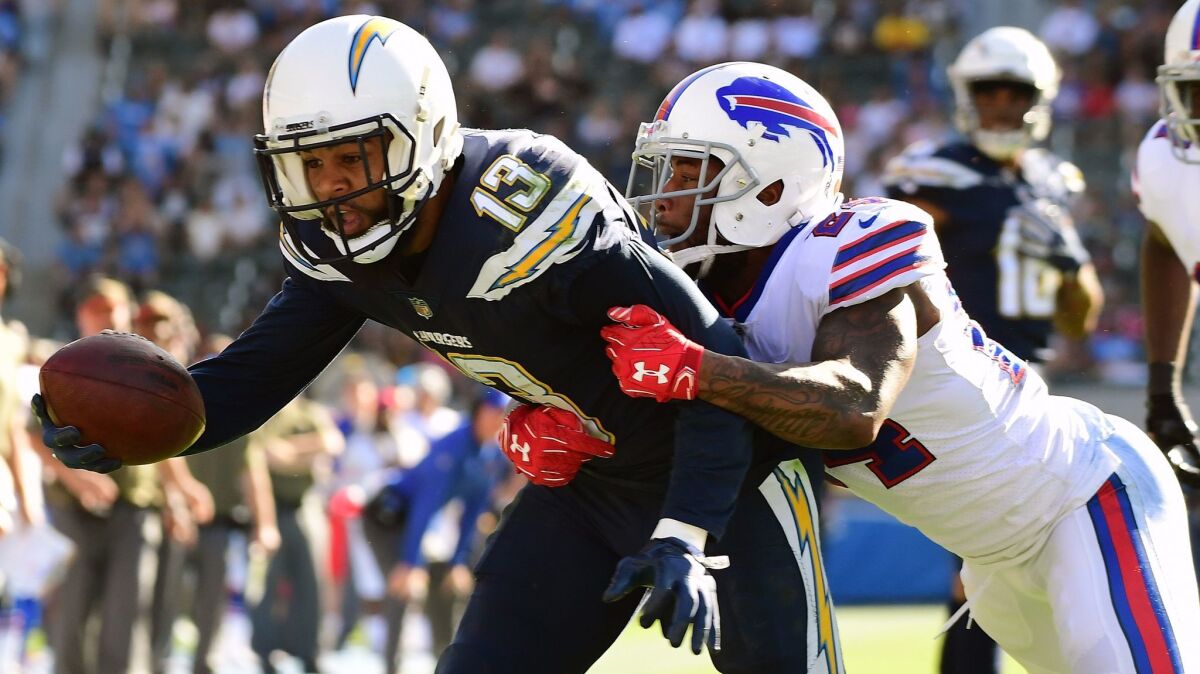 Chief would have been proud. Of that, Keenan Allen was certain.
The Chargers receiver leaned back against a wall outside the StubHub Center locker room and smiled as he thought about how much his grandfather, Billy Ransom — nicknamed "Chief" because of his Native American bloodlines — would have enjoyed Sunday's game.
Ransom, Allen's maternal grandfather, died Saturday in Greensboro, N.C., at age 80. About 15 minutes before Sunday's kickoff, before Allen would catch 12 passes for 159 yards and two touchdowns in the Chargers' 54-24 blowout of the Buffalo Bills, Allen honored his grandfather on social media.
"This is for Chief!" Allen wrote on his Twitter account. "RIP Chief!"
As a kid, Allen spent hours with Ransom watching NASCAR racing and football on television, and Ransom especially liked tuning into Chargers games to see his grandson play.
"Most definitely, yes," Allen said, when asked whether Ransom would have enjoyed a performance such as Sunday's, when Allen nearly matched his career-best, 15-catch, 166-yard game against the Detroit Lions on Sept. 13, 2015. "I thought about my grandpa quite a lot today."
What did Allen remember most about Ransom?
"His energy, his charisma, how he was always in a good mood," Allen said. "He's always gonna make you happy."
The Chargers had a hunch Allen might have a big day when the Bills came out in man-to-man coverage, with cornerback Leonard Johnson assigned to Allen.
"That was the matchup we liked, Keenan and their corner," coach Anthony Lynn said. "Keenan had a hell of a game."
Allen said his eyes lit up when he saw Buffalo's defense.
"When they're playing man, there's nobody in the middle of the field," he said, "so you have to take advantage."
Allen was so confident he sent a shot across the bow.
"It's kind of funny," Allen said. "I told their defensive coordinator they couldn't cover me. They're probably always feeling that on that sideline."
Philip Rivers' first pass to Allen resulted in a missed connection. On a third and seven from the Bills 28, the quarterback overthrew the receiver on a corner route by a good five feet, and the Chargers settled for a 46-yard field-goal attempt, which Nick Novak pushed wide right early in the first quarter.
"That was a touchdown too," Allen said. "I was wide open. If we hit that, it would have been an even bigger play."
The next 12 passes Rivers threw to Allen were all caught, including one of 16 yards over the middle to highlight a 12-play, 59-yard drive that ended with Novak's 33-yard field goal and a 10-7 lead with 3 minutes 57 seconds left in the first quarter.
After a Tre Boston interception at the Chargers 45, Rivers hit Allen four times for 47 yards on a drive that ended with a beautiful back-shoulder pass that Allen, with Johnson in tight coverage, caught for a 21-yard touchdown. That made it 17-7 with 12:53 left in the first half.
"That was actually a run play," Allen said. "They came out in man-press, and Phil checked to a fade route. I got a clean release, looked back, and Phil already threw to the back shoulder, so I didn't have to do too much. I just had to catch it."
A Casey Hayward interception at the Buffalo 15 set up Allen's next touchdown, a two-yard catch that gave the Chargers a 24-7 lead.
Rivers and Allen connected twice, over the middle for 17 yards and on a crossing route for 29 yards, to set up Melvin Gordon's 10-yard touchdown run that made it 34-7 with 1:09 left in the first half.
"He can win his fair share of one-on-one battles," Rivers said of Allen. "Other than that, he's such a smart receiver. He knows our offense. He can play any position, and he can tell you what anybody has to do on every play. And he also has great body language as far as how he talks to me with things he's doing.
"He had three or four catches today that were kind of option routes, things where I pretty much told him, 'Hey, you really can't be wrong here. I'm literally going to just stare at you, and you can do what you want.' When he has that freedom … he makes really good decisions."
Allen sat out virtually all of 2016 after suffering a torn knee ligament in the opener and undergoing surgery. With a team-leading 56 receptions for 755 yards and three touchdowns in 10 games, Allen is an early candidate for NFL comeback player of the year.
"Oh, he's there," Lynn said, when asked whether Allen was back to 100%. "He was 218 pounds in training camp, and now he's 207. His quickness is there. His power and speed is there. He's fine."
Follow Mike DiGiovanna on Twitter @MikeDiGiovanna
---
Get the latest on L.A.'s teams in the daily Sports Report newsletter.
You may occasionally receive promotional content from the Los Angeles Times.