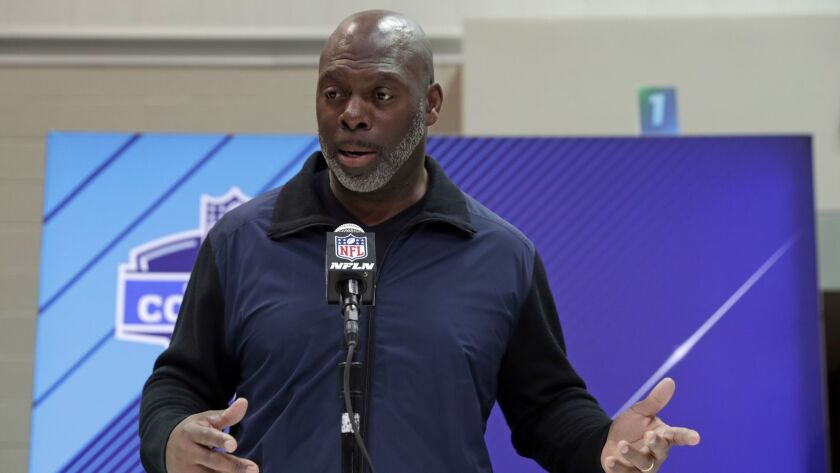 Reporting from Indianapolis —
His Chargers were just one win away from the AFC title game — until they were miles away from the New England Patriots.
The bitterness of that mid-January day — the Chargers trailed 38-7 before losing to the eventual Super Bowl champions 41-28 — stayed with coach Anthony Lynn long after the Chargers' playoff run ended in Foxborough with the thud of a cadaver hitting the floor.
So, on Feb. 3, as the Patriots were completing their title march with a victory over the Rams in Atlanta, Lynn and his wife, Stacey Bell, were on vacation in Turks and Caicos. And nowhere near a TV.
"Let me go on the record and say that I think the Super Bowl is the best event in the world and that everybody should watch it," Lynn said. "But if you lose three weeks before the Super Bowl? Hell, no. It was too soon for me."
He then chuckled, although Lynn hardly was joking, that his second season as an NFL head coach filled with so many memorable moments before concluding in a way immensely forgettable.
He'll watch the game eventually, in his Costa Mesa office, scouting it as a coach rather than enjoying it as a fan.
Lynn and the Chargers officially launch their reboot for another postseason push at the NFL combine this week.
More than 300 players are set to audition at a gathering to help determine football acumen even though no football will be played. There won't even be helmets or shoulder pads.
But there will be plenty of tests and measurements and individual interviews designed to fill in the answers that can't be found in hours and hours of game footage.
The Chargers likely will focus on defensive help, particularly close to the line of scrimmage. Seven of their pending 13 unrestricted free agents play in the front seven.
They also figure to be looking for an offensive tackle, at least one mock draft projecting the Chargers to take Dalton Risner, who played on the right side for Kansas State.
Another position to consider: quarterback, which has become an annual point of extreme focus — by those outside the organization anyway — as Philip Rivers moves beyond his mid-30s (he's 37).
"It's been something we look at every year," general manager Tom Telesco confirmed immediately after the season. "It just hasn't lined up yet [in previous drafts]. I don't know right now?"
The Chargers won't pick until 28th in the first round of the NFL draft. Barring any trades, they'll have one selection in each of the remaining six rounds.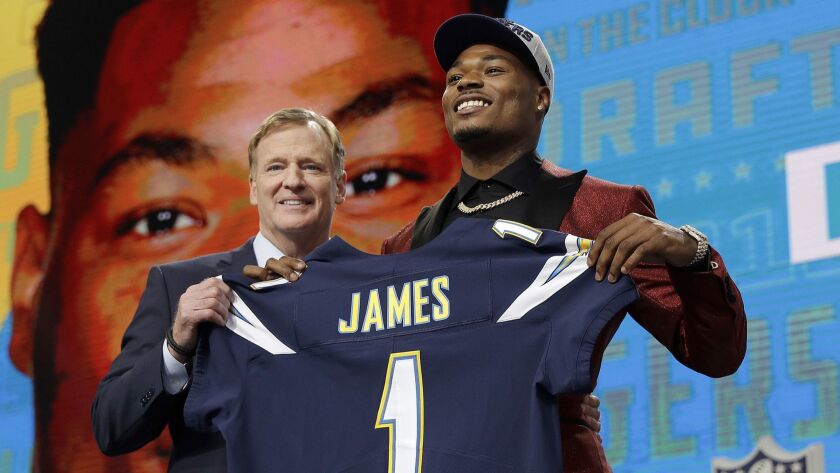 A year ago, they took safety Derwin James at No. 17, a pick that ended up being one of the finest of the draft. James emerged as a versatile, game-changing All-Pro defender.
Telesco will have a difficult time duplicating such a successful selection, no matter how many viable candidates he identifies here.
"Derwin's role was a huge contribution," he said. "You don't necessarily expect a rookie to come in, even in the first round, and make that much of a difference on either side of the ball."
Among the Chargers' notable free agents are Corey Liuget, Brandon Mebane, Damion Square and Darius Philon, each of whom contributed along the defensive line.
Given those potential losses, various mock drafts have the Chargers taking tackles Christian Wilkins (Clemson), Dexter Lawrence (Clemson) or Jerry Tillery (Notre Dame) with their first pick.
This is a draft considered deep in defensive linemen, which could aid the Chargers in their pursuit of youth up front.
Linebackers Denzel Perryman, Kyle Emanuel and Hayes Pullard — each a past starter for the Chargers — also will be free agents.
But beyond LSU's Devin White and Michigan's Devin Bush, this year's group of incoming linebackers is not believed to be strong.
"That's something maybe you look at …in those middle rounds," said NFL Network draft analyst Daniel Jeremiah, who also does the Chargers' games on radio. "(Maybe) try to find somebody that can come in there and compete."
Jeremiah said he believes the Chargers' primary need is free safety, where veteran Jahleel Addae spent most of last season. Better suited for playing closer to the line of scrimmage, Addae struggled at times in the deep middle.
Delaware's Nasir Adderley is one option Jeremiah mentioned specifically, calling him "a perfect complement skill-set wise."
Whatever path the Chargers' offseason takes, it formally begins this week with intensive study of the next draft class, an exercise that allows Lynn to officially put 2018's finish behind him.
Sign up for our daily sports newsletter »
Twitter: @JeffMillerLAT
---