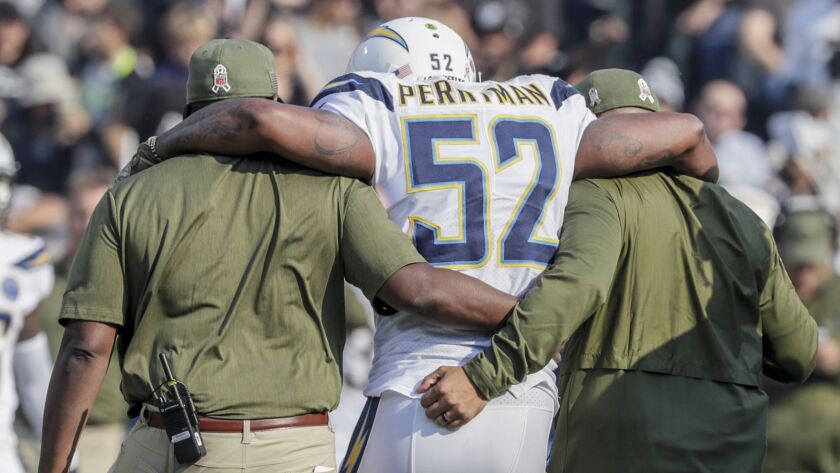 As the Chargers prepare for the NFL draft, The Times will examine their roster. Part 1 of 8: Linebackers.
There was no position where the Chargers were hit harder by injury in 2018 than linebacker, starters Denzel Perryman, Jatavis Brown and Kyzir White all lost along the way.
The situation reached a desperate point where, in the playoffs, the team was forced to rely on an alignment that employed seven defensive backs.
That ploy worked well against elusive quarterback Lamar Jackson and Baltimore, but not so well against Hall of Fame-bound Tom Brady and the more bruising New England Patriots' offense.
Perryman, Brown and White are all projected to return in 2019, Perryman in March signing a two-year extension worth up to $12 million.
The Chargers also signed veteran Thomas Davis to a two-year contract worth up to $10.5 million on the third day of free agency. Davis, 36, had spent his entire career with Carolina.
Uchenna Nwosu and White, both entering their second seasons, will be expected to make noticeable steps forward, although White was limited to three games a year ago. The Chargers do like the long-term potential of both.
Even when more healthy than they were in 2018, the Chargers have not hesitated to go smaller and quicker on defense, a situation made possible these days because of the versatility of safeties Derwin James and Adrian Phillips.
Coach Anthony Lynn already has said he plans to continue to play schemes heavy on defensive backs.
"We've done it in the past," he said. "We just didn't live in it. It's something you can go in and out of versus certain personnel groups. We'll still do that."
The Chargers did lose former starting linebacker Kyle Emanuel, who opted to retire after four seasons citing concerns about his long-term health.
Under contract for 2019: Denzel Perryman ($3.475 million), Thomas Davis ($3.25 million), Jatavis Brown ($2,071,096), Nick Dzubnar ($1,922,500), Uchenna Nwosu ($1,308,995), Kyzir White ($733,610), Tre'Von Johnson ($570,000), Kyle Wilson ($570,000).
Free agents: Limited cap space has prevented the Chargers from being among the more aggressive teams this offseason. The most notable money they've spent to bring in new players involved Davis and backup quarterback Tyrod Taylor. So they have invested at linebacker, particularly when adding in the extension for Perryman.
Draft: At their local pro day last week, the Chargers had the opportunity to work out Cameron Smith, who had a stellar career at USC. Smith afterward said he'd be honored to play for the team and projected himself as someone who could eventually emerge as a signal-caller for an NFL defense. Linebacker depth is one area the Chargers could target early in the draft.
Roster decisions: In a perfect world, the Chargers will have better linebacker health in 2019 and be able use a multi-player rotation depending on down-and-distance. But linebacker was far from a perfect world last season. Bringing back Perryman was a priority, but he'll have to prove he can stay on the field. He has been limited to 16 games over the past two seasons combined.
NEXT: Defensive line.
Sign up for our daily sports newsletter »
Twitter: @JeffMillerLAT
---