Chargers vs. Patriots: How the teams match up for AFC divisional playoff game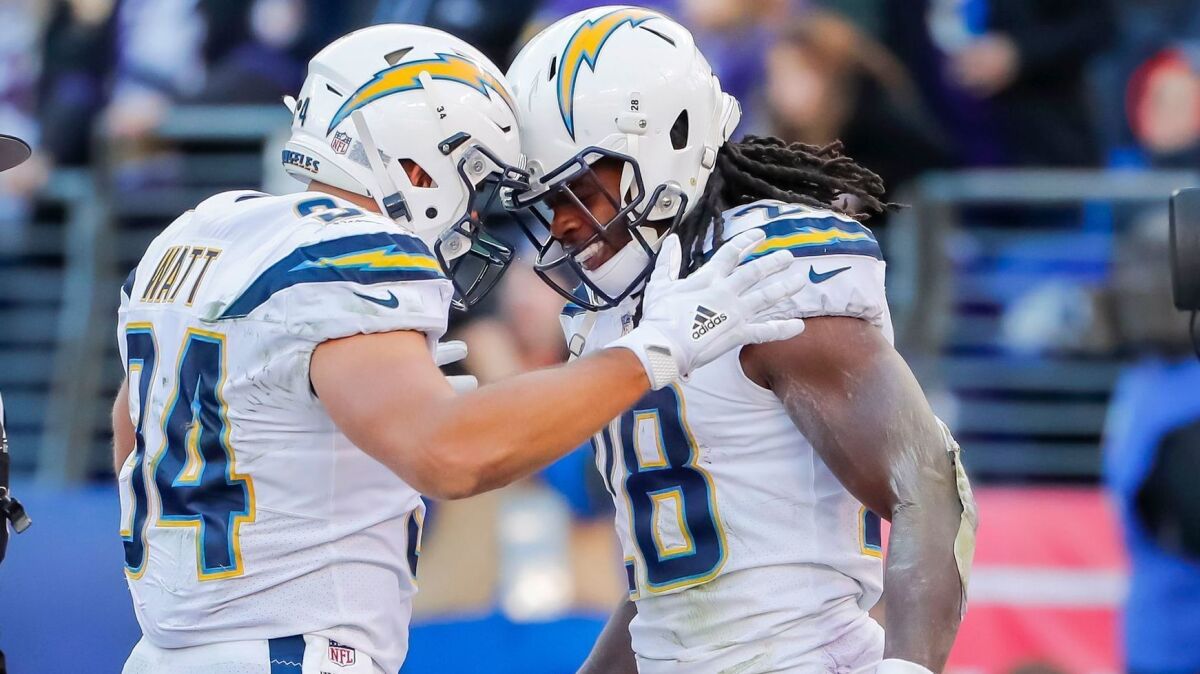 A look at how the Los Angeles Chargers and New England Patriots match up for an AFC divisional playoff game.
NO. 5 CHARGERS AT NO. 2 NEW ENGLAND
When Chargers have the ball
Having played Baltimore twice in the last three weeks, the Chargers might find the field a little roomier against New England and its 21st-ranked total defense. What the Patriots do best statistically is prevent points (ranked seventh) and rushing yards (11th). Melvin Gordon, who has been slowed by injuries to both knees of late, hasn't run for as many as 70 yards in a game since Nov. 11. He also has only nine receptions over his last four games, including one catch in the Chargers' AFC wild-card victory over the Ravens. In Week 8 last year, he had a season-high 132 yards in 14 carries at New England. Philip Rivers' production also has tempered as the games have tightened late in the season. Over the last month, he has twice as many interceptions (six) as touchdown passes. His passer rating for a game hasn't reached 90, which is roughly the league average, since Dec. 9.
LIVE COVERAGE: Chargers vs. Patriots »
The Patriots gave up more than 300 yards passing four times in their first seven games but not since. Only two of their last nine opponents scored more than 17 points. The Chargers have been held to fewer than 20 points once.
When Patriots have the ball
Supposedly one of New England's poorer teams during the Tom Brady era, the Patriots still ranked in the top five in points, rushing yards and total yards in the regular season. They were eighth in passing. The Chargers finished in the top 10 in nearly every significant defensive category. Rookie Sony Michel is the Patriots' leading rusher with 931 yards and six touchdowns. Running back James White has caught 87 passes and Julian Edelman has a team-best 850 yards receiving. The Chargers are coming off a game in which they used seven defensive backs to thwart Baltimore, so they can adapt to whatever Brady is trying to do. Tight end Rob Gronkowski has had a relatively quiet season, scoring only three touchdowns, one more than the Chargers' Antonio Gates has produced in limited chances. The Patriots lost their only consistent deep threat when Josh Gordon's season ended because of substance abuse issues. Most of their problems during the regular season came on the road. New England averaged 33 points while going undefeated at home and 22 points in finishing 3-5 away from Foxborough. The Chargers have come up with seven turnovers in their last two games, both on the road.
When they kick
Michael Badgley is coming off a playoff debut so splendid that he had a kick blocked and still set a franchise postseason game record with five field goals. The rookie grew up in New Jersey, so a game-time temperature forecast to be in the 20s won't be anything new to him. The Chargers added a second kicker, Nick Rose, last week hoping he can neutralize returner Cordarelle Patterson by booming kickoffs into the end zone. New England's Stephen Gostkowski ranks second in NFL history in postseason points, behind Adam Vinatieri. Gostkowski has kicked the three longest field goals in franchise history and became New England's all-time leading scorer — four years ago.
By the numbers
How teams compare statistically in the regular season. All stats are per-game averages, except for turnover differential and sacks, which are for the season (league rank in parentheses):
CATEGORY: LAC | NE
Points scored: 26.8 (T6) | 27.2 (4)
Points allowed: 20.6 (8) | 20.3 (7)
Pass offense: 255.6 (10) | 266.1 (8)
Rush offense: 117.1 (15) | 127.3 (5)
Pass defense: 227.9 (9) | 246.4 (22)
Rush defense: 105.8 (9) 112.7 (11)
Sacks: 38 (T19) | 30 (30)
Penalty yards: 60.4 (23) | 46.5 (2)
Turnovers: +1 (T15) | +10 (5)
Jeff Miller's prediction
History says this is the type of game the Patriots almost always win and the Chargers almost always lose. But history says teams don't go 9-0 when they play outside their home market. The Chargers have continually rallied on the road and won't be intimidated by Gillette Stadium or the team that calls it home. Coach Bill Belichick armed with an extra week to prepare is a dangerous prospect, but the Chargers and coach Anthony Lynn won't be intimidated by that, either. Chargers 24, Patriots 20
Sam Farmer's pick
The Chargers haven't lost a game outside of Los Angeles this season, and they've won in five time zones. They can get to Tom Brady with four rushers, and they should win this if they don't have a letdown. Chargers 27, Patriots 21
Twitter: @JeffMillerLAT
---
Get the latest on L.A.'s teams in the daily Sports Report newsletter.
You may occasionally receive promotional content from the Los Angeles Times.