Drive has always outweighed size for Chargers' Desmond King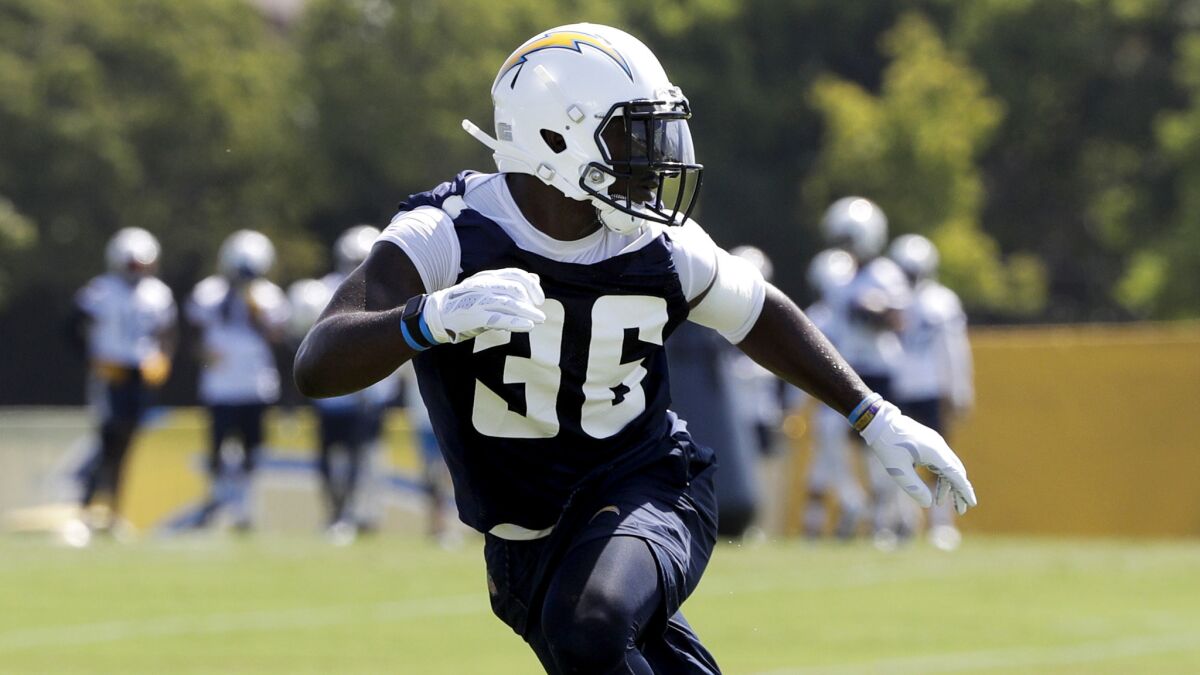 The helmet was comically large, punishing a slight 6-year-old's neck. The shoulder pads looked wider than the hashmarks on the field. But if you peeled away each layer of oversized equipment — and you were patient enough — you'd eventually get to a future NFL football player.
"I was the smallest," Desmond King said, laughing as he remembered how he looked. "The pads were really big. The helmet was really big. The shoulder pads were really big. And in there, there was just a little kid running around."
When the Chargers host the New Orleans Saints on Sunday for their second preseason game, he'll still look like a little kid compared to some of the behemoths that fight near the line of scrimmage. But if early-season trends hold, he'll be the guy near the ball, either slapping it to the ground or swiping it out of the air.
What the Chargers' fifth-round pick lacks in size, the 5-foot-10 King makes up for with a hard-to-explain ability to find the ball and take it away from offenses.
He did it in high school, where he set state records for interceptions. He did it at Iowa, where he won the Jim Thorpe Award as the country's best defensive back. And, he's done it in training camp, where teammate Jason Verrett estimates King's intercepted nearly 10 passes counting one-on-one drills.
And, he's done it despite being smaller and slower than scouts would prefer.
"My measurables were a downfall for me. They would say I'm too short to play cover corner. I'm not fast enough," King said. "To me, I'm a ball player. I'm a guy who's just going to give my all on every play and compete. That's the player I think I am."
The less-than-ideal 40-yard times and other perceived physical limitations allowed for the Chargers to get King in the fifth round of the 2017 draft. He intercepted a pass in his first pro game in the team's exhibition loss to Seattle, and this week he began getting reps with the team's first-string defense in passing situations.
During a two-minute drill near the end of Thursday's joint practice with New Orleans, King corralled a ball tipped at the line of scrimmage and ran Drew Brees' pass the other way for a score.
Chargers coach Anthony Lynn met the play with as much of a shrug as he did with praise.
"When he makes a play, that doesn't … that's what he does," Lynn said.
So how does he do it? King, while maybe not as straight-line fast as others at his position, possesses a combination of instincts, intelligence and experience to go with plenty of quickness.
King started playing tackle football at the age of 6 in Detroit's youth leagues. He was a running back before falling in love with the defensive side of the ball, where he could make plays and let off some steam at the same time.
"You have to be a very physical person to play defense and you have to like to make plays. It's something defensive guys should do — make plays," he said. "It's just having fun out there. Defense is where you can let loose. You have that anger inside of you, but at the same time, it's a fun anger. It makes you physical. That's the best thing about defense."
King's willingness to play physically — he was one of the best tacklers at his position in college — gives the Chargers the option to use him as either a cornerback matched up in the slot or as a safety. The team has even experimented with King on the outside, a position that he's supposedly too slow and too small to play.
But his teammates don't see a lack of "measurables" as a problem.
"I don't see physical skills holding him back. I don't look into that stuff. If the kid can play, he can play," safety Jahleel Addae said. "He can ball. He's smart, intelligent. He's got a good football IQ and a knack for the ball. He didn't win the Thorpe Award without a good reason. It's not the Thorpe Award for the Big Ten. It was for the nation. That's big time."
Through training camp, King's made believers out of talent evaluators, as well. They've praised his quickness and reaction times, and the Chargers' think King's fast enough to use him as an option as a kick and punt returner. And, just maybe, his physical limitations are maybe being a bit overblown.
"You have to play this game with your mind — not just talent," Lynn said. "He's a thinker."
And King thinks he isn't too small or too slow. And, he thinks he knows what makes him special.
"When I'm on the field, I just have a knack for making plays. I just do that," he said. "I don't think measurables have anything to do with that. When I get on the field, it's a whole different story. I just go out there and have fun."
Twitter: @DanWoikeSports
Get the latest on L.A.'s teams in the daily Sports Report newsletter.
You may occasionally receive promotional content from the Los Angeles Times.