Chargers rookie Derwin James is thrilled to finally be back on the field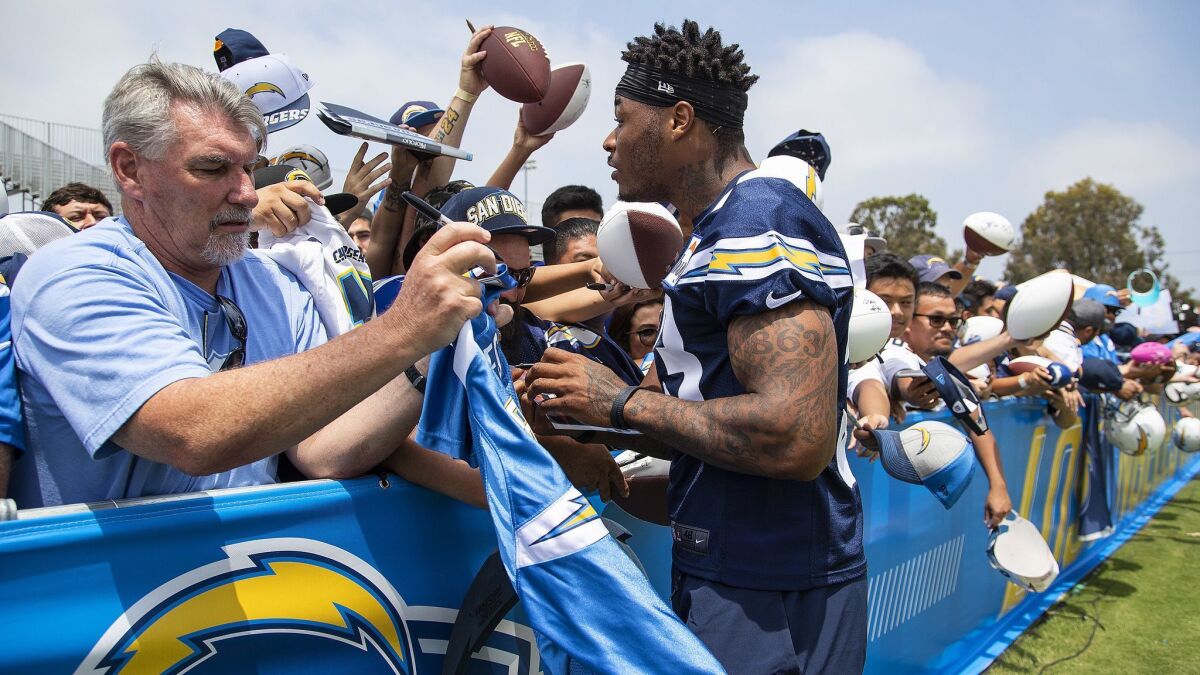 Finally, football.
It's been a long time since Chargers first-round pick Derwin James strapped on a helmet with full pads covering his body — a time full of life-changing events, including one that could've gone tragically wrong.
After being selected No. 17 in the first round of the draft in April, James was robbed at gunpoint in Los Angeles in late June, with the perpetrators making off with a Rolex watch and the chain around James' neck.
"I wouldn't wish that on anybody," James said Thursday, his first public comments since the incident. "But it happened. It's just one of those things that you never expect would happen to you."
James said he didn't want to entertain the thought of how badly things could've gone that night and, besides, right now his mind is elsewhere. He's finally back on the field.
An injured left hamstring kept the rookie safety from participating in the early part of training camp. James suffered the minor strain while training for the start of camp.
He opened camp on the non-football injury list, forced to train on the side of the field while his new teammates worked on it. But Thursday, days after James felt he was ready, the team relented and let him suit up.
"You work so hard in the offseason trying to get your body into the best shape, but it's so hard in the offseason to simulate those practice reps and the ones you're going to get into games," James said. "It was kind of frustrating since it's my first camp and I wanted to get out there and show what I can do. But, I'm happy to be out here."
James played two thirds of the defensive snaps Thursday, Chargers coach Anthony Lynn said, adding the team is working him back slowly. He has been practicing at both safety positions.
"They're giving me a little bit," James said. "It's like feeding a baby. They give me a little spoonful and I've got to wait a little bit for some more. I just take it — I take the coaching."
He's also being coached by safety Jahleel Addae, last year's starter at strong safety. Addae could end up moving back to free safety to make room for James if and when the rookie moves into the starting lineup. Addae and James sit next to each other every day in the film room.
"I think it'll make us stronger as a team. He can play strong, I can play strong. He can play fee, I can play free. I think we can be interchangeable," James said. "I feel like a lot of guys we have can play multiple positions. Sometimes you'll see Desmond King back there. We have a lot of different guys who can do a lot of different things. That'll only help us."
Williams avoids major injury
The Chargers, for a change, didn't get soul-crushing injury news on the injury front. Cornerback Trevor Williams, the starter opposite Casey Hayward, merely suffered a lower ankle sprain during Wednesday's practice, an injury that could cost him a couple of weeks. He had to be helped from the field.
Lynn said he would use the opportunity to evaluate some of the young cornerbacks who are vying for the final spots on the roster.
Etc.
Caleb Sturgis, the veteran free-agent kicker signed this offseason to help stabilize special teams, missed three of his seven tries, pulling all of the misses wide left. Roberto Aguayo, who is challenging for the job, made all eight of his kicks, including two from 50 yards and beyond. … Lynn and offensive coordinator Ken Whisenhunt said there hasn't been much separation between quarterbacks Geno Smith and Cardale Jones in the fight to back up Philip Rivers. … The Chargers moved cornerback Jason Verrett and tight end Austin Roberts to the reserve/injured list and signed cornerback Channing Stribling and wide receiver Marcus Peterson to their 90-man roster. … The Chargers will air a bi-weekly series on Spectrum SportsNet, chronicling the behind-the-scenes stories in the team's second year back in Los Angeles. "Backstage: Chargers" first 30-minute episode will premiere on Sept. 6.
Twitter: @DanWoikeSports
Get the latest on L.A.'s teams in the daily Sports Report newsletter.
You may occasionally receive promotional content from the Los Angeles Times.