Clippers poised to continue reshaping roster, and Jimmy Butler could be in the mix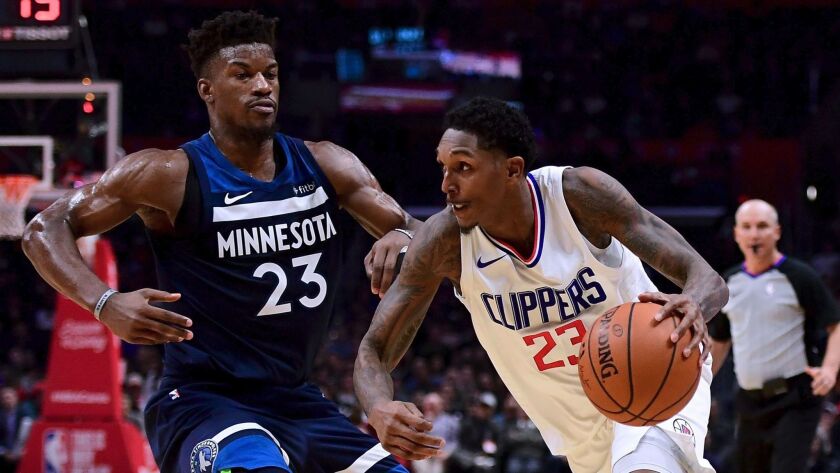 Coach Doc Rivers sat on a balcony at the team's Playa Vista training center Wednesday morning, less than a week before the start of his sixth season with the Clippers, and described how much he felt had changed since the first.
He set a goal of winning an NBA championship upon taking the job, just as he'd done in Boston, which won a title in 2008. He knew he needed top players to do that. To get stars he needed the perception of the franchise, long one of the league's least successful and most woebegone, to change.
"That has happened," Rivers said. "Now when you hear people come, when they say, 'Well I want to go to L.A.,' and when you hear rumors they want to go to L.A., they mean both teams. And sometimes they mean only our team. To me, that's a level of success that tells you we're doing something right here."
Might Jimmy Butler agree?
Minnesota's All-Star guard has requested a trade and prefers the Clippers, New York Knicks and Brooklyn Nets, according to reports Wednesday by the Athletic and ESPN.
Reports of Butler's trade demand broke less than two hours after Lawrence Frank, the president of basketball operations, and Rivers discussed the franchise's strategy of "reshaping" the roster following several seasons building around since-departed stars Chris Paul, Blake Griffin and DeAndre Jordan — and in the process, creating what they believe will be a destination attractive to stars of Butler's caliber.
The Clippers, who open training camp Monday, have 17 players under contract and must trim that by two before the first regular-season game Oct. 17. Of those 17 players, eight are on contracts that expire after this season, allowing the potential to create enough salary cap space to offer maximum salaries to two free agents in 2019.
"We've never had flexibility, we really haven't," Rivers said. "We've had, and they were great, Chris, Blake, DJ. But their salaries took up the entire roster and so we played the minimum [salary] game for our first four years probably as well as anyone. We also knew every year we did that it was a one-year thing and everyone was gone. We kept doing it … that's no way to sustain good play.
"Now, for the first time, we had a little bit. Next year we're going to have a lot and the year after that we're going to have a ton. But we're still going to be good."
It remains unclear how quickly the Timberwolves might attempt to move Butler, if at all. He's under contract through 2019-20, although he can opt out after this season.
Tom Thibodeau, the team's coach and president of basketball operations, has "no interest in trading him," ESPN reported. Adding Butler would certainly reshape any roster. The 29-year-old is one of the league's premier two-way guards. He averaged 22.2 points, 5.3 rebounds and 4.9 assists last season, his first in Minnesota.
"We're definitely not rebuilding, we're not rebooting," Frank said. "What we didn't want to do, we weren't going to start from scratch. There's a lot of ways to build a championship roster."
Frank has found that free agents' decisions consistently come down to the same factors: They want to play with the best players, win against the best competition and be treated the best. The Clippers say they have prepared to meet those needs through the financial backing of owner Steve Ballmer. And the owner is willing to pay the luxury tax, Rivers said.
Frank and Rivers touted additions to the team's medical and sports performance staff and spoke glowingly about a proposed new arena in Inglewood that they say could open in 2024 at the earliest.
"There is some great momentum coming," Frank said. "I think it always starts at the top. You've got an owner who's the wealthiest owner in sports. He's into it. Some owners aren't basketball fans; this guy is passionate.
"He is totally engaged with it and he's given us all the resources to build something. Doc has talked about being first. It's significant when you look at the past and what we're doing and be able to create your own future. There aren't many franchises where you can do it and there's none in L.A. where you can do it."
Twitter: @andrewgreif
---
Get the latest on L.A.'s teams in the daily Sports Report newsletter.
You may occasionally receive promotional content from the Los Angeles Times.