Clippers' DeAndre Jordan is dominant against Mavericks
Reporting from DALLAS —
There he was, the player Mark Cuban envisioned.
Shaq-like.
DeAndre Jordan was that dominant Monday night at American Airlines Center. He soared for dunks, grabbed rebounds and even made more than half of his free throws.
It was everything Cuban wanted to see from Jordan in a Dallas Mavericks uniform. The Mavericks owner thought things were headed in that direction before Jordan backed out of his commitment in free agency last summer and re-signed with the Clippers.
Jordan made his presence known on the Clippers' first possession Monday when he set a pick that freed J.J. Redick for a three-pointer. He finished with a season-high 23 points to go with 20 rebounds, two blocks and two steals. He also made 11 of 19 free throws during the Clippers' 109-90 victory.
"He was dominant," Clippers Coach Doc Rivers said, "and that's probably why they wanted him here so bad."
Mavericks fans greeted Jordan with the expected boos whenever he touched the ball. They cheered when he airballed a free throw and missed a dunk after the whistle had blown on a foul.
There was also something unexpected: Jordan's No. 6 on the midsection of the Stay Puft Marshmallow Man from "Ghostbusters" during a scoreboard feature in the first half.
The game posters distributed to fans also featured center Zaza Pachulia, the Mavericks' consolation prize in free agency. It did not feel like a coincidence.
Jordan acknowledged feeling more relaxed than he had been during the Clippers' first trip here this season in November, when he struggled in a Mavericks' victory.
Dallas intentionally fouled Jordan for stretches in the first half Monday but backed off after he made more than he missed.
"I'm more comfortable and confident there now," Jordan said. "I go there now thinking I'm going to make them, and I've done a better job with it."
Jordan has become Shaquille O'Neal-like in many ways even without the scoring to match the former Lakers star. He continually generates scoring opportunities with his screens and rolls toward the rim, his importance transcending his gobs of rebounds and dunks off lobs.
"He creates offense because of his athleticism," Rivers said. "There's other guys who could roll and it's not going to make an impact; no one cares. When D.J. rolls, it creates an impact."
Mavericks Coach Rick Carlisle said he noticed Jordan being involved in more of the Clippers' actions than in recent seasons. Rivers said he laughs when he hears about Jordan allegedly needing a bigger role in the offense.
Mavericks forward Dirk Nowitzki, center, battles Clippers center DeAndre Jordan, left, and forward Wesley Johnson, right, at the rim during the second half.
(Brandon Wade / Associated Press)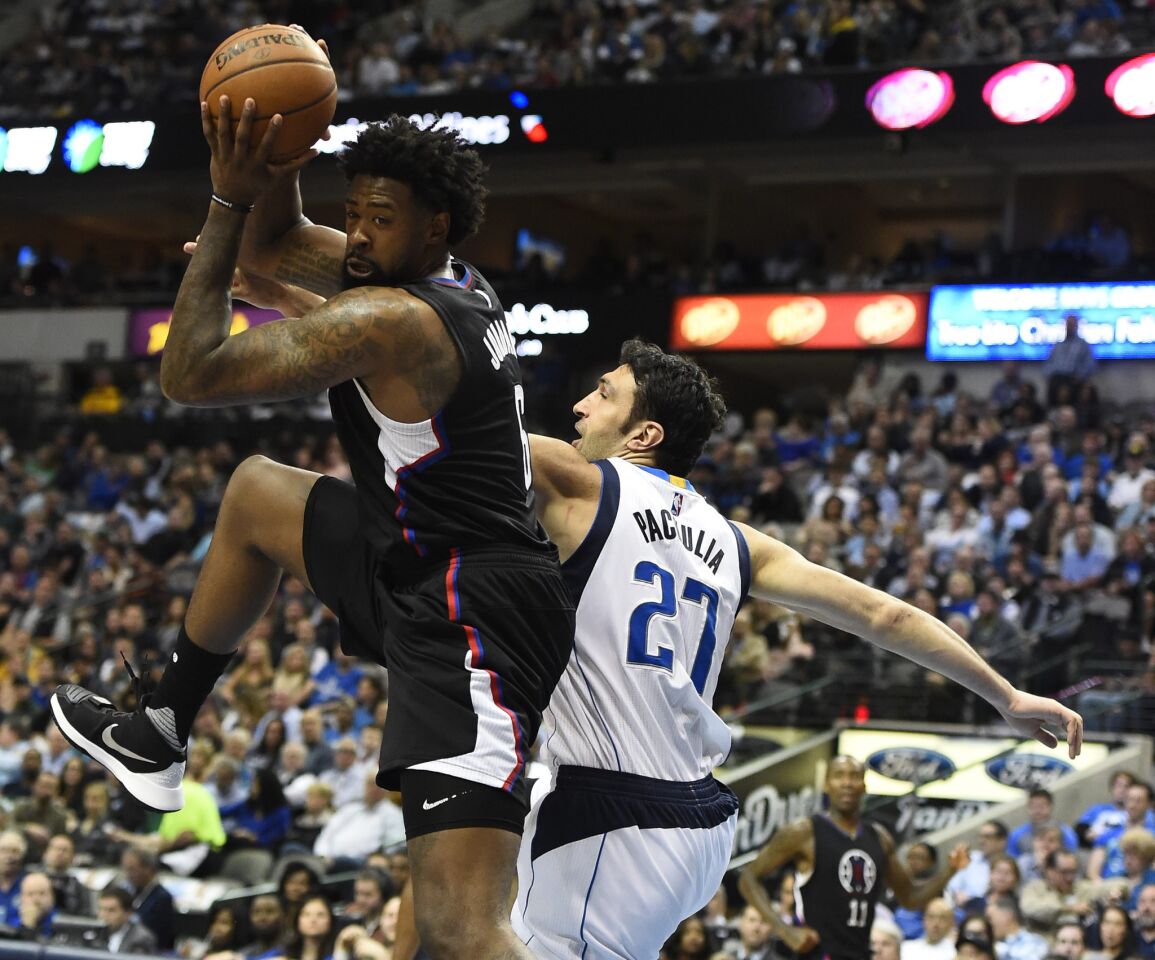 Clippers center DeAndre Jordan, left, gets a rebound against Mavericks center Zaza Pachulia (27) in the first half.
(Larry W. Smith / EPA)
Clippers center DeAndre Jordan (6) looks on from the bench after the Clippers took a 29-point lead during the second half.
(Brandon Wade / Associated Press)
Clippers center DeAndre Jordan (6) battles Mavericks forward Dirk Nowitzki (41) for space during the first half.
(Brandon Wade / Associated Press)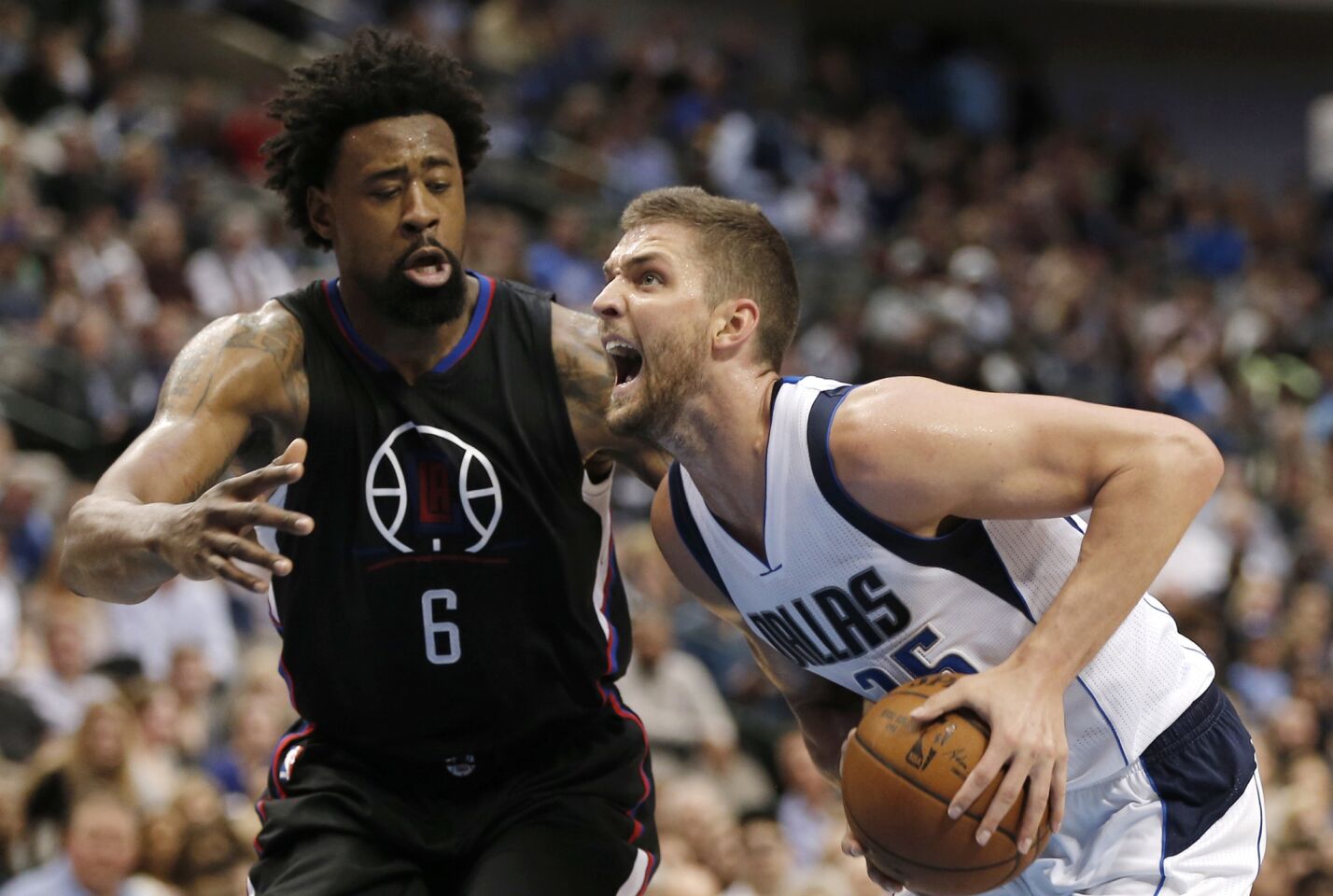 Mavericks forward Chandler Parsons (25) goes up for a shot with Clippers center DeAndre Jordan (6) defending during the second half.
(Brandon Wade / Associated Press)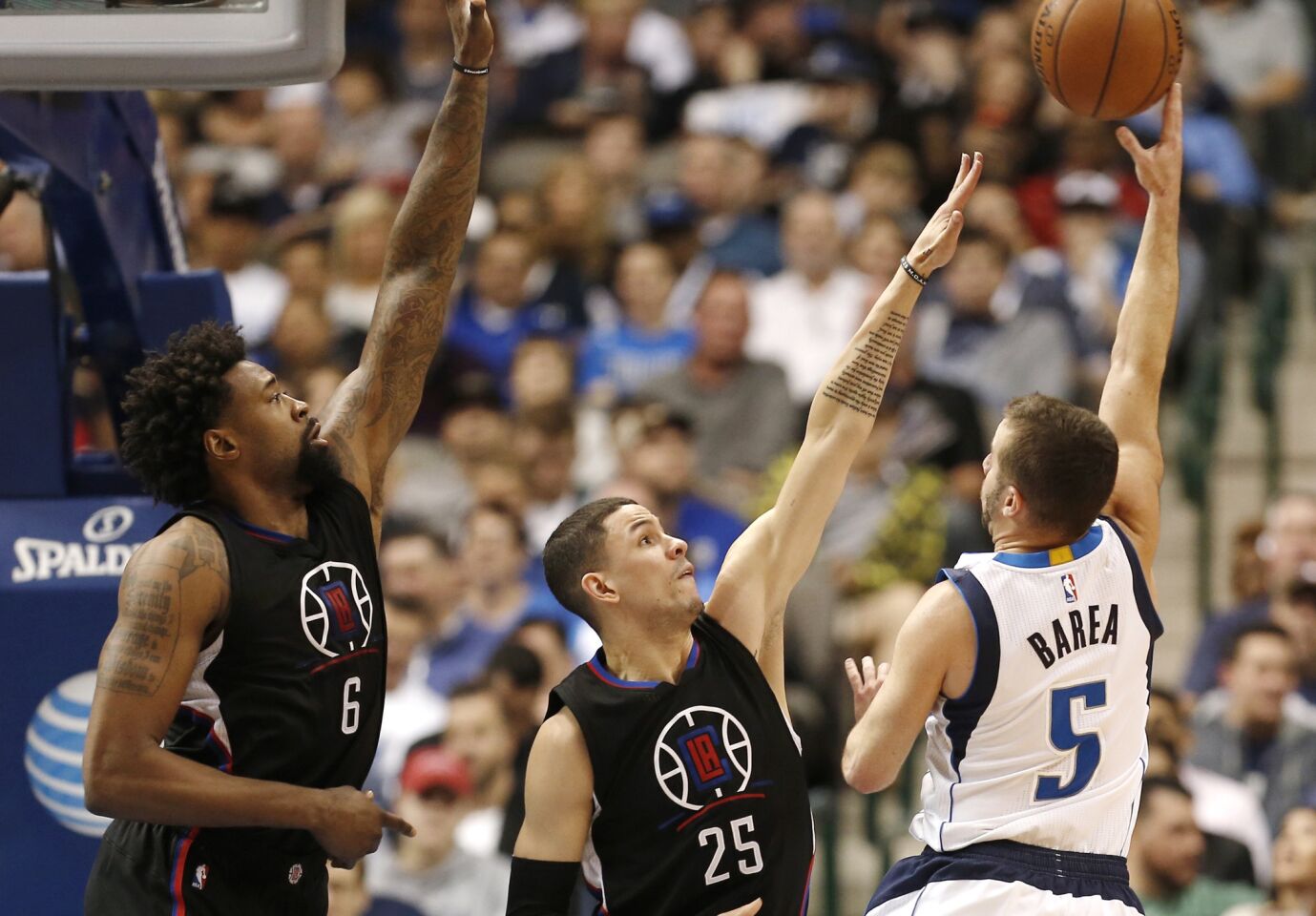 Mavericks guard J.J. Barea (5) attemtps a shot over Clippers guard Austin Rivers (25) and center DeAndre Jordan (6) during the first half.
(Brandon Wade / Associated Press)
"He does have a pretty big offensive role and people don't get that per se," Rivers said. "I think everything in this day and time is the exact number of points, that's all people look at instead of who creates offense."
No one questions Jordan's rebounding. He has registered double digits in that category in 19 consecutive games, the longest streak in the NBA this season.
Etc.
Clippers forwards Blake Griffin and Luc Mbah a Moute did not accompany the team on its two-game trip. Mbah a Moute is recovering from a lacerated left eyelid that has sidelined him since Feb. 29 and Griffin has not been cleared to practice fully after breaking his right hand while punching team assistant equipment manager Matias Testi.
Twitter: @latbbolch
---
Get our high school sports newsletter
Prep Rally is devoted to the SoCal high school sports experience, bringing you scores, stories and a behind-the-scenes look at what makes prep sports so popular.
You may occasionally receive promotional content from the Los Angeles Times.