The Clippers beat the trade deadline buzzer by a matter of minutes Thursday, sending Lance Stephenson and a lottery-protected first-round draft pick to the Memphis Grizzlies for Jeff Green in a move that bolsters their frontcourt.
Green can play both forward positions, allowing him to presumably fill in at power forward for Blake Griffin until Griffin returns from a broken right hand and a four-game suspension that are expected to sideline him until next month.
At that point, Green could provide an upgrade at small forward, one of the Clippers' biggest needs in recent seasons. The 6-foot-9, 235-pound Green averaged 12.2 points and 4.5 rebounds for the Grizzlies this season but struggled with his shooting, making 30.9% of his three-point attempts.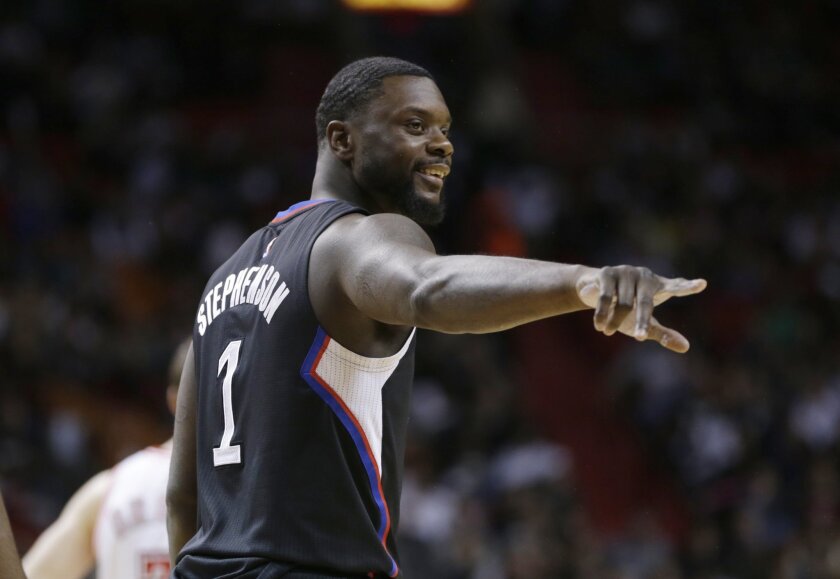 Green, who is in the final year of a contract that pays him $9.4 million this season, spent parts of two seasons playing for Clippers Coach Doc Rivers from 2011-13 in Boston and sat out a third because of a heart condition.
Green, 29, is the fourth Rivers-coached former Celtic to join the Clippers in recent seasons, along with Paul Pierce, Glen Davis and Nate Robinson. Green is expected to join the Clippers as soon as Friday.
Stephenson, 25, had an underwhelming eight months with the Clippers, slow to pick up concepts while filling a variety of roles. He averaged 4.7 points and 2.5 points in 15.8 minutes a game while vacillating between every position except center. He's in the final season of a contract that includes a team option for $9.4 million next season.
Consistency has been an issue with Green, as it had been with Stephenson.
Memphis Coach Dave Joerger benched Green for the second half of a game in January amid a shooting slump and lackluster defense. But Green can score in bursts. During a recent stretch, he became the first NBA player in 21 years to finish as the high scorer in four consecutive games as a reserve.
The Clippers' parting with Stephenson signaled an admission that two of their biggest summer acquisitions didn't work out. The team traded Josh Smith to the Houston Rockets last month and had used Stephenson only sporadically in recent weeks after an extended tryout over the season's first two months.
The pick the Clippers included in the trade is lottery-protected in 2019 and 2020, becoming a second-round pick in 2022 if it is not conveyed in either of the first two years.
Another move
The Clippers are expected to sign Alex Stepheson, a power forward with the Iowa Energy of the Development League who once played for USC and Harvard-Westlake High. He'll sign a 10-day contract over the weekend, according to a person close to the situation not authorized to publicly discuss the transaction.
Stepheson, 6-10 and 249 pounds, was the leading rebounder in the Development League, averaging 13.8 rebounds a game.
Signing Stepheson would temporarily complicate the Clippers' ability to sign a backup guard because it leaves them with no open roster spots. The team would need to wait until Stepheson's contract expired or waive another player to create a spot if it wanted to bring in a guard to help alleviate Chris Paul's recent surge in minutes with Austin Rivers sidelined because of a broken hand.
On the mend
Austin Rivers said he expected to return in 10 days to two weeks from the broken left hand that has sidelined him since Feb. 3.
"It's actually healing really fast," Rivers said. "From last week to this week is a whole different feeling."
Rivers said he would resume basketball-related activities next week but needed to resist the temptation to come back too quickly.
"I've been really almost overdoing it," he said, "trying to do all this stuff to keep my mobility and everything."
Follow Ben Bolch on Twitter: @latbbolch
---