Luc Mbah a Moute is scoring like he never has as a Clipper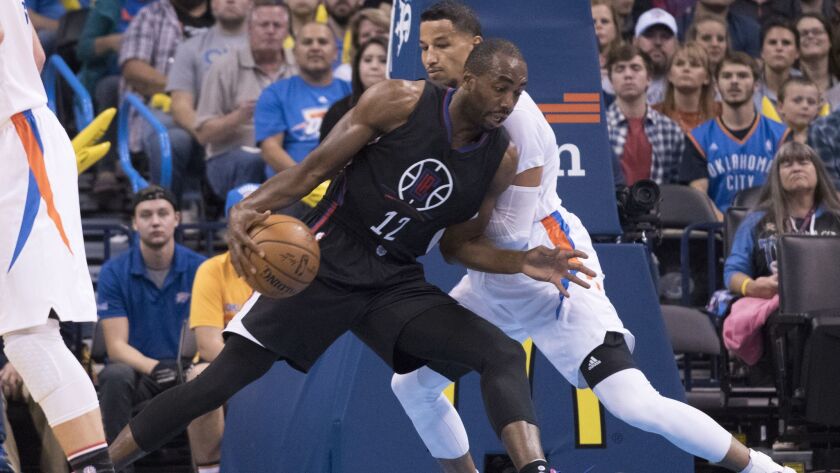 Luc Mbah a Moute knows what to expect when he walks into the Clippers' practice facility.
In his second season with the team, he has established himself as the starting small forward and a relied-upon defensive stopper. But his workouts aren't usually focused on sharpening his defense. Instead he peels off with John Welch and Dee Brown — both of whom frequently run players through drills — to build offensive aggression.
Welch and Brown tell Mbah a Moute to drive with force. They tell him to shoot the ball. Their instructions are starting to materialize in games.
"It's huge, man," said Clippers forward Blake Griffin, of Mbah a Moute's recent offensive production, after a win over the Brooklyn Nets on Monday night. "I mean Luc can score the ball."
Before Saturday, Mbah a Moute had played 89 games for the Clippers and never scored in double figures in consecutive games. The last time he did that was with the rebuilding Philadelphia 76ers in March of 2015. That changed in the Clippers' last two wins, as he netted 15 points in a win over the Minnesota Timberwolves on Saturday and 11 in a victory over the Nets.
That is all while drawing the toughest defensive assignments, something Mbah a Moute is no stranger to. He had a large hand in holding the Timberwolves' Andrew Wiggins to eight makes on 24 shots, and slowed down the Nets' Bojan Bogdanovic after he scored 11 points in the second quarter. His contributions on offense are an added bonus for a team that currently holds the NBA's best record (10-1) and ranks fifth in the league in offensive efficiency.
"He puts so much energy and effort in defensively," Griffin said. "That's tough to do. It's not an easy thing to play both ends as hard as he does. So just giving him the confidence to shoot, drive, he's been great for us. Just adding another threat."
The Clippers' starting lineup — Chris Paul, J.J. Redick, Mbah a Moute, Griffin and DeAndre Jordan — is incredibly hard to guard. Paul is shooting the ball with great confidence and success, Redick was the NBA's best three-point shooter last season, Griffin is a top-tier scoring forward and Jordan is an interior nightmare for opposing defenses.
That leaves Mbah a Moute, who has averaged 6.3 points per game in his 10-year career. The 6-foot-8 forward started 61 games for the Clippers last season, and has used defense to wedge himself into the first team so far this season. He was largely responsible for holding the Portland Trail Blazers' Damian Lillard to eight points in 28 minutes last Wednesday. He held Thunder guard Russell Westbrook to 29 points, his second-lowest total of the season, in the Clippers' two-point win in Oklahoma City on Friday.
And lately he's supplementing his savvy defense with highly efficient scoring.
With teams paying so much attention to the Clippers' other starters, Mbah a Moute naturally comes by scoring opportunities. He also has a full year in the system, which Griffin pointed to when asked about Mbah a Moute's spike in production. Mbah a Moute shot six for eight from the field, and two for three from three-point range, against the Timberwolves. He made all five of his shots against the Nets.
Then there was the moment, late in the third against the Nets, where those sessions with Welch and Brown played out on the Staples Center floor. Paul errantly lost his dribble around mid-court, which left Mbah a Moute trapped in a double team by the Clippers' bench. When he finally shook off one defender, he glanced up at the shot clock as it dripped down to 11 seconds.
But Mbah a Moute did not panic, or pass. He squared his shoulders with Rondae Hollis-Jefferson, willed his way into the paint and drew a foul while sinking an acrobatic layup. The bench jumped to its feet in celebration, recognizing what an offense-minded Mbah a Moute could mean for an already offensively gifted team.
"I'll always tell him I think we have more confidence in him than he has in himself," Paul said. "It's always great to see him get going."
jesse.dougherty@latimes.com
Twitter: @dougherty_jesse
---
Get our high school sports newsletter
Prep Rally is devoted to the SoCal high school sports experience, bringing you scores, stories and a behind-the-scenes look at what makes prep sports so popular.
You may occasionally receive promotional content from the Los Angeles Times.