Tobias Harris takes aim at winning NBA's three-point shooting contest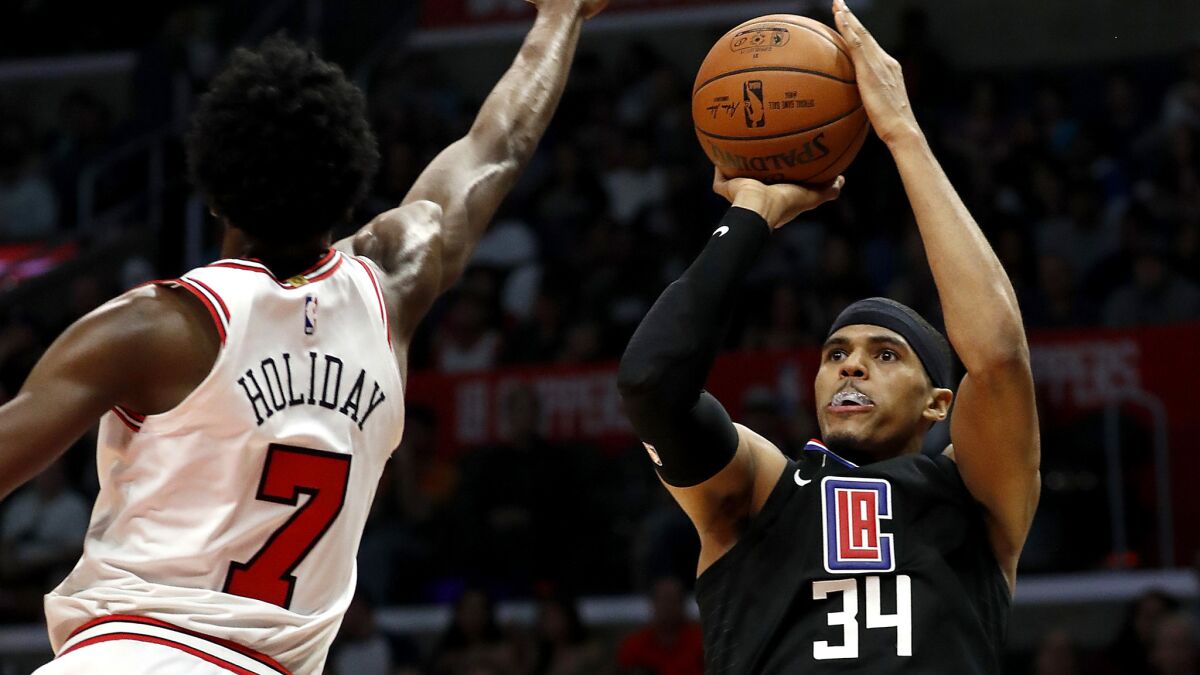 Larry Bird walked into the locker room in Dallas before the start of the NBA's inaugural three-point shooting contest in 1986 and in his typical trash-talking manner asked the other participants one question:
"Which one of you guys is going to finish second?"
Larry Legend would back up his proclamation by winning the contest. And he won the next one and the one after that, giving Bird the first three titles.
This Saturday at Staples Center is the 2018 edition of the three-point contest, and already there is some fresh trash-talk taking place.
Newly acquired Clippers forward Tobias Harris is in the event, and when asked who was going to win, he didn't hesitate.
"Me," Harris said, laughing.
OK, then.
But Golden State's Klay Thompson is also in the contest. He is known as one of the best sharpshooters in the NBA.
Thompson, who played at Santa Margarita Catholic High, was the king of the three-point event in 2016, recalling that "was good times" to be crowned the winner.
He's back this year and has his own idea about who is going to be the champ.
"C'mon, man," Thompson said. "Very easy question. I've got to go with myself."
So, there you go, just some friendly banter from two of the combatants.
It's probably safe to assume the rest of the field has the same vision of raising the trophy as Thompson and Harris.
Houston's Eric Gordon is returning to defend his honor as the reigning three-point champion.
Washington's Bradley Beal, Toronto's Kyle Lowry, Phoenix's Devin Booker, Oklahoma City's Paul George and Miami's Wayne Ellington round out the impressive group.
"I'm sure if you ask everyone else in the field, they will say the same thing: that they are going to win," Thompson said. "You've got to have that much confidence when you're in an event like that."
The 6-foot-9 Harris said many appear to be in disbelief that he wants to show off his three-point stroke. He's more than willing to display his skills.
"Some people don't know. They were surprised that I was in it," Harris said. "I'm like, 'How are you surprised? You got to check the numbers.' Naw, it's a blessing to be in it with those guys. You look down, it's not any forwards. I'm like the only forward. Paul George is a two-guard, a small forward. So it's going to be a lot of fun.
"I'm a different type of shooter. I'm going to practice a little bit this upcoming weekend and just get ready to win."
Having joined the Clippers a couple of weeks ago, in a Jan. 29 trade that sent Blake Griffin to the Detroit Pistons, Harris will be hoisting his three-pointers in his backyard, so to speak.
And he's not shying away from that.
"There's some pressure to win now," Harris said. "Being invited to be in it was a no-brainer to me. I've had a great year shooting the basketball, and I think it's good especially to be over here traded to represent, so I look forward to doing that."
Twitter: @BA_Turner
---
Get our high school sports newsletter
Prep Rally is devoted to the SoCal high school sports experience, bringing you scores, stories and a behind-the-scenes look at what makes prep sports so popular.
You may occasionally receive promotional content from the Los Angeles Times.