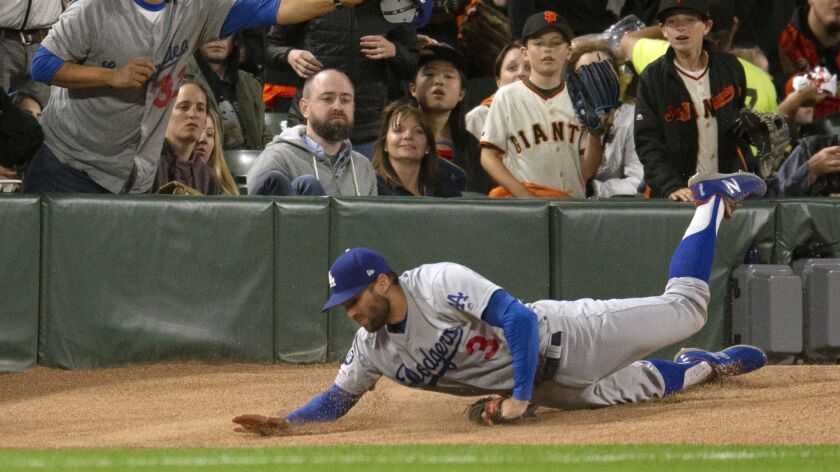 Reporting from SAN FRANCISCO —
The bullpen mound wasn't the only obstacle Chris Taylor had to contend with in foul territory as he pursued Brandon Belt's sixth-inning fly ball Friday night in Oracle Park, a play that ended with the Dodgers left fielder tripping on the mound and flying face-first into the dirt as a catchable ball dropped.
Giants bullpen coach Steve Kline, a former reliever who was a San Francisco teammate of Dodgers manager Dave Roberts in 2006-2007, appeared to make little attempt to get out of Taylor's way, taking several steps toward the top of the mound — and into Taylor's path — before backing off as Taylor flew by him.
"Steve Kline didn't help him? I didn't see that," said Roberts, who had not viewed a replay before Saturday's pregame session with reporters. "He's an old teammate of mine. That wouldn't surprise me. Not at all."
Why?
"Put it this way," Roberts said with an impish grin, "he's a guy you want on your side. He's not going to make any concessions for the opponent. He's a great guy to have on your team. We'll leave it at that."
The Dodgers and Giants have one of baseball's most heated rivalries that dates back to the first half of last century, when the teams played in New York, but Kline said his actions were neither intentional nor sinister.
He told a San Francisco Chronicle reporter that his first priority was to make sure Giants reliever Sam Dyson, who was warming up, got out of the way. Kline said he didn't pick up the fly ball until right before it dropped.
Belt went on to draw a leadoff walk off Clayton Kershaw, sparking the two-run rally that fueled San Francisco's 2-1 win. The only other major league parks with bullpens in the field of play, mounds that Roberts said "put players in harm's way," are the Oakland Coliseum and Tampa Bay's Tropicana Field.
Roberts, Kershaw and Taylor all said they would prefer the Giants move their bullpens behind the outfield wall.
"It's been a topic, and I get it — it's already shown how dangerous it can be," Giants manager Bruce Bochy said. "We're talking about it. Part of it, you look at some fields in the past, like a Wrigley Field that's had mounds right by the fans, the fans like it.
"They enjoy being right there where they can watch the pitcher warm up. It's just a little tougher with this ballpark. It's going to be a pretty big adjustment to move the bullpens, and that's what they're working on."
Slow ride
Roberts was planning to rest Justin Turner on Saturday, but the third baseman, who has been nursing a sore hamstring, felt so good after Friday night's game that he convinced Roberts he could play.
Roberts said Turner would probably start against left-hander Madison Bumgarner on Sunday and serve as the designated hitter in Anaheim on Monday and Tuesday.
"It wasn't hard and fast," Roberts said of Turner's weekend schedule. "It's all contingent on how he's feeling."
Sign up for our daily sports newsletter »
Roberts prefers to manage Turner's injury with built-in days off as opposed to placing him on the injured list because he believes the Dodgers are better with Turner's bat in the lineup and on the bench when he doesn't start.
Turner had two doubles and a single in his first three at-bats on Saturday and snapped a 2-2 tie with a sacrifice fly in the sixth inning. But Turner can be a liability on the bases, as he showed in the first.
Unable to run at full speed, Turner hit a two-out double to right-center field, the area known as "Triples Alley." He held at third on Corey Seager's two-out single to left and the Dodgers failed to score.
---