Adrian Gonzalez's neck is the one injury the Dodgers can't afford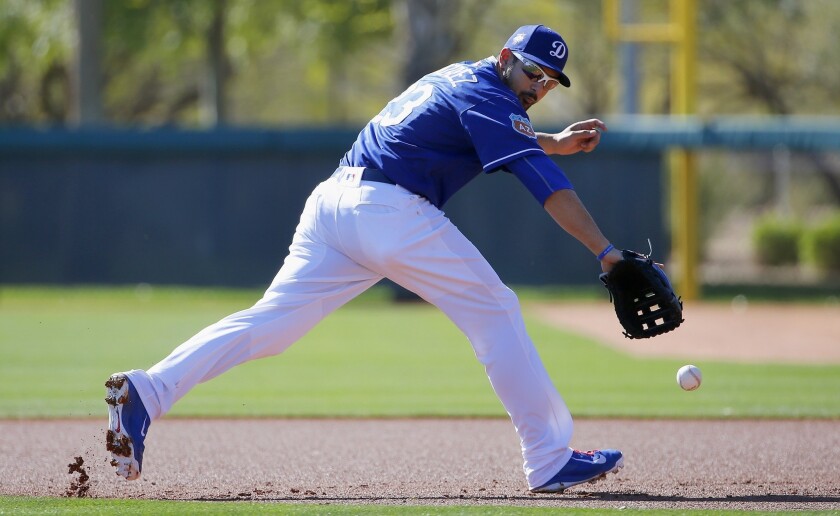 No need to get nervous before the first spring game. No need to wring hands over the lack of this or that. Every team arrives to camp with concerns.
The Dodgers have theirs, too, though some might not be as obvious as others.
Justin Turner, 31, will not play in at least the first week of exhibition games as he recovers from microfracture surgery on his knee. No need to push him. Hyun-Jin Ryu, 29 in March, is not expected to make his first start until May as he recovers from shoulder surgery. Also smart. Adrian Gonzalez, 33, returned to practice Monday after missing a day with what he now acknowledges as a bulging disk in his neck.
SIGN UP for the free Dodgers Dugout newsletter >>
So OK, maybe you could be just a tad nervous about that. Gonzalez, who missed occasional time last season with the chronic issue, aggravated his neck on Saturday ... running the bases.
If that's all it takes to flare up, the coming season could prove a serious challenge. And if there is one everyday player the Dodgers cannot afford to lose, it is the consistently productive Gonzalez.
Gonzalez has dealt with the neck issue for years, but the years are slowly adding up. He turns 34 in May. He is keenly aware of all of this, a significant reason why he trains so diligently in the off-season to stay in the best possible shape. Yet his neck still barked in a base-running drill.
Despite the addition of Joc Pederson last season and Corey Seager this year, for all their talk of adding youth, the Dodgers are a fairly old team. They will be older at every position this year but shortstop. Even with Pederson (23) and Seager (21), their starting lineup will average over 28 years of age. And three of their main reserves are Chase Utley (37), A.J. Ellis (35 in April) and Carl Crawford (34).
In his three full seasons with the Dodgers, Gonzalez has averaged 27 home runs and 102 RBI. He has never played less than 156 games. He has never been on the disabled list in 12 seasons in the majors. Of course, nobody has been until the first time.
Older teams are going to have health issues during the course of a six-month season, and the Dodgers have tried to address that as best as they can by building a deep roster. So they can afford to be cautious with Turner -- who is still expected to be ready by the season's start -- and Ryu.
But losing Gonzalez, their primary RBI man and most consistent hitter, would prove a much deeper challenge, one that would ripple throughout the lineup. There is no simply replacing Gonzalez with a Scott Van Slyke.
Maybe Gonzalez manages his disk problem just fine, plays in another 150-plus games, still leads the Dodgers in homers and RBI.
That would be their plan. If they're going to be playing into deep October, it would have to be a necessary result. Otherwise, at some point, a Dodger fan getting nervous would be perfectly understandable.
Twitter: @stevedilbeck
MORE DODGERS NEWS
Dodgers' Justin Turner will miss first week of Cactus League games
Dave Roberts' first call: Clayton Kershaw will be Dodgers' opening-day starter
Friedman's long-term vision vs. Dodgers' fans win now mentality
---
Get our Dodgers Dugout newsletter for insights, news and much more.
You may occasionally receive promotional content from the Los Angeles Times.