Dodgers will look to Clayton Kershaw and Walker Buehler for majority of final games of the season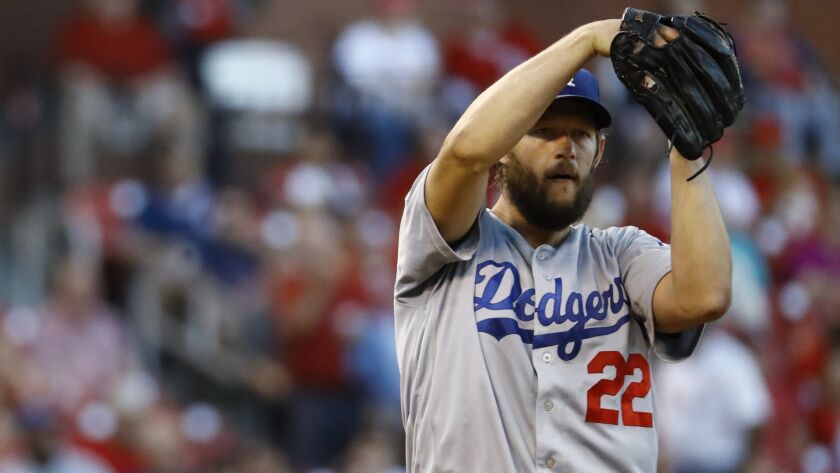 Of all the starting pitchers on National League contenders, Clayton Kershaw and Walker Buehler rank first and second in earned-run average since the All-Star break. The Dodgers have 11 games left in the regular season, starting Tuesday, and Kershaw and Buehler could start six of them.
Kershaw starts Tuesday against the Colorado Rockies, with Buehler to follow on Wednesday. Each is scheduled to start in next week's series against the Arizona Diamondbacks.
If the season comes down to the final series in San Francisco, Kershaw could start the next-to-last day against the Giants, with Buehler set to start the last day.
"The odds of us knowing our fate when we go to San Francisco … are probably going to be muddied still," Dodgers manager Dave Roberts said.
The Dodgers would love to clinch an NL West title before then, of course, and use the final weekend to tune up Kershaw and Buehler for the division series. However, they could be in a scramble through the final weekend, in the division and wild-card races.
"Right now, we're trying to win the division," Roberts said. "We've got our pitching lined up the way we want it to be lined up."
Kershaw has a 2.26 ERA since the All-Star break, with Buehler at 2.35.
The only NL starters with a lower ERA and a minimum of 60 innings play for noncontenders: Trevor Williams of the Pittsburgh Pirates, Dereck Rodriguez of the Giants, and Jacob deGrom and Zack Wheeler of the New York Mets.
Hurricane relief
As Hurricane Florence continues to pound the Carolinas, a year has passed since Hurricane Maria ravaged Puerto Rico.
The Dodgers' Enrique Hernandez and his fiance, Mariana Vicente, organized an online fundraising drive last September. Hernandez said his fiance will fly to Puerto Rico this week to meet with Habitat for Humanity officials.
In March, the Dodgers and team chairman Mark Walter donated $2 million. With total donations topping $2.25 million, Hernandez said he hopes Habitat can build more than 100 homes across his island homeland. Permits have been obtained, he said Monday, and construction is ready to begin.
Last October, Hernandez criticized President Trump after he visited the island and distributed paper towels in the manner of a basketball player taking jump shots.
"This is a serious thing," Hernandez said then. "This is not a joke. And to see him throw paper towels out there. … It's like going to Vegas right now and starting to throw Band-Aids to the public."
When Trump last week disputed the estimated total of 3,000 deaths from Hurricane Maria, saying the island "had anywhere from six to 18 deaths" by the time he left the island, Boston Red Sox manager and Puerto Rican Alex Cora shot back.
"To be tweeting about 3,000 people and be efficient, it's actually disrespectful for my country," Cora said. "We see it that way. I know probably he doesn't feel that way. And like I said, hey man, thank you for helping us. He went down there, he did what he did. I hate talking about politics and all that, but I think this is more than politics. This is about a country that really suffered."
Hernandez declined to comment on the Trump tweet.
"I'm really proud of the way Alex handled it," Hernandez said. "I'm just going to focus on baseball."
Short hops
Outfielder Yasiel Puig was selected as National League player of the week, for the third time in his career and the first time since 2014. … The Dodgers added relievers John Axford, Tony Cingrani and Yimi Garcia to the active roster, now occupied by 39 of a possible 40 players. The only player on the 40-man roster not active: reliever J.T. Chargois, who is on the disabled list.
Follow Bill Shaikin on Twitter @BillShaikin
---
Get our Dodgers Dugout newsletter for insights, news and much more.
You may occasionally receive promotional content from the Los Angeles Times.