Dodgers, Angels allowed to go home from Arizona in response to the coronavirus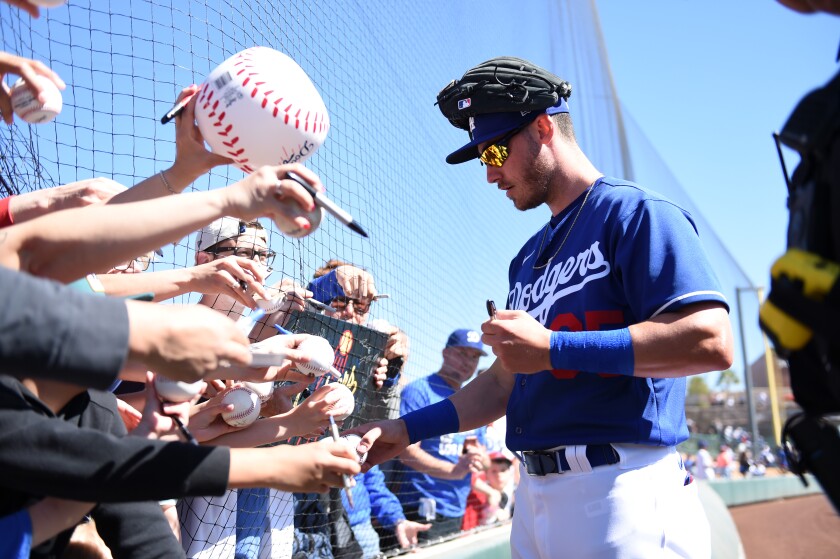 PHOENIX —
A day after Major League Baseball suspended spring training and delayed the start of the season by at least two weeks in response to the COVID-19 pandemic, confusion rippled through the majors as players — including those on the Dodgers and the Angels — were informed Friday that they were allowed to go home.
The development came after the league and the players association met Friday to begin discussing how to proceed.
In a memo sent to players Friday afternoon, the union advised players that teams were directed to offer them three options: remain in the area of their club's spring training facility, travel to their franchise's home city, or travel home to wherever they live as long as it's not classified as a high-risk area.
But players on various teams were instructed to leave, muddling the situation, according to people with knowledge of the situation. Philadelphia Phillies outfielder Andrew McCutchen tweeted "we've been told to go home."
A look at athletes, coaches and others in the sports world who have tested positive of the coronavirus.
Further, some players voiced concern that if they left Arizona or Florida and didn't report to their team's spring training facility, they would hurt their chances of being paid under their contracts or compromise their rights down the line, according to people with knowledge of the situation. Players, in effect, were worried MLB would attempt to use their departures against them in future negotiations.
In response, the union assured players their rights would not be affected as long as they stay in shape and return to camp when summoned, according to people with knowledge of the situation. Other issues, including salary payment, service credit, and bonuses, were to be discussed with the league regardless of where players were located in the near future. Players were encouraged to make decisions based on individual circumstances.
The New York Yankees on Friday voted as a team to stay in the Tampa area to train together at the club's facility for the foreseeable future.
Clubs are required to pay regular spring training allowances to players who decide to stay around the spring training facility, according to the union's memo to players. Teams are also expected to assist in the effort to find or extend housing accommodations. Players will have access to their club's facilities. Clubs "will make best efforts" to supply the usual accommodations at the facility, including meals.
Dodgers players reported to Camelback Ranch, the team's spring training facility in Arizona, on Friday morning but were limited in their workouts.
President of baseball operations Andrew Friedman said Camelback Ranch and Dodger Stadium will be open for players to work out, with staff members in place at both locales. The team was sorting through which players are going where as of Friday evening.
He said club officials will meet with minor leaguers Saturday to discuss their next steps.
"From our standpoint, it's about facilitating whatever our guys choose to do and support them the best that we can as continue to learn more," Friedman said in a conference call.
Friedman said no members of the organization have been tested for the coronavirus. He said Dodgers employees based in Los Angeles have been instructed to telecommute and the work on Dodger Stadium's renovations has continued. He added he has not heard anything about the status of the All-Star game, which is scheduled to be played at Dodger Stadium on July 14.
Stories examining the impact the spread of the coronavirus has had on the NBA, NHL, MLB, the NCAA tournament and the rest of the sports world.
The Angels had a scheduled day off Thursday. No players worked out at the facility Friday, according to a team official. General manager Billy Eppler said players had been scheduled to attend a meeting at Tempe Diablo Stadium to discuss the next steps but it was canceled in light of the league's announcement. The baseball operations staff chose, instead, to contact players by phone to inform them of their options.
Angels players will decide by the end of the weekend to either work out at the team's spring training facility, relocate to Angel Stadium or return to their offseason homes. Minor league players were presented similar choices. Manager Joe Maddon will work at whichever team facility draws the most players.
"We're encouraging them to do what they're comfortable doing," Eppler said in a conference call. "We're not offering advice because we have the ability to facilitate their needs here in Arizona or in Los Angeles. Some might choose to return home for the time being."
Players are expected to remain in shape as they await the league's next steps. The Angels asked pitchers to keep their arms activated while the Dodgers are working on devising programs for their pitchers to follow so they can ramp up intensity when the time comes for traditional spring training activities — or something resembling them — to resume.
---
Get our high school sports newsletter
Prep Rally is devoted to the SoCal high school sports experience, bringing you scores, stories and a behind-the-scenes look at what makes prep sports so popular.
You may occasionally receive promotional content from the Los Angeles Times.