Column: Kings take captaincy from Dustin Brown and give it to Anze Kopitar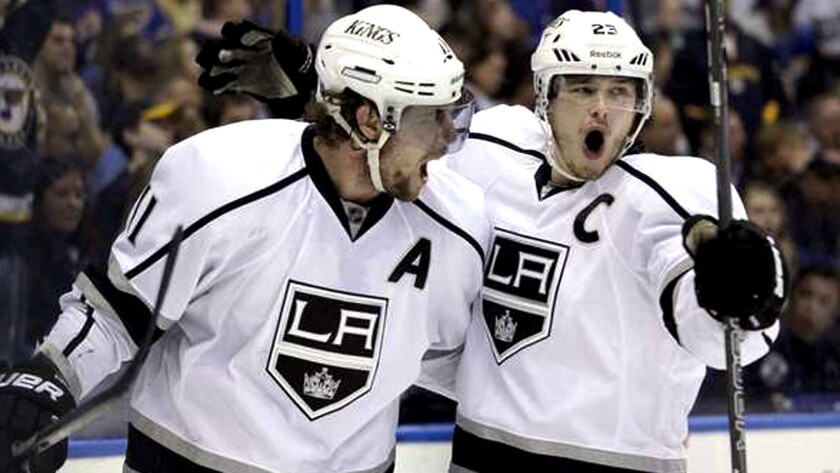 It's one of hockey's endearing quirks — such as calling opponents' arenas "barns," urging players to put the biscuit in the basket and revering the Gordie Howe hat trick (RIP Gordie) — that a team captain is regarded as a demigod. In a game built on a team ethic, the captain is the one player allowed to stand out, to be a link between the locker room and front office and a channel to the referees.
That's why the hockey world cast a questioning eye Thursday when the Kings appointed Anze Kopitar their captain and took the role away from Dustin Brown, their captain since the bad, old days of 2008 and during their championship seasons of 2012 and 2014.
General Manager Dean Lombardi said it simply was time for younger players to lead, though Kopitar, who will be 29 in August, isn't much younger than Brown, 31. "My feeling on this is that at some point there has to be an evolution in the growth of some of your other players, the players that have come through the system. It's essentially their turn," Lombardi said during a conference call.
Lombardi called Brown the best captain the Kings ever had but wouldn't say whether Brown will become an alternate captain. It seems unlikely, with the focus on passing the torch to the next generation. "This is something that was on the board, that a transition needs to take place and they've been groomed for this as players and leaders," Lombardi said.
There's more behind this than a natural succession.
To be an effective captain, a player must lead by word or deed and must regularly contribute, whether in goals, assists, hits, blocked shots or saves. Brown once thrived on the power play but got less and less power-play time as the Kings' skill level increased. Battered by playing a bruising style, he didn't have the impact he once did. Can you ask teammates to do what you can't do yourself?
Kopitar, an assistant captain since 2008, will do a fine job. He led the Kings in scoring the last nine seasons and has become the conscience of the team. He said he never thought of getting the captaincy from Brown "because I always looked at him as being our guy." Brown was unavailable for comment Thursday.
Kopitar added, "It's a bit of sweet and sour taste in my mouth just because he and I are very good friends and have developed a strong relationship over the course of my 10 years in L.A. … I don't think our relationship is going to change. I'm still going to need him right beside me to try and help me out with a lot of stuff and hopefully we can just manage and continue working together."
In a way, Brown is a victim of his own and the team's success, a prosperity Lombardi hasn't always handled well.
In 2013 Lombardi gave Brown (who negotiated without an agent) an eight-year, $47-million contract that includes a clause permitting Brown to list a limited number of acceptable trade destinations. With an average annual value of $5.875 million, a salary cap that won't rise much next season and Brown's ineffectiveness, that contract is untradeable. So was Mike Richards' contract, which Lombardi could have bought out without impact to his salary cap. Instead, Lombardi let loyalty to the past outweigh his responsibility to future teams. When Lombardi tried to void Richards' contract he ended up with a settlement that sticks the Kings with a cap hit through 2031-32.
Lombardi said he isn't currently considering buying out Brown. "I really believe he's going to get his game back," said Lombardi, who likely doesn't have much company in that belief. "He's in the best shape he's ever been in, this past year. You look at him now, to me, he's still in his prime. … There's no physical hindrance to him not getting back to that caliber."
Maybe not, but it's difficult to envision him again becoming a solid power forward in a game that's getting faster as he gets older.
Lombardi also said he's prepared, likely next week, to make "our best offer under the circumstances" to impending free-agent left wing Milan Lucic. Lombardi acquired Lucic from Boston last June for goaltender Martin Jones, a 2015 first-round draft pick, and a prospect. He can't afford to lose Lucic without return, especially after trading his 2016 first-round pick to Carolina for Andrej Sekera and getting nothing when Sekera left via free agency last summer. The "circumstances" are obligations that limit what Lombardi can offer the dynamic Lucic, who scored 20 goals in 81 games last season.
"There's no question we want him back. I think he clearly wants to be here," Lombardi said. "There's a number of things we had to work through that we didn't anticipate, but we haven't given up."
The business side of the game is never fun, and it will be less fun if Lucic walks. Even if he returns the Kings will look different next season, with several minor-leaguers challenging for jobs and Lombardi trying to fortify a thin defense corps. It might take a while for the new captain to be hoisting the Cup, as Brown did twice.
helene.elliott@latimes.com
Twitter: @helenenothelen
---
Get the latest on L.A.'s teams in the daily Sports Report newsletter.
You may occasionally receive promotional content from the Los Angeles Times.