Slugger Giancarlo Stanton recommends playing multiple sports in high school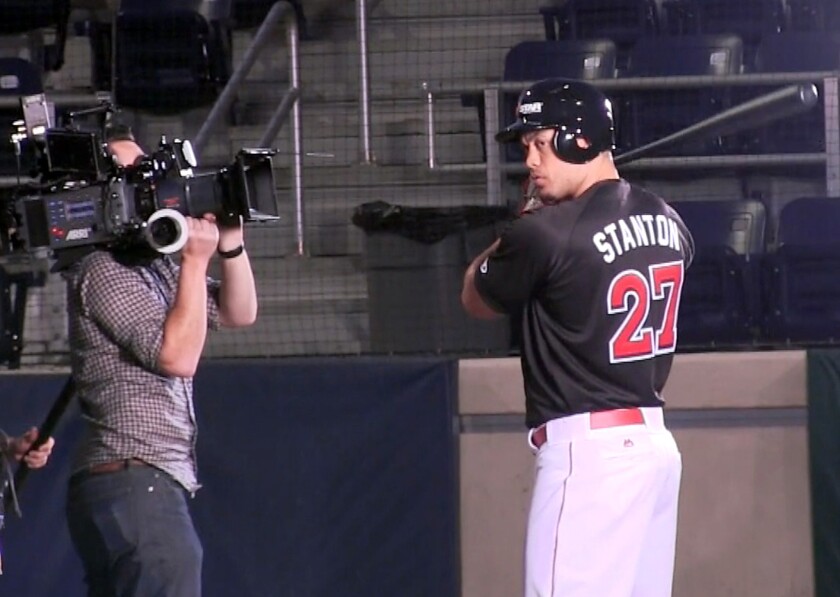 Giancarlo Stanton, 6 feet 6 and 240 pounds, with bulging muscles that have helped him hit 181 home runs for the Miami Marlins by age 26, was standing in the Sherman Oaks Notre Dame High dugout Thursday night getting makeup brushed onto his face in preparation for shooting a commercial.
Last year he showed up at his alma mater for another commercial and started hitting balls out of the ballpark so frequently that people were tweeting and taking photos of the damage he was doing to car windows in the parking lot.
"It's dangerous," Notre Dame Coach Tom Dill said. "He barely swings and the ball goes over the fence. It's not much fun. I'm worried. What if he hits a car? What if he hits a person?"
This time, there was no batting practice, so Dill could breathe a sigh of relief, although he deserves a little blame for the powerhouse Stanton has become. A 2007 Notre Dame graduate, Stanton was a three-sport standout for the Knights, and to this day, Stanton insists playing football, basketball and baseball in high school helped prepare him to excel at the highest level. He was All-CIF in all three sports.
"I recommend multiple sports for sure," he said. "The memories I have bouncing around for each sport, having to juggle some in the same day, it's tough, it's difficult. You want to stick with one sport and master one thing and be good, yeah, you might be able to go to more combines, but the life experiences and athleticism you get from playing three sports or whatever will stick with you and help you progress."
In 2014, Stanton agreed to a 13-year, $325-million contract with the Marlins. Not bad for someone who scouts used to say had trouble hitting curveballs when he was at Notre Dame.
"They say in baseball, your little flaws will stick with you from the start. It's just how you can maintain and minimize them," Stanton said. "They said offspeed was always my [weakness] and it will be always something difficult but you work at it and progress."
Standing on Notre Dame's baseball field, Stanton reflected on his high school years. Hetransferred to Notre Dame from Verdugo Hills his junior year.
Miami Marlins outfielder drops by Sherman Oaks Notre Dame
"High school is what kind of grows you into the person you are," he said. "I have great memories, good and bad, some learning experiences and some that I'll take with me the rest of my life."
Transfer mania
From July and through January, the 582 schools in the Southern Section submitted transfer paperwork for 5,700 students. That's an increase of more than 400 compared to the same period last year. And football players have just begun their annual rite of switching schools.
Six quarterbacks have changed schools since the spring semester began. Junior Matthew McDonald went from Santa Ana Mater Dei to Mission Viejo. Freshman Ryan Hilinski went from San Juan Capistrano JSerra to Orange Lutheran. Sophomore Brevin White went from Mission Hills Alemany to West Hills Chaminade. Junior Michael Bonds went from Newport Harbor to La Cañada St. Francis. Junior Tyger Goslin went from Chatsworth to Moorpark. Junior John Buksa went from Long Beach Millikan to Long Beach St. Anthony.
Then there was standout junior receiver Tyjon Lindsey moving from Las Vegas Bishop Gorman to two-time Pac-5 Division champion Corona Centennial. Standout junior receiver Terrell Bynum went from Anaheim Servite to Bellflower St. John Bosco.
If you want to know which teams are going to win a championship, follow the transfers.
---
Get the latest on L.A.'s teams in the daily Sports Report newsletter.
You may occasionally receive promotional content from the Los Angeles Times.