Column: Social media frenzy for L.A. high school athletes on the rise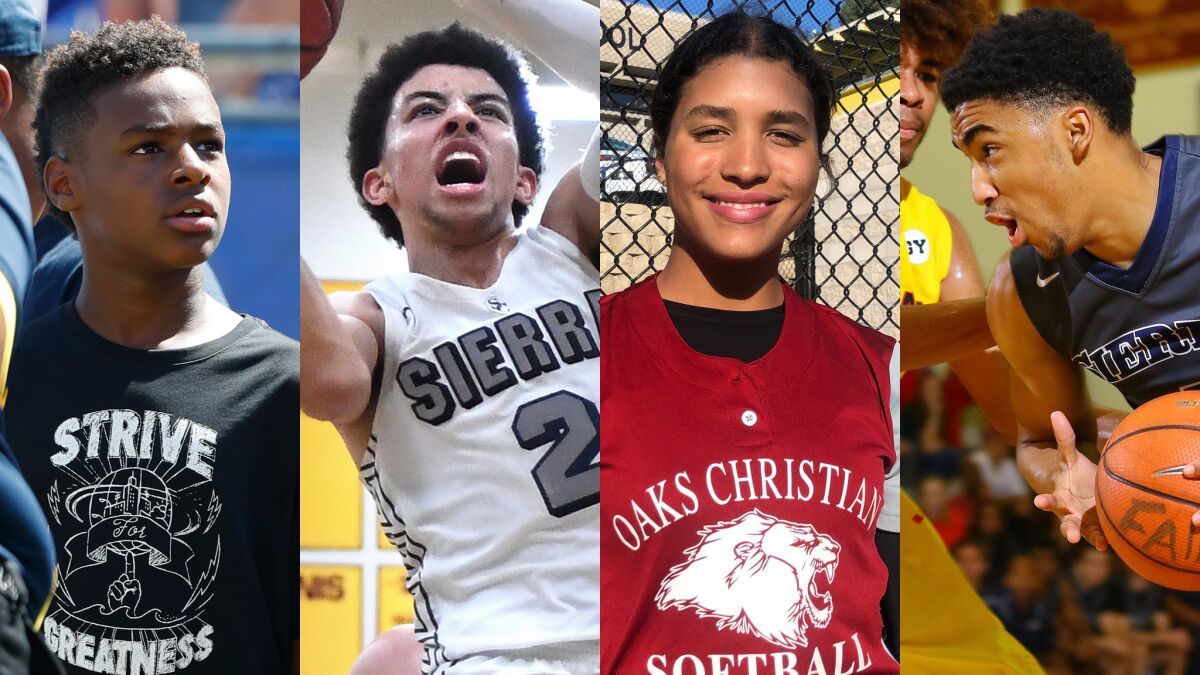 Welcome to the TMZ era in covering high school sports.
From teenagers holding cameras under a basket trying to capture a dunk that might go viral on YouTube to teammates filming an athletic feat in practice and putting it on Snapchat, it's a whole new way of bringing news to fans.
At Chatsworth Sierra Canyon basketball games, there is barely enough elbow room along the baseline when someone is seeking to capture video or snap a photo of a Cassius Stanley or KJ Martin dunk. After games, fans break out their smartphones for selfies. Autographs are so yesterday's news.
Los Angeles has become a virtual prep sports mecca for those wanting in on the social media feeding frenzy. Where else can you find the teenage sons and daughters of LeBron James, Shaquille O'Neal and Scottie Pippen performing in public with their famous fathers looking on?
Crossroads' Shareef O'Neal, the son of basketball great Shaquille O'Neal, takes part in the Jordan Brand Classic in April 2018.
(Tim Clayton / Corbis via Getty Images)
Maya Brady, UCLA-bound senior softball player at Oaks Christian is the niece of New England Patriots quarterback Tom Brady.
(Eric Sondheimer / Los Angeles Times)
The Karros brothers, Kyle (left) and Jared are baseball players at Mira Costa and the sons of former Dodgers first baseman Eric Karros.
(Eric Sondheimer / Los Angeles Times)
KJ Martin of Sierra Canyon dunks the ball during a state championship game in Sacramento on March 1.
(Nick Koza / For The Times)
Oaks Christian teammates Nick Montana, the son of Football Hall of Famer Joe Montana, Trevor Gretzky, the son of Hockey Hall of Famer Wayne Gretzky, and Trey Smith, the son of actor Will Smith, take part in a practice session in 2008.
(Mel Melcon / Los Angeles Times)
Sierra Canyon's Scottie Pippen Jr. drives to the basket during a playoff game against Mater Dei on March 5.
(Wally Skalij / Los Angeles Times)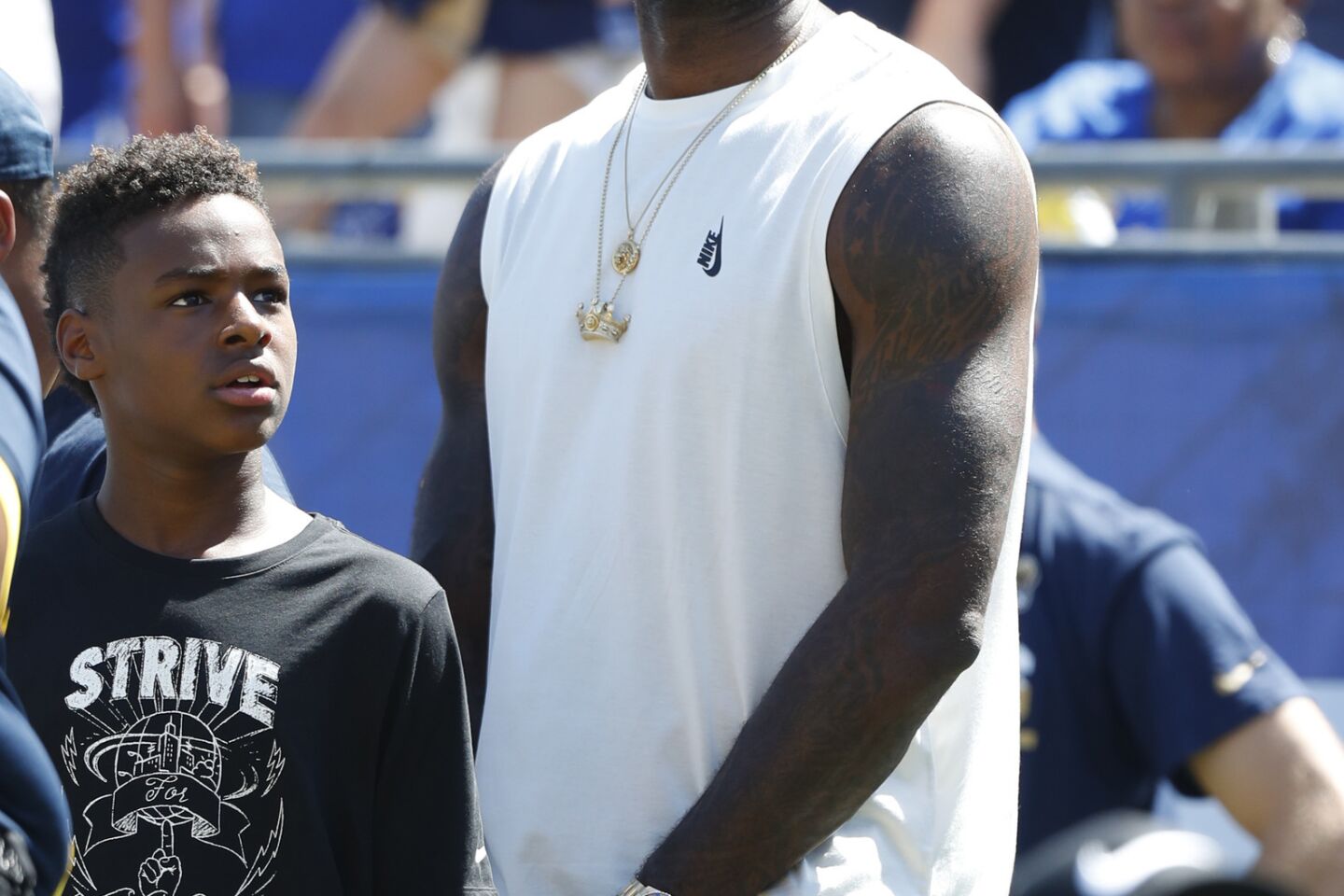 LeBron James and his son, Bronny James watch from the sideline during a game between the Los Angeles Rams and Seattle Seahawks in Sept. 2016.
(Kevin Terrell / Associated Press)
There's also the niece of Tom Brady and the sons of Eric Karros and Garret Anderson competing in sports.
Southern California has always been a place for celebrity children to make an impact in top-tier athletic competition. There were the sons of Joe Montana playing football at Westlake Village Oaks Christian. Dave Winfield's son played basketball at Studio City Harvard-Westlake.
Arnold Schwarzenegger's son played football at Brentwood. Harrison Ford's son was a baseball player at Northridge Highland Hall years ago. Wayne Gretzky's kids played baseball and golf at Oaks Christian. Justin Fargas, whose father, Antonio, played Huggy Bear in "Starsky & Hutch," became a football star and state track champion at Sherman Oaks Notre Dame.
Los Angeles is a good place for the children of celebrities to feel comfortable and get lost in a crowd because we're so used to seeing celebrities at a restaurant or grocery store without going bonkers. The rise of social media, though, is intensifying the focus on these young athletes.
Sign up for our daily sports newsletter »
It really goes back to the Chino Hills basketball circus of 2016 and 2017. LaVar Ball, the father of the Ball brothers, liked attention, and the family welcomed anyone and everyone to capture their every move. It was entertaining, sometimes humorous and many times over the top.
The Balls became national household names. The media got internet clicks. Fans were mesmerized by what they saw in the weekly soap opera.
Now the pursuit on social media begins for the next big thing, and you can predict without hesitation that the arrival of Bronny James to the high school ranks this fall will produce the greatest tsunami of cameras ever seen for a 15-year-old athlete.
Right now LeBron James' son is an eighth-grader at Santa Monica Crossroads, and I have sympathy for those who will be entrusted with handling the coming media circus. If you thought interest in LaMelo and Lonzo Ball was big in high school, just wait for Bronny's entrance.
Crossroads banned cameras from middle school games this season in hopes of allowing him and classmates one final year of junior high normalcy. That ends soon.
The good news is that the talent level is so high in Southern California that the initial outpouring of interest in a singular player will eventually fade — at least a little bit.
If Bronny is as good as he looks — and he is good — it's going to be a wild four-year ride. The unofficial beginning of the Bronny James era began more than a week ago when the 2018-19 basketball season ended. Now comes weekly speculation whether he's going to stay at Crossroads or go to a different high school.
A journalist's job is to entertain, inform and keep readers abreast of the trends and happenings in Southern California while identifying the future standouts coming and going.
It's never boring, but times have changed and it's important to find an appropriate manner to cover celebrity high school athletes. It's going to be as challenging as deciding whether to put a microphone in front of LaVar Ball's lips.
Twitter: @latsondheimer
Get our high school sports newsletter
Prep Rally is devoted to the SoCal high school sports experience, bringing you scores, stories and a behind-the-scenes look at what makes prep sports so popular.
You may occasionally receive promotional content from the Los Angeles Times.