Column: Nehemiah Thompson carries the weight of expectations on his body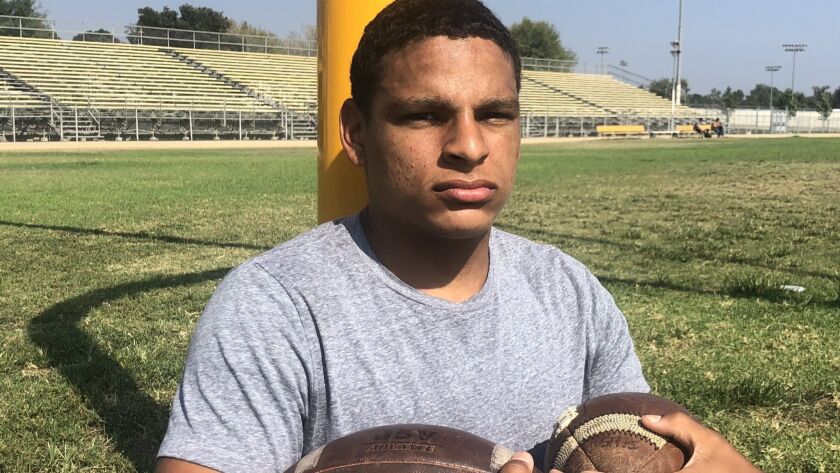 Three tattoos are visible on the right arm of Nehemiah Thompson, a senior linebacker at San Fernando High. They tell the story of a 17-year-old who carries the responsibility of providing inspiration and hope for family members.
On his shoulder in Roman numerals is the birth date of his father, Hank Thompson Jr., an All-City linebacker at San Fernando in 1983 who's in prison. On his arm is a drawing of a rose accompanied by the birth date of his 6-year-old sister, Billie. Written on his forearm is his last name.
"My little brother looks up to me," he said of Joshua, a sophomore on the junior varsity team. "My little, little brother [Isaiah] looks up to me. My baby sister looks up to me. I have to make the road so it will be easier for my siblings. I have to go through all these obstacles. I'm building a road and I have to carry my family to get across the road."
For nearly 30 minutes sitting on a bench in a school bungalow that serves as the office/equipment room for football coach Robert Garcia, a calm, sometimes smiling Thompson explained in a soft voice what he's been through.
He said he has been separated at times from his father and mother. He recalls that when he was 10, "even though I was living with my mom, she'd be gone for days and I had to be the one to keep my brothers dressed."
He said his father battled substance abuse for years and spent stretches of time incarcerated.
Thompson decided when he was 12 to leave his mother in Las Vegas and reconnect with his father in Southern California.
"I wanted to have a childhood," he said.
Playing youth football helped him and his father stay focused.
"That's the only thing keeping my dad off drugs was watching me play on Saturdays," he said. "After football was over, he'd do good for a certain amount of time, then relapse."
His father's girlfriend, whom Thompson called his stepmom, also needed his help.
"I had a lot of mixed emotions," he said. "I didn't know what was going on. I started helping my stepmom. I'd see her cry. She was sad. ... I'm trying to help her and I'm 13 years old."
Thompson always looked at football as his moment to be free.
"Even though there were negative parts of my life, I always tried to see the positives," he said. "That's where football came in. I was telling myself, 'Honestly, the only way to make our family better and break our chain of people messing up is football.' It's an escape route.
"Most of the time, even though my dad had his wrongs, he raised me to be a strong young man and told me there are certain things you have to overcome that God is going to throw at me. He was the man pushing me. Unfortunately, he had to leave."
Chris Richards, a former San Fernando running back, said he speaks by phone once or twice a month with Hank Thompson, who's incarcerated at the California Men's Colony in San Luis Obispo. He said Thompson's father had difficulty adjusting to "life after football."
Thompson receives letters regularly from his father.
"I just want my dad to know that I love him," Thompson said.
Thompson said he wants to use football to get to college, earn a degree and have a backup plan if he doesn't make the NFL. The obstacles and challenges keep coming.
He had 23 sacks playing defensive end as a freshman for Sylmar. When he was a sophomore, before a game against Taft, a cousin was shot in the chest not far from his residence in Lakeview Terrace. Thompson was told the news five minutes before taking the field.
"I started bursting out in tears," he recalled. "I hadn't cried in forever."
His coach asked if Thompson wanted to be taken to the hospital.
"I told him, 'No. I believe in God. I believe he'll pull through. Put me in the game. This is what will get me out of our situation.'"
San Fernando linebacker is trying for better life
Thompson took out his anger on Taft. He recorded 19 tackles and ran for two touchdowns. His cousin recovered.
He left Sylmar and spent a month at Sun Valley Village Christian, then transferred to San Fernando for his junior year after an uncle became his legal guardian.
He might be the best defensive player in the City Section this season. He's now a ferocious, athletic 5-foot-11, 212-pound linebacker who plays every down with an unflinching intensity. After two games, he has been credited with 25 tackles, including three sacks. He has scored three touchdowns.
"He's been through so much," said his coach, Garcia, after listening to Thompson's story. "It makes me want to help him even more. I was amazed and choked up. My wife always says there's something about that kid that makes him special."
Thompson understands taking the ACT and SAT next month will be bigger than any football game this season. He needs to succeed to give himself options and hope for the future.
The tattoos on his right arm are a reminder why he must succeed.
"If I fell, I'd fall into another category for failure," he said.
Twitter: @latsondheimer
---
Get our high school sports newsletter
Prep Rally is devoted to the SoCal high school sports experience, bringing you scores, stories and a behind-the-scenes look at what makes prep sports so popular.
You may occasionally receive promotional content from the Los Angeles Times.