Los Altos' Tyler Nevens uses the frustration from a lack of recruitment as motivation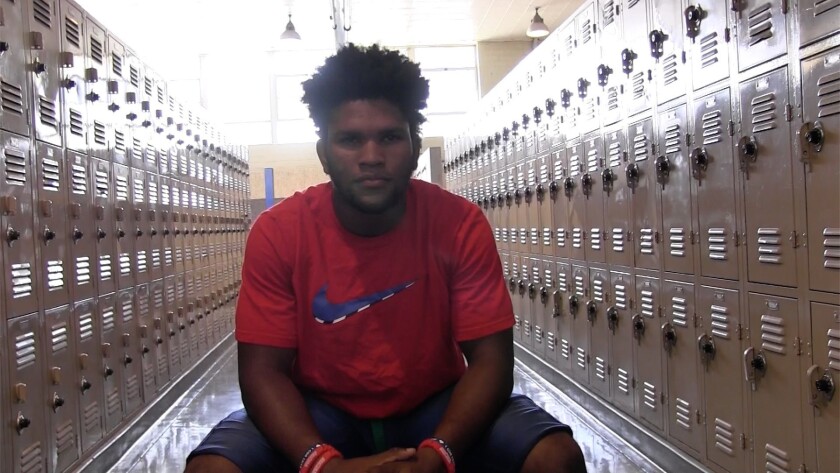 After rushing for nearly 5,000 yards and scoring 67 touchdowns in less than three seasons of varsity football, senior running back Tyler Nevens of Hacienda Heights Los Altos is conveying a simple message to college football recruiters: Start believing in me.
His coach, Dale Ziola, certainly believes in him.
"It takes a whole lot of people to make a tackle," he said. "You put a football in his hand and he's the fastest guy out there."
Nevens, 6 feet, 213 pounds, has replaced Randall Brown as the most prolific running back in Los Altos history. But he has just four scholarship offers — San Jose State, UC Davis, Montana, Montana State.
"I've been taking it day by day," he said. "I just use that frustration on the field."
You can see it in his runs when he plows over a defender. You can sense it in his voice when he humbly talks about his determination to be successful.
"Go beast mode every game," he said of his philosophy. "I watch highlights of Jerome Bettis, Marshawn Lynch, Adrian Peterson — those aggressive guys. A defensive player is scared of aggressive guys."
Nevens has earned respect from fans and coaches in the San Gabriel Valley, where he has led Los Altos to a 9-0 record while rushing for 1,646 yards and scoring 29 touchdowns.
"He's a pretty special kid," Ziola said. "He's one of the best teammates any of these guys have had."
Nevens moved from Inglewood to right down the street from Los Altos as a third-grader. He's grown up in the community and has developed the neighborhood loyalty that makes winning for your neighborhood school so endearing.
"It feels good," he said. "I feel loved here. I have friends here who are pretty much brothers to me."
Los Altos is ranked No. 1 in Southern Section Division 6 and is coming off a 21-7 win over previously unbeaten Charter Oak. Nevens has a chance to earn a lasting legacy as a Conqueror.
"I just keep playing," he said. "It's my motivation."
Westchester turnaround: Westchester is known for its powerhouse basketball teams in the City Section, but there's a football turnaround underway under Coach Wyatt Henderson.
The Comets are 7-2 overall and guaranteed their first winning season since 2011. Except for a pair of one-point losses to Carson and Venice, they'd be 9-0.
"We're two points and 18 seconds from being 9-0," Henderson said. "The kids have worked hard."
The player leading the way has been junior quarterback Jonathan Murphy, who has passed for 2,084 yards and 20 touchdowns with two interceptions. He passed for 302 yards and three touchdowns in a 42-32 win over Palisades on Friday.
"He's really good," Henderson said. "It's hard to defend him. He does a lot of different things. It's a pleasure to coach this kid. He's like a sponge. He soaks everything up."
Another rising player is 6-foot-2, 180-pound sophomore defensive end Mark Blocker. He had 13 tackles against Palisades.
"He's going to be one of the best in the City," Henderson said of Blocker.
Westchester is in City Section Division II, home to unbeaten Hawkins (8-0). The Comets have shown they're not afraid of anyone.
Follow Eric Sondheimer on Twitter @LATSondheimer
---
Get the latest on L.A.'s teams in the daily Sports Report newsletter.
You may occasionally receive promotional content from the Los Angeles Times.