Column: Except for one parking lot clash, Notre Dame football's 'odd couple' keep things running smooth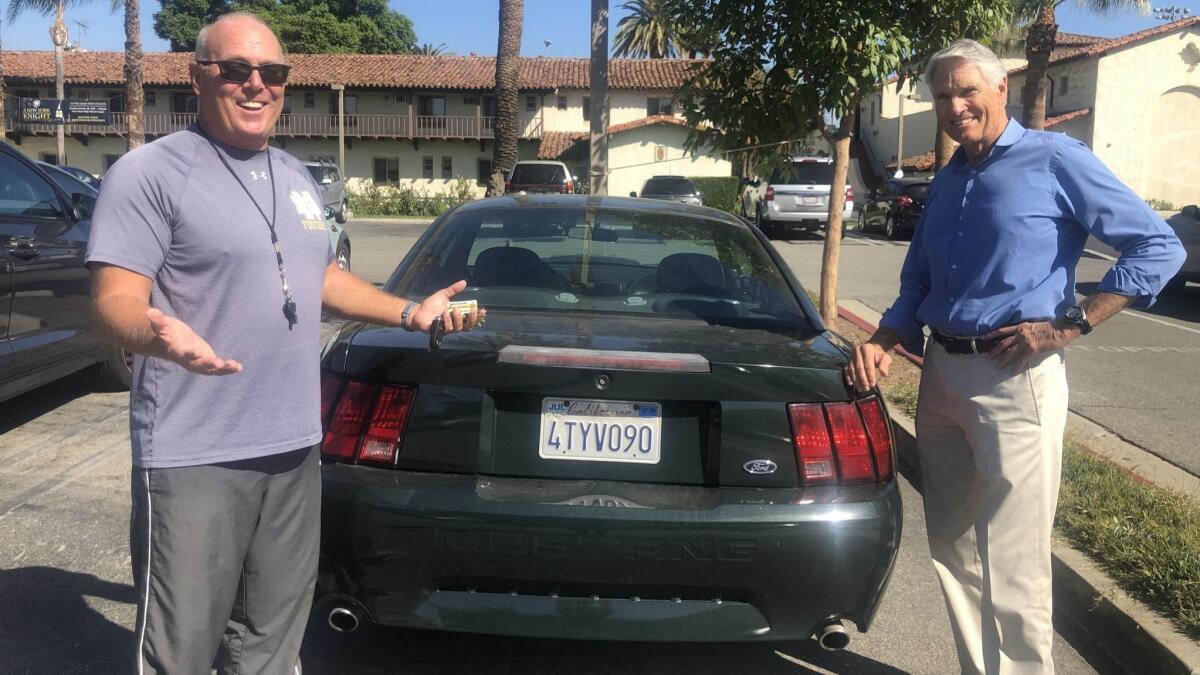 Loyalty and humility are forgotten qualities in the world of high school athletics, so seeing Kevin Rooney and Joe McNab walking around the campus at Sherman Oaks Notre Dame makes you want to smile and take a moment to reflect on how remarkable their relationship has been.
For 38 years, McNab has been the top assistant coach to Rooney, who has been Notre Dame's head football coach for 39 years.
"They're like the 'Odd Couple,'" said former assistant Jeff Kraemer, referring to the Neil Simon play about two divorced men who decide to live together even though their personalities are different. "Kevin is Felix and Joe is Oscar."
"I'm the messy one," McNab said. "He's more structured. I'm more wild to handle."
McNab, 60, arrived at Notre Dame in 1981 as a 21-year-old from South San Francisco with long hair and a quick wit who was hired to teach religion and coach football. He graduated from Santa Clara University, the same as Rooney, who became head coach in 1980 and is far more conservative.
The fact that McNab has stayed for four decades as the No. 2 man and defensive coordinator is very rare and a tribute to his lack of ego and Rooney's strengths as a leader and facilitator.
"While Kevin may know defense, he lets Joe do everything and Kevin will say, 'What about this?'" Kraemer said.
Said McNab: "I've enjoyed working with Kevin. I call it like going to the principal's office when something is screwed up."
Added Kraemer: "Joe is quieter but Joe is king of the one-liners. He comes up with jokes left and right, keeping guys loose, and Kevin will get them fired up."
Rooney, 68, is one of only four coaches in state history to have won more than 300 football games at the same school. His teams have won four Southern Section titles and the Knights are 5-3 this season. McNab is a highly regarded track and field coach. His teams have won 10 Southern Section championships, and he has coached three state champions in the 100 meters.
"I've experienced a lot of frustration being the head track coach," McNab said. "This way I'm only frustrated being head coach half of the time."
McNab's humility is legendary, but who wouldn't want to stay in the background considering his wife, Neezer, is an assistant principal at Woodland Hills Taft, the incoming president of the CIF City Section Board of Managers and a former stuntwoman.
"I've seen her jump off a building, get run over by cars, lit on fire, kicked off a helicopter," McNab said. "And she makes more money than me."
Eight years ago, the funniest story involving Rooney and McNab unfolded during a weekday afternoon in the Notre Dame parking lot. Their cars were parked opposite of each other. Rooney started backing out in his Honda Pilot at exactly the same time that McNab was backing out in his Ford Mustang Cobra.
The bumpers of their cars collided.
"It was more damage on his car than mine," Rooney recalled. "We both felt like idiots."
Said McNab: "I guess I made a bad call in the game and he was irritated. That's how I remembered it and haven't forgiven him. All we needed was Kraemer there and it could have been the Three Stooges."
McNab had offers to leave Notre Dame but never followed through. His two sons graduated from Notre Dame, played football for the Knights and went to Cal Poly San Luis Obispo. His wife used to be the football team's camera operator, climbing a ladder to shoot from high above by using a stuntwoman's mentality.
"From playing football, you learn who's in charge," McNab said. "To me it's not a big deal being an assistant. You do what you have to do without complaining. It's a different generation. I enjoy working with Kevin."
Now, if only McNab could get the opportunity from Rooney to call his first offensive play.
"He gives suggestions all the time and none work," Rooney said.
See, the McNab wit has rubbed off on the head man.
Twitter: @latsondheimer
Get our high school sports newsletter
Prep Rally is devoted to the SoCal high school sports experience, bringing you scores, stories and a behind-the-scenes look at what makes prep sports so popular.
You may occasionally receive promotional content from the Los Angeles Times.