Column: Linebacker Justin Flowe and Upland will have a challenge in tracking down Sierra Canyon's EJ Gable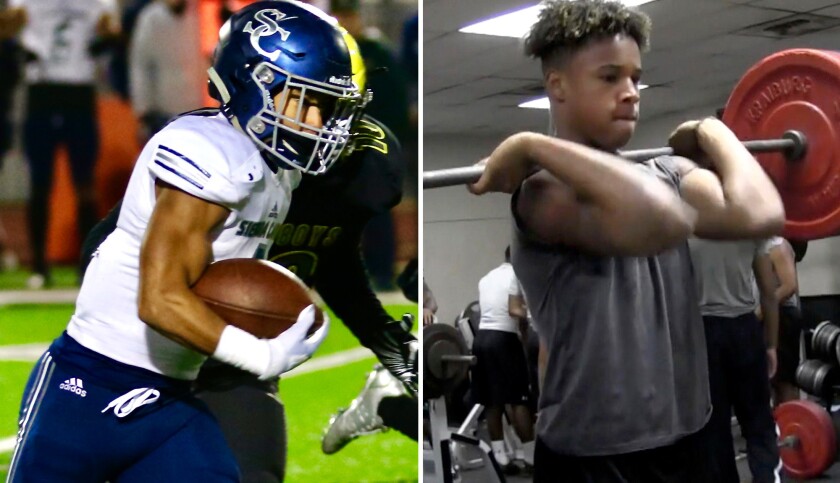 What's going to happen on Saturday when a 6-foot-3, 225-pound linebacker who's relentless and fearless tries to tackle a 5-6, 150-pound running back who's elusive and determined?
It's going to be an unconventional and entertaining individual showdown when linebacker Justin Flowe of Upland plays against running back EJ Gable of Chatsworth Sierra Canyon in a Division 1-A regional bowl game at Upland at 6 p.m. Saturday.
"That guy is a dynamo. He's an unbelievably good back," Upland coach Tim Salter said of Gable, who has rushed for 1,456 yards and 23 touchdowns. "He reminds me of Barry Sanders because he's short in stature but powerful and unbelievably quick."
Then there's Flowe, who is on seemingly everybody's list as the No. 1 inside linebacker recruit in the state and, according to some, the nation, even though he's only a junior. All you have to do is watch a video clip of what he did to a Rancho Verde running back last week when he entered the backfield unblocked and dropped him with a tackle so violent it made some close their eyes.
"He's a beast," Gable said. "He's the best linebacker I've seen this season."
While Flowe can pick his college for 2020, Gable's size has kept most college recruiters from believing he'd be successful at the next level. His brother, Leon, plays running back at Sacramento State. His cousin, CJ, played for USC. Gable was a star running back at Arleta last season before transferring to Sierra Canyon this season, and the step up in competition has only made it more certain that his performances this season are no fluke.
"He doesn't play to his size," Sierra Canyon coach Jon Ellinghouse said. "He plays with incredible heart."
Flowe and his Upland teammates are about to find out how challenging it is to keep track of Gable. Hiding behind his big linemen, Gable is able to slip through holes before anyone can see him. Beware if you have a shot at tackling him, because he's very good at avoiding tacklers with his agility and quickness.
"I see them coming, I make a move," Gable said. "I always have the mind-set don't let one person tackle me and keep driving my feet."
He said he's looking forward to the challenge of facing Flowe.
"I always love the competition, and it's going to be a good one," he said.
With state regional playoff games on Friday and Saturday, it should be pointed out how important it has become to be able to run the football, even though so many teams and fans favor the pass.
In last week's section championship games, it was no coincidence that the winning teams found ways to pick up yards on the ground.
Julian Dedman of Upland rushed for 169 yards against Rancho Verde. Gable rushed for 230 yards against Cajon. Jordan Wilmore of Lawndale rushed for 244 yards against Palos Verdes. Christian Hunter of Fontana Kaiser rushed for 327 yards in 44 carries against Arcadia.
"There's no doubt passing can get you places, but being able to run the football when you need to do it is most important," Ellinghouse said. "At some point, you have to run to win a game."
And, at some point on Saturday, Gable and Flowe will come eye to eye.
Twitter: @latsondheimer
---
Get the latest on L.A.'s teams in the daily Sports Report newsletter.
You may occasionally receive promotional content from the Los Angeles Times.