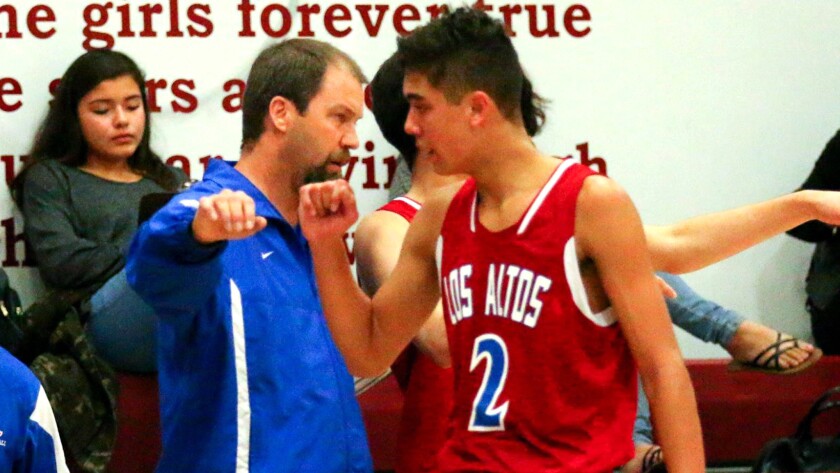 If you ever want to get a sneak peek of a future star, always pay attention to the little kids shooting around on the high school basketball court at halftime, especially if it's the son or daughter of the head coach. It never fails that one day, they will grow up to make mom and dad proud.
Such is the case with freshman Jarod Lucas of Hacienda Heights Los Altos. In a season during which lots of freshmen have broken through to become impact players on varsity, Lucas is having the best season of all.
The son of Los Altos Coach Jeff Lucas is averaging 28.4 points, 5.4 rebounds, 4.4 assists and has made 56 three-point shots for the 15-1 Conquerors. He's shooting 88% from the free-throw line and 43% from three-point range.
Jeff Lucas has been head coach for 20 years, so you can imagine how long Jarod has been waiting to become a Conqueror.
"I was looking forward to this my whole life," Jarod said. "I'm so happy the way things have been going."
He could be found dribbling on the court as a toddler. He used to play one on one at halftime against friends. He had his own custom-made Los Altos jersey.
He started playing competitively as a 5-year-old. His father coached him at times growing up, so the transition this season has been very smooth. And others have accepted him as a leader even though he's a freshman. That's what point guards with intelligence and savvy always do.
"He's been a gym rat his whole life," Jeff said.
The 6-foot-3 Jarod has been most successful driving to the basket, drawing fouls and picking up points at the free-throw line. But he also has been effective shooting from three-point range. He had a 45-point performance against Covina and scored 26 points in the first quarter of a game against La Puente.
While dad is pleased with his son's basketball play, mom Tina is even more impressed with what Jarod has accomplished in the classroom. He completed his first semester of high school with all A's on his report card.
Los Altos could be very good for the next several years. There are only three seniors on this season's team. Jeff Lucas is a 1986 Los Altos grad. This season's team is off to the best start in 41 years at the school.
There are some terrific freshmen around Southern California, from Cassius Stanley of Studio City Harvard-Westlake to Ethan Anderson of Los Angeles Fairfax to Jake Kyman of Santa Margarita.
Like Jarod, they've probably been shooting around at halftime of games since they wore size 4 shoes. Remember to keep your eyes out for the next gym rat putting on a show near you.
Big games ahead
It's a huge week for prep basketball games.
Among the games to watch Friday: Westchester at Fairfax, Chino Hills at La Verne Damien, Mission Hills Alemany at Encino Crespi, Santa Monica at Beverly Hills.
All four games are matchups for first place in league.
Twitter: @LATSondheimer
---