Sierra Canyon defeats Mater Dei 83-73 to advance to the boys' Open Division state title game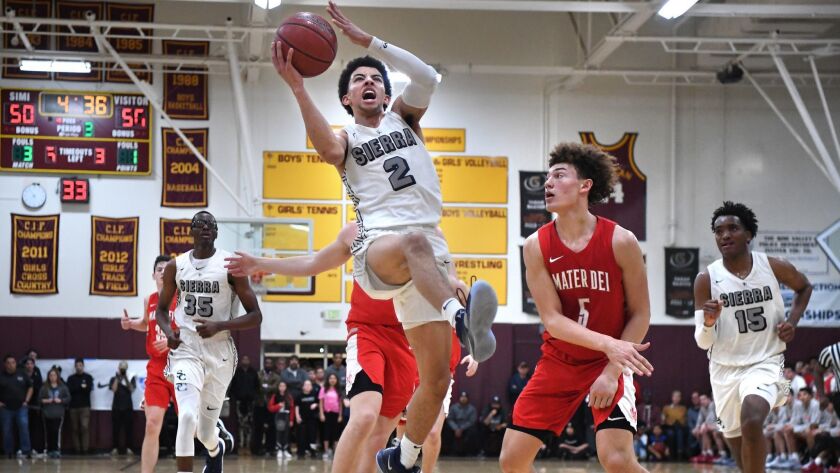 For 27 minutes of a well-played, hard-fought, evenly matched Southern California Regional basketball championship game Tuesday night, Chatsworth Sierra Canyon and Santa Ana Mater Dei refused to give in before about 2,000 at a sold-out Simi Valley High gym.
There were 11 ties in the first half. There were seven lead changes in the third quarter. What would it take for one of the teams to crack?
"We locked in," Cassius Stanley of Sierra Canyon said. "Give it our all."
Stanley's baseline three-point basket with five minutes left pushed the Trailblazers ahead by four points. Their defense tightened with an urgency knowing that any mistake or misjudgment could wipe away a second consecutive trip to the state championship game in Sacramento.
"We knew we had to keep pushing," 7-footer Christian Koloko said.
Sign up for our daily sports newsletter »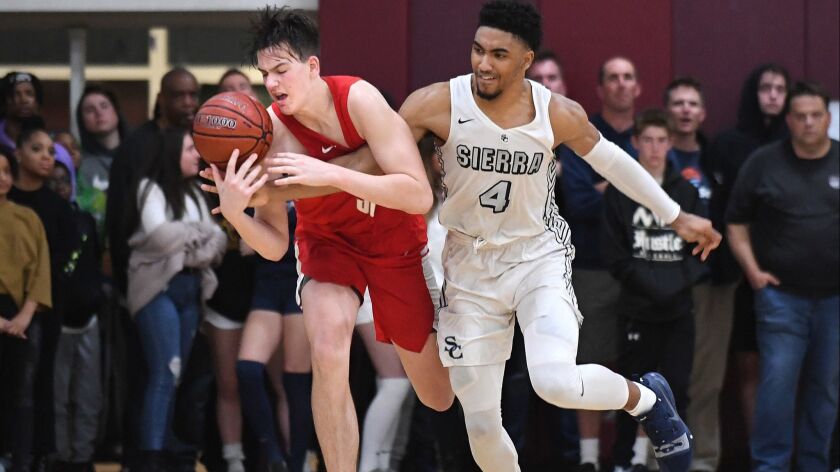 In the end, Sierra Canyon (31-3) wore down the younger Monarchs (29-5) to come away with an 83-73 victory and advance to Saturday's Open Division state championship game at Golden 1 Center against Sacramento Sheldon, a 58-48 winner over Modesto Christian.
Also making the trip will be the Sierra Canyon girls' team that upset top-seeded Clovis West on the road 74-70 behind 25 points from Alexis Mark.
Mater Dei, with no seniors in its starting lineup, repeatedly put pressure on the Trailblazers by staying in attack mode and displaying a brand of fearlessness rarely seen from a team loaded with sophomores and juniors.
But Sierra Canyon's success in the transition game and ability to block shots when Mater Dei tried for easy baskets proved decisive.
Kenyon Martin Jr., playing one of his best games of the season, finished with 30 points and made a stunning 14 of 15 shots. Scotty Pippen Jr. scored 16 points, Stanley had 15 and Koloko scored 11.
"We lost to them last year, so we came out wanting to win this one," Martin said. "We knew it was going to be a tough game."
Sierra Canyon was beaten by Mater Dei in last year's Southern Section Open Division final but ended up winning the state championship.
Mater Dei made 10 three-pointers to help its cause Tuesday. Sophomore Harrison Horney led the Monarchs with 21 points and 10 rebounds. He was four for five from three-point range. Devin Askew scored 18 points, Ryan Evans and Aidan Prukop had 11 points each, and Wilhelm Breidenbach had 10. All return next season.
In Division II, Ontario Colony pulled out a 77-75 win over Rancho Cucamonga. In Division IV, Ribet defeated Silverado 84-64.
In Clovis, the Sierra Canyon girls' team overcame a 20-point first-half deficit to play for its first Open Division championship against Pinewood on Saturday at 6 p.m.
"I told the girls, 'Hold your composure,' " coach Alicia Komaki said. "It wasn't we were playing bad defense. They were just hot."
Anaheim Rosary advanced to the Division I final with a 62-53 win over La Jolla Country Day. Rolling Hills Prep will be in the Division II final after a 54-53 win over Alhambra Mark Keppel. Covina Northview defeated Oak Park 44-37 in Division IV. Ramona defeated Anaheim 61-43 in Division V. Palisades was beaten by McFarland 68-66 in Division III when Neli Diaz made a basket with two seconds left.
Twitter: @latsondheimer
---
Get the latest on L.A.'s teams in the daily Sports Report newsletter.
You may occasionally receive promotional content from the Los Angeles Times.