Hart kicker Aaron Rodriguez is a perfectionist, down to the proper release of the ball on a punt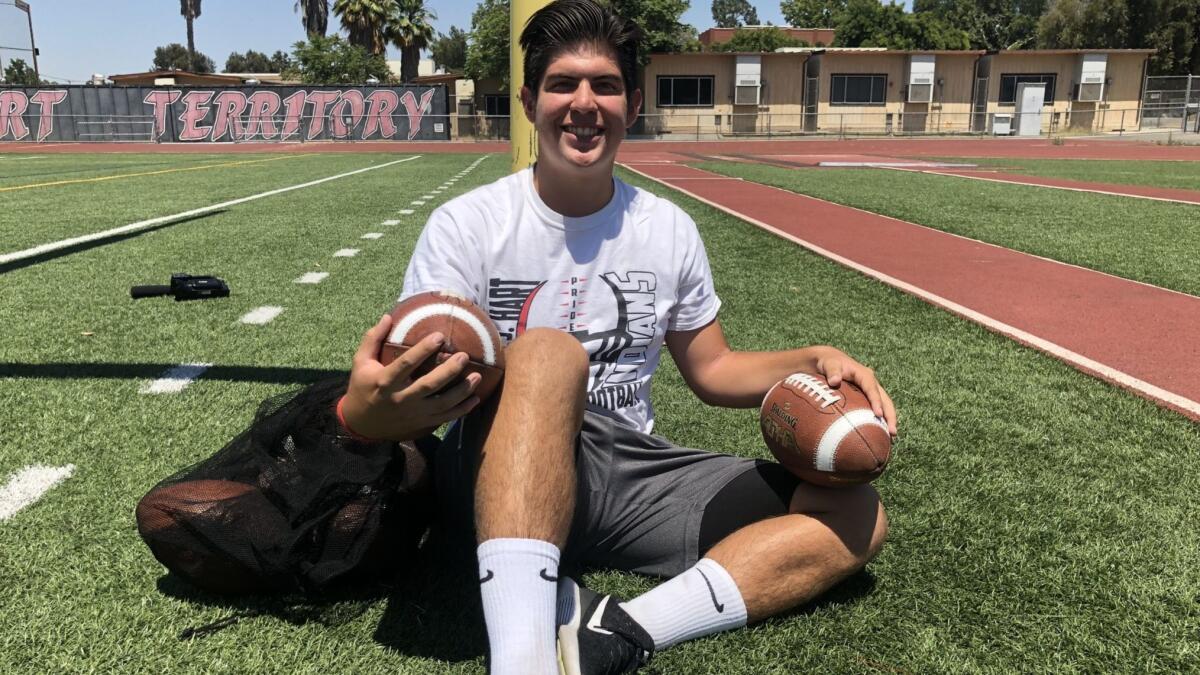 On an empty Hart High School football field, under a clear blue sky with heat bearing down on the Santa Clarita Valley, kicker Aaron Rodriguez is going through his checklist: backpack, sunblock, kicker stick, leg roller, ball bag, shoes.
Then, like a professor giving a lecture in class, he offers a lesson on the art of punting:
"For me, it always starts with the drop," he said. "When I hold the ball, I make sure I'm a little underneath it. You want your ball not perfectly straight, a little bit tilted, about 11 o'clock. You want the ball to match the shape of your foot so it comes off as cleanly as possible.
"For punting, a lot of times you want a good spiral. The ball turns over almost like a throw from a quarterback. First step is with your right foot, then left, then follow through with the ball."
His foot sends the ball soaring like a drone propelled by a jet engine. It hangs for more than four seconds, as aany good punt is supposed to do.
"Punting is like being a perfectionist," he said. "When you put it together and hit it cleanly and it's in the air, you feel like you're flying. It's one of the best feelings."
Rodriguez has the chance to become the best punter in Southern California. He spent two weeks in June attending camps and received accolades from USC and Stanford staff members. Last season as a junior, he averaged 38.1 yards a punt and made four field goals.
"Punting is very technical," he said. "It all comes down to technique. If there's one small thing you're missing when you punt, then you're still going to have a bad ball. It's working on those little things that will make you a better punter."
Rodriguez will be Hart's student body president this fall. It's no surprise he won the election considering he knows plenty of his fellow students from having played football, soccer and volleyball during his first two years of high school.
He's 5 feet 11, 195 pounds, athletic and smart — he has a 3.5 grade-point average.
Hart coach Mike Herrington said Rodriguez can be a "weapon," able to bail out the team from bad field position or leave the opponent deep in its own territory with a punt inside the 20-yard line.
The only complaint Herrington had was Rodriguez failing to execute a fake punt as a sophomore.
"He couldn't throw a lick," Herrington said. "The ball went right into the dirt."
Rodriguez said he has been practicing his throws and is ready for the next fake punt.
And, as student body president, he's ready to lead on and off the field.
TOP KICKERS AND PUNTERS TO WATCH THIS SEASON
Name; School; Ht.; Wt.; Yr.; Comment
Charles Bein; San Clemente; 6-3; 150; Sr.; Improved his hang time and distance
Jason Garcia; Azusa; 6-1; 150; Sr.; Made nine of 11 field goals
Nick Lopez; Mater Dei; 5-11; 165; Sr.; Big-time leg who booms ball into end zone
Jack Luckhurst; Bishop Diego; 5-11; 150; Sr.; Finally healthy after hip surgery
Nicholas Barr-Mira; Loyola; 6-0; 170; Sr.; Made eight of nine field goals
Aaron Rodriguez; Hart; 5-11; 195; Sr.; Hang time has improved
Carson Sten; Redondo; 6-0; 180; Sr.; If he doesn't boot ball in end zone, he'll make tackle
Owen Tapia; Eastvale Roosevelt; 6-4; 165; Sr.; Can make 55-yard field goals
Chris Vartanian; St. Margaret's; 6-2; 205; Sr.; Had eight field goals last season
Jake Woolgar; Laguna Hills; 6-1; 165; Sr.; A top kicker/punter specialist
Others
Javier Becerra; Carson; 5-7; 150; Sr.; Has proven he can kick under pressure
Nico Boschetti; St. Francis; 6-0; 165; Sr.; Made seven of eight field goals
Cade Fuller; Servite; 6-3; 190; Sr.; Soccer standout is solid punter
Ramzee Jaridly; Ayala; 5-11; 165; Sr.; Showing promise as punter
RJ Lopez; Mission Viejo; 5-11; 165; Jr.; Can boot field goals from 55 yards
Jonah Mendelsohn; Taft; 5-9; 155; Sr.; Top punter in City Section
Jack Oswald; Chaminade; 6-1; 185; Sr.; Much-improved former backup
Brandon Petruescu; La Mirada; 5-11; 170; Sr.; Made six of seven field goals
Brenden Segovia; El Camino Real; 6-2; 175; So.; Soccer athlete with strong leg
Joey Rizkallah; Tesoro; 5-10; 195; Sr.; Three-year starter
Twitter: @latsondheimer
Get our high school sports newsletter
Prep Rally is devoted to the SoCal high school sports experience, bringing you scores, stories and a behind-the-scenes look at what makes prep sports so popular.
You may occasionally receive promotional content from the Los Angeles Times.