Chase Garbers' coach says the Corona del Mar quarterback has the football IQ of Josh Rosen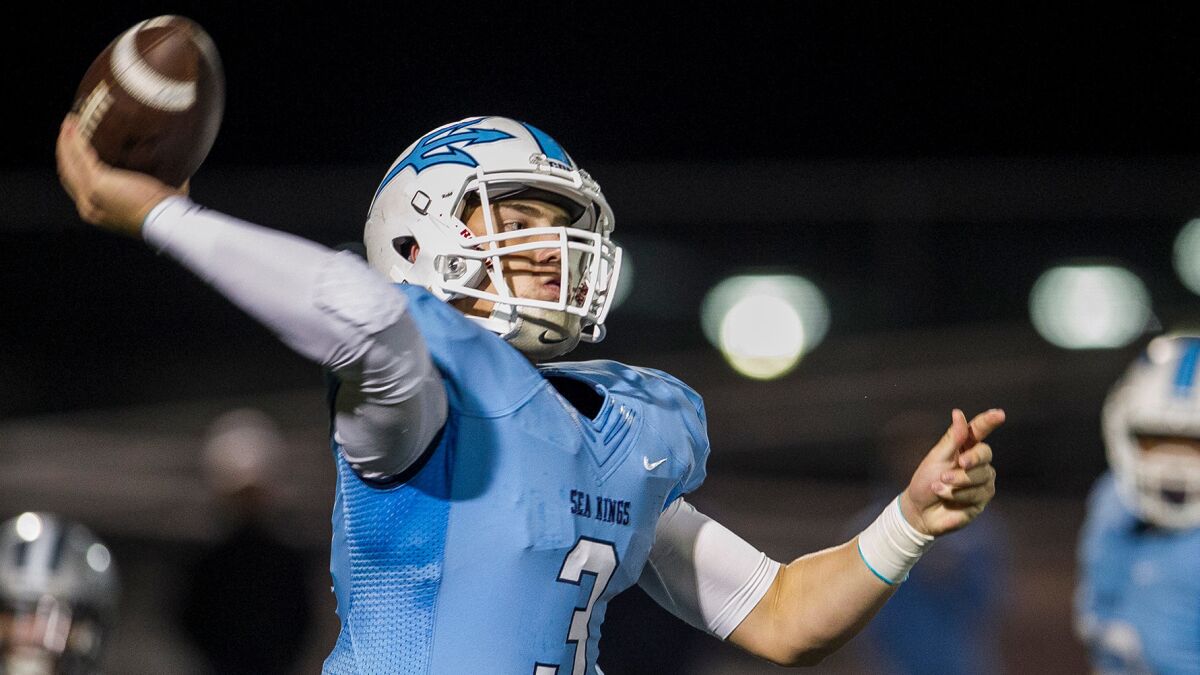 It's been so long since Chase Garbers frolicked in his neighborhood sandbox that he can't remember who was best among the friends he still plays with at Corona del Mar High in Newport Beach.
"That's way too long ago," he says.
Garbers, a 6-foot-3, 215-pound quarterback committed to California, is following the Jared Goff path to the Bay Area, and you better get on the bandwagon soon, because he has all the qualities of a future star.
In his senior season, Garbers, 17, is the neighborhood kid everyone likes and admires.
"He's a little puppy dog," Coach Dan O'Shea says. "He's a freak. His velocity has improved dramatically, and his mastery of the schemes has jumped further ahead. The third and final thing is, he has become such a leader of men. As a sophomore or junior, I don't think it was his place to be the dominant alpha dog. He does it in a humble way. He has as much inner confidence as you'll find."
Garbers has led Corona del Mar to an 11-1 record and a spot in Friday's Southern Section Division 4 semifinals against unbeaten Lompoc (12-0) at Estancia High in Costa Mesa. He has completed 71% of his passes for 3,370 yards and 42 touchdowns with four interceptions.
Since a 42-20 opening loss to Palos Verdes, the Sea Kings have won 11 consecutive games.
Corona del Mar senior Chase Garbers is enjoying playing amongst his friends.
"The loss definitely woke us up," Garbers says. "It showed us we're not going to win every game and showed us early on that teams are going to give us their best shot every time, and that we weren't good in the first game. It was definitely a wake-up call."
Going to practice on Thanksgiving in your senior season couldn't be better for Garbers and his friends, who have grown up together hanging out at the same beaches, the same malls, the same schools.
"These guys are brothers," Garbers says. "It's definitely special."
Says teammate Cameron Kormos: "I have tons of memories of Chase throwing a game-winning touchdown pass against me in sixth grade."
Garbers won Corona del Mar's quarterback job as a sophomore, showed potential as a junior and has kept developing.
"I must say, some guys stay flat or don't improve or get lazy," O'Shea says. "His ball has so much more velocity than as a junior. His inner toughness is so underrated. He's taking calculated risks with guys he trusts."
Garbers is young for his grade but more than ready for the next step in his development at the college level.
"The speed of the game is way faster than high school," he says. "It's definitely a thing I have to take into consideration."
Says O'Shea: "His football IQ is Josh Rosen-esque. He can literally step in college Day One and play."
Still to be answered is who was the king of the sandbox?
Says Kormos: "He was always stronger than me when we wrestled in the sandbox."
---
Get our high school sports newsletter
Prep Rally is devoted to the SoCal high school sports experience, bringing you scores, stories and a behind-the-scenes look at what makes prep sports so popular.
You may occasionally receive promotional content from the Los Angeles Times.