Column: Success of African American basketball coaches helps break barriers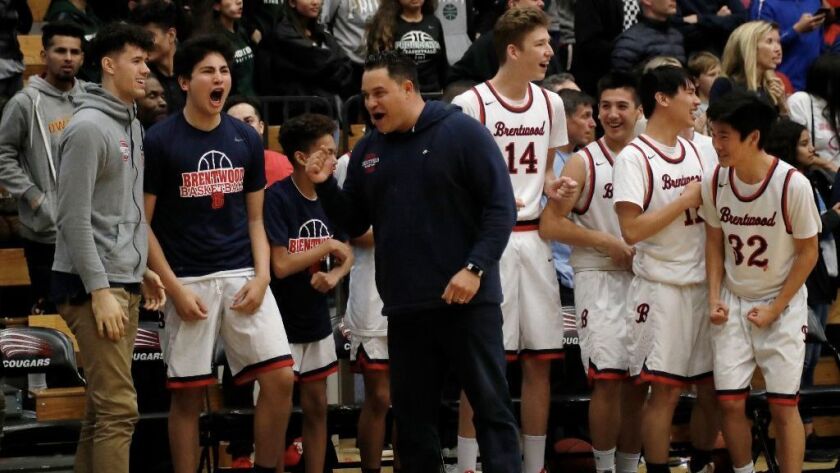 When Ryan Bailey was growing up in the Adams District of Los Angeles in the 1980s, his father would enroll him in camps run by two of high school basketball's most successful coaches, Willie West of Crenshaw and Reggie Morris of Manual Arts.
"There just weren't people of color coaching at a high level and winning at a high level," Bailey said. "My dad made sure I went to all the great black coaches so I would have positive role models."
Three decades later, African American coaches are competing for and winning championships on a regular basis — and leaping over what had been perceived as barriers to take on leadership roles at schools across Southern California.
"It's like the door has been kicked open and people have come in to make their presence felt," said Bailey, the coach at Brentwood.
There's no firm data on the number of African American coaches in Southern California, but last weekend's Southern Section and City Section basketball championships provided an indication of the growth taking place at public and private schools.
Andre Chevalier guided Chatsworth Sierra Canyon into the Southern Section Open Division title game against perennial powerhouse Santa Ana Mater Dei. Tony Brooks of Pasadena squared off against Dennis Latimore of Chino Hills in Division 1; Bailey and Brentwood went against Anthony Davis of Santa Monica Crossroads in Division 2AA; and Jonathan Chaney guided Riverside Carnegie in the Division 4A final.
In the City Section, Jovante King led Washington Prep to the Division I title and Lloyd Webster of King/Drew faced Evan Porter of Van Nuys in Division II. Charles Harrell guided the Fairfax girls' team to the Open Division title game.
"I would say it is historical and wonderful," said John Dahlem, the volunteer historian for the Southern Section, about the breakthrough in the number of African American coaches in championship games.
"It's about leading kids and leading young men," said Davis, the Crossroads coach. "There's no race in this game of basketball. That's why I love it so much. There's so much diversity. I truly feel blessed to be a black coach at a prestigious school. It shows me the world is growing."
In the NBA, only six of the 30 teams have African American head coaches, even though nearly three-quarters of the players are African American, according to the Institute for Diversity and Ethics in Sports. In a 2017 survey by the institute, 22.3% of men's Division I college basketball coaches were African American, and 56% of the players. There is no similar data available for high schools.
Tim Tucker, the coach at Pasadena Maranatha, said the group going for championships shared a common trait: "These guys have worked hard. They were good assistants and worked hard at their craft."
Leaders such as West, Morris and Ron Palmer of Long Beach Poly blazed the trail.
West, 77, lives outside Phoenix. He said the willingness to hire walk-on coaches — people who don't teach at the school — has made a big difference. "You didn't have walk-on coaches when I started," he said. "It's given a lot more opportunity to coaches who were involved in other things after work."
West spent 37 years at Crenshaw, winning eight state titles and 16 City titles. Palmer spent 25 years at Long Beach Poly, winning eight section titles. Morris won a state title at Manual Arts in 1988. They were among precious few black coaches who were full-time teachers, and they all worked at public schools.
It's only been recently that private schools have hired African American coaches to lead their basketball programs. Davis spent seven years as an assistant at Crossroads before being elevated to head coach this season. Bailey, who played at UCLA, was an assistant at Loyola before Brentwood hired him seven years ago. His teams have won consecutive Southern Section championships.
"With private schools, a lot of it has to do with changing demographics," Bailey said. "There's a big push for diversity."
Their opportunities have been earned by networking, showing character and convincing administrators they were ready to lead.
"It's an old-school approach," said Torino Johnson, a Cal State Los Angeles women's basketball assistant and former Palisades High coach. "You don't flee. You fight and you stay and you build. They're not just mere coaches. You have some incredible educators — math teachers, special ed teachers, physical education teachers."
Brooks spent 25 years as an assistant at Pasadena before becoming the coach five years ago. He's also a math teacher and makes it clear he's proud of what he's accomplished at a time when there's an increase in responsibilities.
"No one is just a coach," he said. "We're all big brothers, fathers, psychologists for all of our players. We present that figure to the kids and try to direct them in the right way. The fact there's a lot of African American coaches in championship games talks about the quality of the men leading these kids."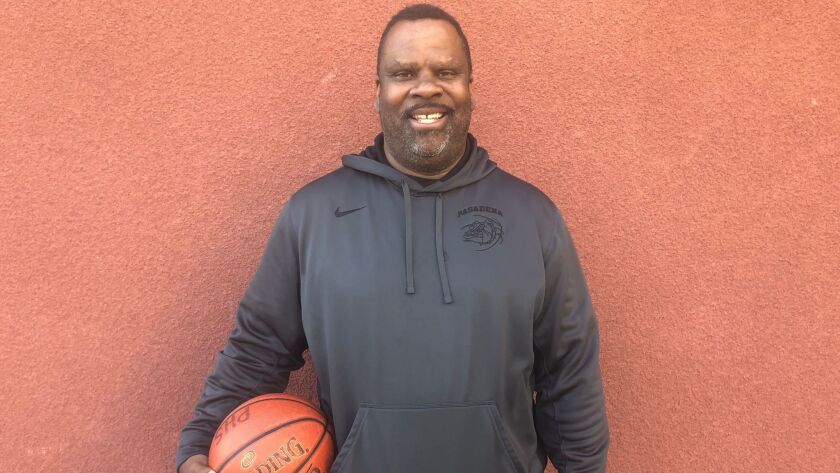 Opportunities are expanding as the coaches are learning from each other. Jamal Adams, the coach at Loyola, is director of the school's equity and inclusion program. He's been a mentor to several coaches, including Bailey.
"It's a tremendous honor to get to the championship game," Adams said. "It seems coaching in the last decade has become more complicated. It's about understanding relationships between parents and student-athletes, the mission of the school and how best to help kids in their post-graduate career.
"There's been a concerted effort to talk to each other to swap notes and compare situations that don't mainly deal with basketball. There's a great level of cohesion among African American coaches in Southern California helping each other."
There are still plenty of obstacles on the way up the coaching ladder. Taft coach Derrick Taylor broke a color barrier when he was the basketball coach at Bellflower St. John Bosco for four years in the powerful Trinity League. But this school year, there were no African American head coaches in basketball or football among the six private schools.
Adams, the coach at Loyola, spent 12 years working on Wall Street and said, "Opportunity is driven so much about who you know, not what you know." He said it's important to forge relationships and meet the people in charge of hiring, so he advises assistants who aspire to be head coaches to introduce themselves to athletic directors and principals.
Success, Adams said, is related to "athletic directors taking a chance or expanding their network. This isn't an overnight success. These are guys who have been working at their craft."
Bailey said he viewed the past weekend as "very important" in recognizing the progress being made in putting African American coaches in positions to show their talents.
"There's a lot of great coaches," he said, "and we're finally getting the opportunity on the main stage."
Twitter: @latsondheimer
---
Get the latest on L.A.'s teams in the daily Sports Report newsletter.
You may occasionally receive promotional content from the Los Angeles Times.