Notre Dame pitcher and slugger Hunter Greene is a teenage star in the making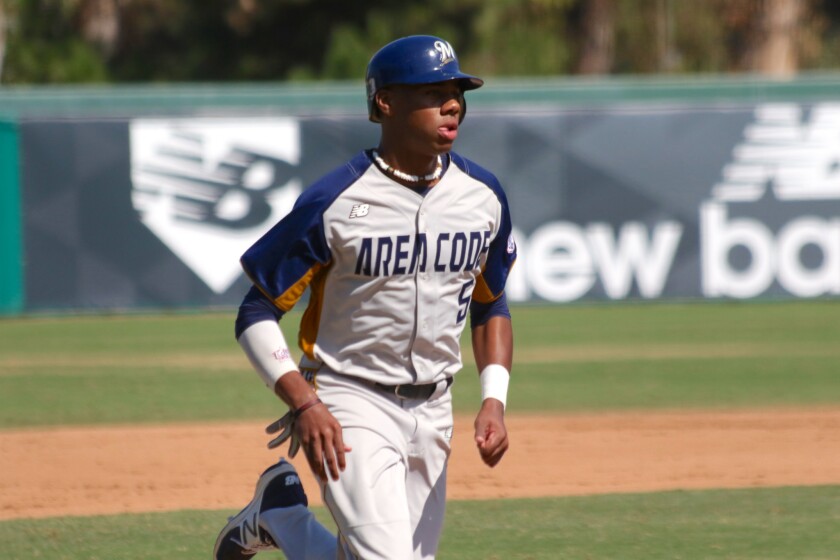 "Heads up!" is the warning echoing around the Sherman Oaks Notre Dame High School baseball stadium as Hunter Greene sends balls flying over the left-field fence with an effortless swing during batting practice.
It reaches the point at which a teammate squeals, "Holy guacamole" as a ball rockets toward the football bleachers beyond left field.
Even more stunning is the revelation from last month that two scouts with radar guns had Greene touching 102 mph on a fastball during his first winter pitching appearance.
At 6 feet 4 and 211 pounds, with a still-maturing body and a powerful right arm that could lead to a $9-million signing bonus, Greene is a teenage star in the making. He's 17, scored 31 on the ACT and is on a first-name basis with many in Major League Baseball's hierarchy, from the commissioner, Rob Manfred, to Hall of Famers Joe Torre and Tommy Lasorda.
This smart, humble, communicative teen could be an ideal role model to perform on baseball's highest stage.
For months, general managers and scouts from every major league team have been examining what qualities and skills Greene might bring to an organization. If you talk to his coach, Tom Dill, the answer is: many.
"We haven't ever coached someone that was as good at so many things," said Dill, who is in his 25th season.
Notre Dame has produced Tim Foli, the No. 1 draft pick, by the New York Mets, in 1968; Jack McDowell, an American League Cy Young Award winner with the Chicago White Sox; and Giancarlo Stanton, one of baseball's best power hitters with the Miami Marlins.
Greene fits in with all three. He won a home-run derby at Petco Field, the same site where Stanton won the home-run derby at baseball's All-Star game. Greene appears ideally suited for the coming scrutiny that begins this weekend when the prep baseball season launches.
From his father, Russell, a private investigator who watches his son's pitch count religiously, to Notre Dame coaches, who know how important the June draft might be, Greene will have plenty of people looking out for his interests. But like other high-profile draft prospects, he's determined to leave the draft pressures for others to worry about.
'"This season is going to be awesome," he said. "It's senior year. I'm going to look to just have fun, go on the field and perform at my best."
It's still undetermined whether he's going to be an everyday player or pitcher. A right-handed high school pitcher never has been taken No. 1 in the draft. Greene's velocity and makeup could change that.
He's also smooth and efficient playing shortstop, and his power is only getting better since his 5-10 freshman days when he batted just .122 on varsity. He has since hit .419 and .390 in the last two seasons. His improvement has been both consistent and dramatic.
"He turned into a whole different guy," said UCLA Coach John Savage, who received a commitment from Greene when he was a 14-year-old freshman. "It happened last summer in terms of bat, arm and body. Everything took a major jump."
Greene also learned an important lesson from his first season of high school that can help him in the future: patience.
Senior from Sherman Oaks Notre Dame could be No. 1 draft pick
"I think I put a little too much pressure on myself," he said. "Instead of taking the mind-set, 'I'm here, I'm going to get better, it's going to take awhile,' I took the mind-set I need to get to it and be able to perform in front of everybody. I think I should have slowed it down and trusted the process a little bit more."
Not since the days when former first-round draft pick Lucas Giolito of Studio City Harvard-Westlake was pitching locally has there been a teenager with Greene's immense velocity. He possesses excellent flexibility, helped by his yoga training and many years of practicing long toss. His ability to throw strikes is startling, considering how hard he throws.
"He can throw a strike any time he wants," Dill said. "Combine that control with that kind of velocity and that kind of competitiveness and your upside is unreal."
Off the field, he is a kind, friendly, well-liked regular student, even a little nerdy.
"He's a wonderful kid," Dill said.
Greene missed an interview because he had to go shopping for clothes for the winter formal.
"Hey, the girl comes first," he said.
Twitter: latsondheimer
---
Get the latest on L.A.'s teams in the daily Sports Report newsletter.
You may occasionally receive promotional content from the Los Angeles Times.