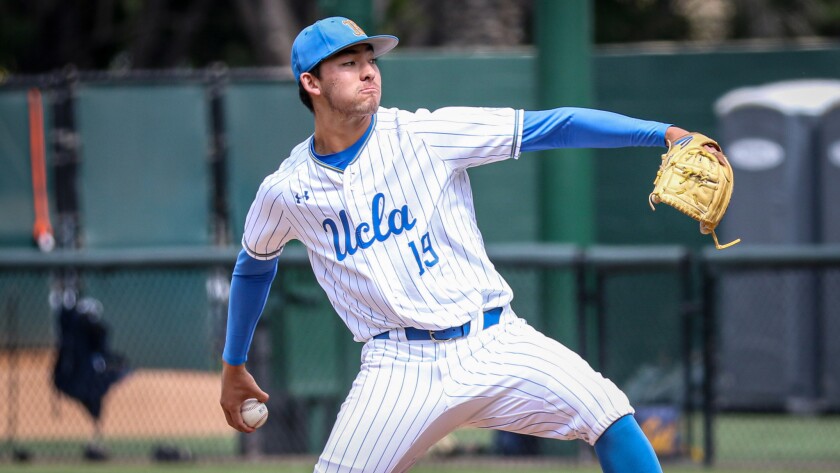 For 10 straight weeks, UCLA has been the No. 1 baseball team in the nation. And one of the key reasons for the Bruins' rise has been unsung redshirt junior pitcher Jack Ralston, a Hart High graduate who no one anticipated would be 11-0 with a 2.43 ERA going into this weekend's NCAA regional at Jackie Robinson Stadium.
"He's one of the best stories I've ever been associated with," UCLA coach John Savage said Thursday before Baylor, Nebraska-Omaha and Loyola Marymount held practices at Jackie Robinson Stadium.
Ralston rarely pitched his first three seasons at UCLA. "He didn't pitch his first two years because he wasn't good enough," Savage said.
He didn't even pitch much last summer in the Cape Cod League.
So what happened?
"He's just worked and worked and worked to the point where he's put himself into an area we never thought he'd get to," Savage said. "He's been reliable. He's been competitive. He's been challenged. He's been a guy that's jumped about as far as anybody I've been around."
Savage said there's much to be learned from Ralston, a 6-foot-6 right-hander who was 17 when he graduated from high school.
"It's just goes to show you what fully committed will do for you," he said. "Total buy in. Total team guy. It's a lesson for every player out there that's thinking about leaving or blaming the coach. This guy has outlasted a lot of our guys. It's a feel-good story. I feel good about it. The assistant coaches feel good about it. The players feel good. He's worked so hard to put himself into this position. I'm so proud and I can't be any happier for a player."
Ralston is expected to pitch on Saturday at Jackie Robinson Stadium. His fastball has reached 93 mph, and he has come up with an 88 mph changeup that's made the toughest hitters in the Pac-12 take notice.
Ralston said improvement in his mechanics combined with increased confidence has helped.
"I'm happy all the hard work I've put in is paying off," he said.
---