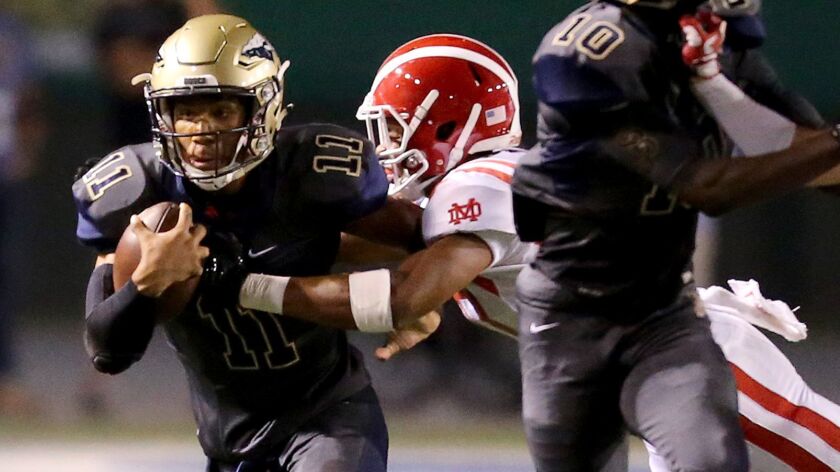 As the high school football season begins this weekend, there's little debate about which two teams should be in consideration to start out as No. 1 in Southern California.
It's the same two from last season, Bellflower St. John Bosco and Santa Ana Mater Dei.
They split two games in 2016, Mater Dei winning the Trinity League encounter and St. John Bosco winning when it counted most — in the Southern Section Division 1 championship game.
Mater Dei returns 10 of 11 offensive starters and adds members from a 10-0 freshman team. St. John Bosco has the best secondary in the Southland, plus lots of offensive returnees, led by Iowa State-bound quarterback Re-Al Mitchell.
So who's No. 1 to start the season? St. John Bosco gets the nod because the Braves have shown over coach Jason Negro's seven years of their ability to keep improving over the course of the season, particularly in the trenches.
"The biggest emphasis we put is on the offensive and defensive lines," he said. "The question is with the inexperience up front on defense, are we going to get better and progress to be good in December?"
The two teams are scheduled to meet in their Trinity League clash on Oct. 13 at El Camino College. Each will face challenging nonleague opponents.
St. John Bosco opens in Florida on Friday against St. Thomas Aquinas. Mater Dei plays at La Puente Bishop Amat and faces Las Vegas Bishop Gorman at Santa Ana Stadium on Sept. 1.
Corona Centennial is ranked No. 3. The Huskies will be the underdog when they face Florida IMG Academy on Sept. 2 at San Diego Cathedral High.
Mission Viejo is No. 4. The Diablos opened their season on Saturday night in Hawaii with a 39-14 win over Hawaii Baldwin. Quarterback Joey Yellen passed for three touchdowns.
Here's a look at the preseason rankings:
Rk. TEAM | Comment
1. ST. JOHN BOSCO | Secondary is best in SoCal; Re-Al Mitchell is fastest QB in California.
2. SANTA ANA MATER DEI | Ten of 11 starters are back on offense; offensive and defensive lines are elite.
3. CORONA CENTENNIAL | With QB Tanner McKee and WR Gary Bryant, the Huskies' offense will be as good as ever.
4. MISSION VIEJO | Lots of size and quickness, with big-play performers throughout.
5. MURRIETA VALLEY | Outstanding offense, led by QB Hank Bachmeier, WR Marquis Spiker.
6. RANCHO CUCAMONGA | There are top athletes up and down the lineup.
7. GARDENA SERRA | Defense has eight starters back, led by stellar linebacker group.
8. CHAMINADE | Running back Andrew VanBuren and QB Ryan Stevens are getting very good.
9. LONG BEACH POLY | QB Matt Corral gives Jackrabbits a player with big-time skills.
10. JSERRA | Don't underestimate what first-year coach Pat Harlow can accomplish.
11. UPLAND | Playing in Division 2 opens a big door for talented Highlanders.
12. NARBONNE | Strong offensive and defensive lines makes Gauchos best team in City Section.
13. BISHOP AMAT | Lancers' younger players were getting much better at end of last season.
14. EASTVALE ROOSEVELT | QB Jeremy Moussa returns after passing for 4,008 yards.
15. SERVITE | New offense, good chemistry, return of DB-WR Julius Irvin.
16. VALENCIA | If the QB play is solid, beware; Vikings are stronger and faster.
17. EDISON | QB Griffin O'Connor has a solid supporting cast.
18. SAN CLEMENTE | QB is unknown but Tritons have other weapons.
19. NORCO | Running back Travis Dye must be dealt with.
20. ORANGE LUTHERAN | Transfers, offensive improvement make Lancers a dangerous opponent.
21. OAKS CHRISTIAN | With brothers Bo and Josh Calvert on defense, Lions should be improved.
22. SIERRA CANYON | Remember the names JJ Hernandez, Corey Jones, Chris Cannon, JD Hernandez.
23. PARACLETE | State title last season was no fluke; QB Brevin White is ready for big season.
24. CATHEDRAL | The motto should be: In QB Bryce Young we trust.
25. CALABASAS | Loaded with one of the best group of receivers anywhere.
Twitter: latsondheimer
---