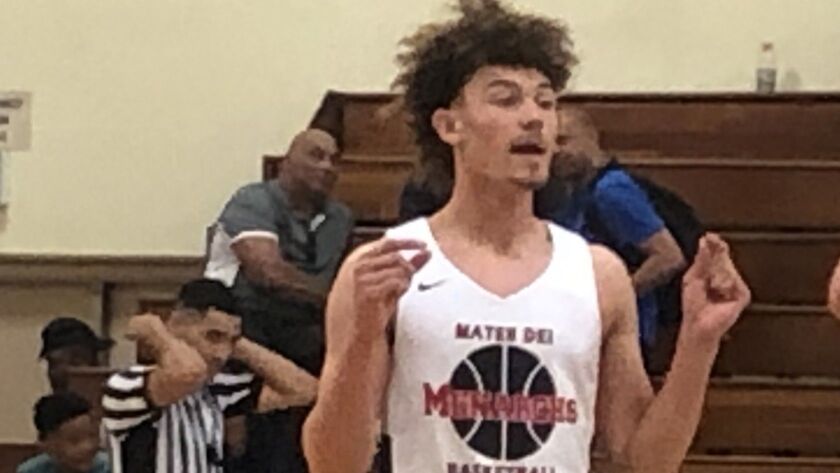 Junior point guard Devin Askew of Santa Ana Mater Dei has been picking up so many college basketball scholarship offers in recent weeks that he's lost count.
"It feels amazing," he said Friday night before helping the Monarchs defeat Rolling Hills Prep 78-48 in the semifinals of the Fairfax tournament.
It was the first appearance of the week for Askew, who was in Virginia participating in a camp. Askew has offers from UCLA and USC, among others.
He has been raising his profile and reputation throughout the off season in stamping himself one of the top point guards for the class of 2021.
He can shoot threes, make precision passes, has a powerful drive to the basket and possesses a little nasty streak that causes him to back down from nobody.
"I feel if play basketball I can match up against anyone," he said.
Mater Dei will face Brentwood in Saturday's 6 p.m. championship game. Brentwood received 25 points from sophomore Christian Moore and 23 points from junior Freedom Rhames in a 70-55 win over Fairfax.
Rhames is the son of Mission Impossible actor Ving Rhames, who sat behind the scorer's table rooting for Brentwood.
Another good game on Saturday matches St. Francis against Lynwood at 3 p.m. St. Francis defeated Beverly Hills and Lynwood routed Alemany on Friday.
Sign up for our daily sports newsletter »
Think Mission Impossible. Ving Rhames watching son Freedom play for Brentwood. Brentwood leads Fairfax 48-42 with 9:30 left. pic.twitter.com/4BroQEAfVz

— eric sondheimer (@latsondheimer) June 29, 2019
Frederick Harper does it again for St. Francis with clutch basket in 66-65 win over Beverly Hills. Ben Ramirez 23 points for Normans. Jason Gallant 19 for St. Francis. pic.twitter.com/EgWMDn80gP

— eric sondheimer (@latsondheimer) June 28, 2019
Saturday's Game Schedule:

Game 1-9am: Samo Vs. Washington Prep

Game 2-10am: La Cañada Vs. Loyola

Game 3-11am: Dorsey Vs. Maranatha

Game 4-12pm: Uni Vs. LB Poly

Game 5-130pm: Beverly Hills Vs. Alemany

Game 6-3pm: St. Francis Vs. Lynwood

Game 7-430pm: RHP Vs. FairFax

— TheFaxBasketball🦁 (@Fax_Basketball) June 29, 2019
---