Column: Kings and Ducks will play important role in NHL trade deadline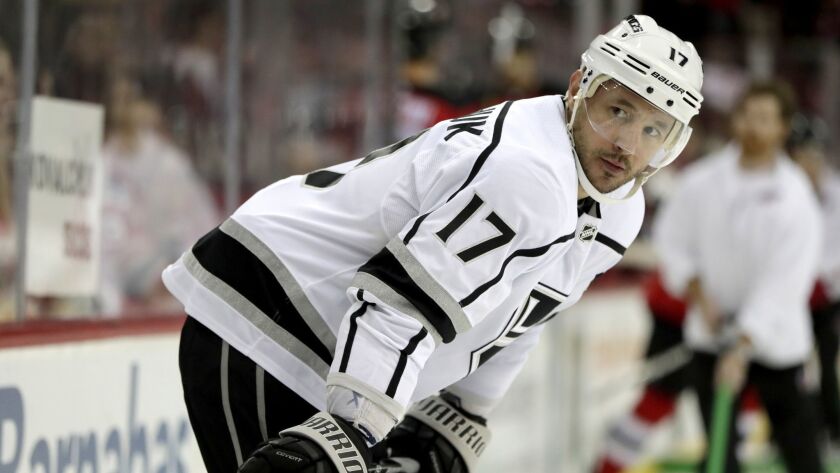 The Kings and Ducks are destined to miss the playoffs, but both could play a role in other teams' postseason runs by being active before the NHL trade deadline. The cutoff for trades to be completed is noon Pacific time Monday, though late deals often delay the announcement of transactions for several hours.
The Kings made their rebuilding intentions known the last few weeks by trading top-notch defenseman Jake Muzzin and impending free-agent forwards Carl Hagelin and Nate Thompson, in each case getting prospects and/or draft picks. General manager Rob Blake has spoken to winger Ilya Kovalchuk and his representatives, and it's possible Kovalchuk will waive his no-move clause and agree to be traded. The Kings likely wouldn't get much, but they'd gain by getting younger and adding salary-cap space for free agency. Veteran defenseman Alec Martinez has trade value but his experience might be more important to the Kings than anything they'd get for him now. Jeff Carter, the ultimate successful pre-deadline acquisition in 2012, has lost his speed and isn't a scoring threat anymore. He has drawn some trade interest but at 34 and with three more seasons at $5.27 million each on his contract, he wouldn't bring much back.
The Ducks, who self-destructed by losing 19 of 21 games from mid-December through mid-February, must retool but don't need a full rebuild. General manager Bob Murray has gotten an up-close look at players since he took over the coaching job from Randy Carlyle on Feb. 10, and he can use those insights now. He's probably stuck with the long-term contracts of aging forwards Ryan Kesler, Ryan Getzlaf, and Corey Perry, who all have no-move clauses, but he might be able to part with goaltender Ryan Miller, who has a modified no-trade clause and submitted a six-team list of acceptable destinations according to capfriendly.com. John Gibson's imminent return from an injury lends credence to that possibility. The Ducks will try to do heavier lifting this summer to clear roster and cap space for their talented kids.
Elsewhere, the Ottawa Senators played their biggest card Friday when they traded forward Matt Duchene and his expiring contract to the going-all-in Columbus Blue Jackets for two forward prospects, a top-three lottery-protected 2019 first-round draft pick and a conditional 2020 first-round pick. The Senators and Blue Jackets found common ground again on Saturday, when Ottawa sent forward Ryan Dzingel and a 2019 seventh-round pick to Columbus for forward Anthony Duclair and second-round picks in 2020 and 2021. Ottawa still has one big trade chip left in forward Mark Stone. The Blue Jackets are fighting for a playoff spot and must decide whether to trade impending free agents Sergei Bobrovsky and Artemi Panarin or keep them for a postseason run. Columbus hasn't held either player out of the lineup to protect them from injury, a risky decision but a gutsy choice for a team that has never won a playoff series and needs to position itself for postseason success.
It appeared the New York Rangers didn't get much on Saturday when they sent veteran forward Mats Zuccarello to Dallas for a conditional second-round pick this year and conditional third-rounder next year, but they could end up doing well. The second-rounder will become a first-round pick if Dallas wins two playoff rounds and the third-rounder will become a first-rounder if Dallas re-signs the Norwegian forward. Dallas isn't likely to go deep, but that's a decent return for an expiring contract. The Rangers have two more tradeable players in defenseman Adam McQuaid and forward Kevin Hayes. Dallas, sitting in a West wild-card spot, also acquired defenseman Ben Lovejoy from New Jersey for Connor Carrick and a third-round pick.
Trade rumors often center on marquee players, but a big name doesn't guarantee a big impact. The supposed prizes at the deadline last year were Rick Nash going from the Rangers to Boston, Derick Brassard landing in Pittsburgh in a three-way trade, and Paul Stastny going from St. Louis to Winnipeg, but none had an impact on his new team. Two recent trades that were strategic rather than glamorous might turn out to be vital this spring: The Bruins added size, depth and versatility to a mature team by acquiring Charlie Coyle from Minnesota for prospect Ryan Donato and a fifth-round pick, hoping Boston-area native Coyle can play center or the wing. The defending champion Washington Capitals, aware that depth is essential to a long run, acquired right-handed-shooting defenseman Nick Jensen and a fifth-round pick from Detroit for defenseman Madison Bowey and a 2020 second-round pick. Bowey wasn't able to win a regular spot but Jensen was averaging nearly 21 minutes per game for the Red Wings. The Capitals quickly signed him to a four-year, $10-million extension so they wouldn't lose him to free agency.
The speculation leading up to the deadline is often more exciting than the actual deals, and good luck to the Canadian TV folks who must fill airtime during daylong shows dedicated to micro-analyzing every move. For fans of the Kings and the Ducks, the deadline represents an unhappy but necessary step in returning to respectability.
Follow Helene Elliott on Twitter @helenenothelen
---
Get the latest on L.A.'s teams in the daily Sports Report newsletter.
You may occasionally receive promotional content from the Los Angeles Times.