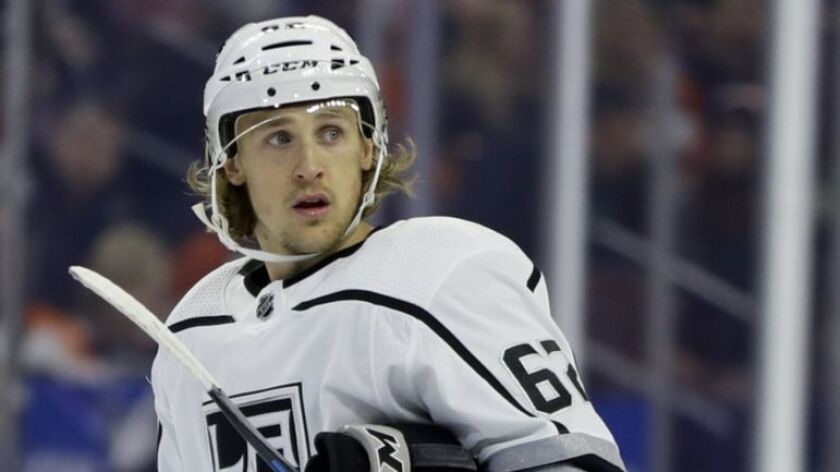 Reporting from NASHVILLE, Tenn. —
The Kings' pivot toward their organizational re-shape continued Thursday with the trade of Carl Hagelin to the Washington Capitals.
The Kings received a third-round draft pick for this year and a conditional sixth-round pick in 2020 in exchange for Hagelin, a veteran depth winger who returns to the Metropolitan Division after previous tenures with the Pittsburgh Penguins and New York Rangers. The Kings will retain 50% of Hagelin's salary.
The move was expected because Hagelin has an expiring contract and the Kings are transitioning to the future as they play out the string. They have already acquired first and fourth-round picks from the Toronto Maple Leafs and Montreal Canadiens in previous trades for Jake Muzzin and Nate Thompson, respectively.
Hagelin only played 38 games for the Kings upon his arrival from Pittsburgh in the trade for Tanner Pearson but formed a forechecking line with Adrian Kempe and Ilya Kovalchuk.
"He had a good impact on us, especially on me," Kempe said. "I think we had some good chemistry. I like to play with him. He made me better. I thought my game's a lot better lately, as well, playing with him. It's sad that he's leaving. But he's been part of two Stanley Cups with Pittsburgh, so obviously he's a player that a lot of teams want. It's sad for us, but things are going to happen this part of the season."
Hagelin was aware of his precarious status and told The Times earlier this month that "I think I've been in the league long enough to know what's going on this time of year."
Coach Willie Desjardins said Hagelin was "a real pro" in dealing with his impending departure and that he did his best when he was with the Kings.
Sign up for our daily sports newsletter »
"He was good for us," Desjardins said. "He did play well. His speed was good. I thought he was good for Kempe too. In the short time he was here, I thought he made a difference."
Desjardins said Trevor Lewis could move to wing, and Michael Amadio could go back into the lineup for Thursday's game at the Nashville Predators. The Kings have room to recall another forward and might do so on this trip. Jonny Brodzinski is on a conditioning assignment with the Ontario Reign.
The condition on the sixth round pick is if the Capitals advance to the Eastern Conference final and Hagelin plays in 50% of the games, according to several reports.
Twitter: @curtiszupke
---