What we learned from the Kings' 3-1 loss to Nashville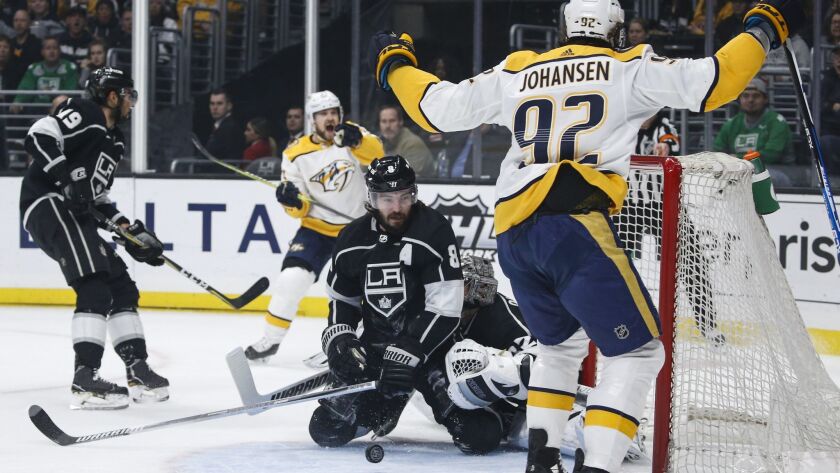 Judging by the last two games, it will be interesting to see who will be the next Kings rookie to step forward.
Last Sunday, it was Carl Grundstrom. On Thursday, it was Austin Wagner. The winger returned from a lower-body injury and scored his team's only goal in a 3-1 loss to the Nashville Predators at Staples Center.
The wins and losses only matter in terms of the Kings increasing their odds for getting the No.1 draft pick in June, but it was notable that their 37th regulation loss equaled their most since the 2008-09 season. Back then, they eventually emerged from the depths with Anze Kopitar and Dustin Brown. This time around they've got other intriguing pieces for the rebuild, some of which were on display Thursday.
Here's what we learned:
Wagner has the right approach. Hang around the 21-year-old and it's easy to see that he maintains a big perspective while also exhibiting a healthy confidence. Many rookies would be negatively affected in a losing culture, but Wagner seems to understand this is a trying phase for the Kings and that it's important to build toward the standard that's been set.
"As a part of this organization, it's been basically embroidered in me to win, and that's all I want to do here," he said. "I want to win games. I want to win the Stanley Cup. It doesn't matter the score, we just need to win games, and that's all I really care about right now."
Wagner was not high on the radar in training camp, although he turned heads with some blazing speed in preseason games. The issue with him was being able to finish, and now that part of his game is showing.
"We missed him when he was out of the lineup," interim coach Willie Desjardins said. "He's got good speed. Every game he brings that and he adds to it. I think it's something you need is those young guys going, and we've got to get those young guys going."
This isn't the greatest stretch for some of the veterans. Alec Martinez committed a giant turnover with a pass through the neutral zone that was intercepted and converted to a 3-1 lead. Ilya Kovalchuk committed a third-period giveaway and has made noticeable turnovers in each of the last three games. Jeff Carter looked a step slow and lost all eight faceoffs.
Sign up for our daily sports newsletter »
Even Jonathan Quick wasn't at his usual level on Nashville's second and third goals. With so much discussion about the Kings' rookies stepping to the forefront, that edict applies to the older players as well, and they shouldn't be immune from criticism when they fall short.
One exception Thursday was Drew Doughty, who blocked a shot with his face and didn't miss a shift.
The Kings better get ready to play more contenders.
Thursday began a final stretch of the season that will feature several upper-tier teams. The Kings still have games against the Winnipeg Jets, San Jose Sharks, Calgary Flames (twice) and Las Vegas Golden Knights in the final 12 games.
The Predators swept the season series (6-0) for the second straight year after they turned the game around in a five-minute span in the second period and earned their first regulation win since Feb.21, against the Kings.
Nashville hasn't looked like a Cup contender in recent weeks but it's in the hunt for a Central Division title and who knows what could happen in the spring.
"It's probably the best game we've played in recent weeks," Colton Sissons said. "It feels good to put a complete effort in from start to finish and to just have everybody step up and play their best game. It feels good."
Twitter: @curtiszupke
---
Get the latest on L.A.'s teams in the daily Sports Report newsletter.
You may occasionally receive promotional content from the Los Angeles Times.