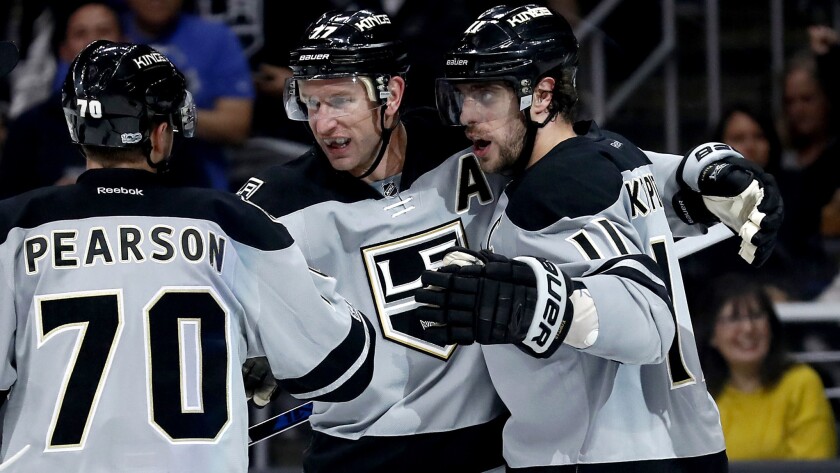 Power play clicking? Check. Top line producing? Check. Great storyline for the game-winning goal? Check.
The Kings could take a lot of pride in a 4-2 win against the Washington Capitals on Saturday night. Not only did they earn a win against one of the NHL's best, albeit slumping, teams, they kept within reach of the St. Louis Blues in the playoff race.
Here's what we learned:
Anze Kopitar was in beast mode
He had a goal and an assist in a hard-earned 21 minutes of ice time and controlled play at both ends of the ice.
In the third period, he put his head down and drove to the net, nearly sweeping in a goal. It's the kind of play the Kings need at this time of year, and Kings Coach Darryl Sutter took note.
"Kopi had a big impact on the game," Sutter said. "It was nice to see the kid [Adrian Kempe] score, but Kopi was pretty impactful out there tonight."
St. Louis won't go away
The Blues won their fourth straight game to stay ahead of the Kings in the race for the final playoff spot in the Western Conference.
Much of the postgame talk centered around the huge four-point swing game Monday against St. Louis, although the Kings didn't play into the hype of it.
"I think it's like anything — you take what you did well in the game and you take the focus on carrying that forward," Alec Martinez said. "There are certainly things that we need to sharpen up. We gave up a few opportunities that we probably wouldn't like to. Again, you enjoy this one for a few minutes tonight, and tomorrow morning you wake up for the next one."
The Kevin Shattenkirk trade didn't look too good for Washington
Shattenkirk was among the bigger names to move before the trade deadline, and Washington acquired him for an all-in run at the Stanley Cup.
Although he moves the puck well, his mistakes were glaring Saturday. He took three penalties, the last a dangerous looking charge in the third period.
Washington is 3-3 since it traded for Shattenkirk on Feb. 27, and the defenseman is a minus-1 in two of the games.
---